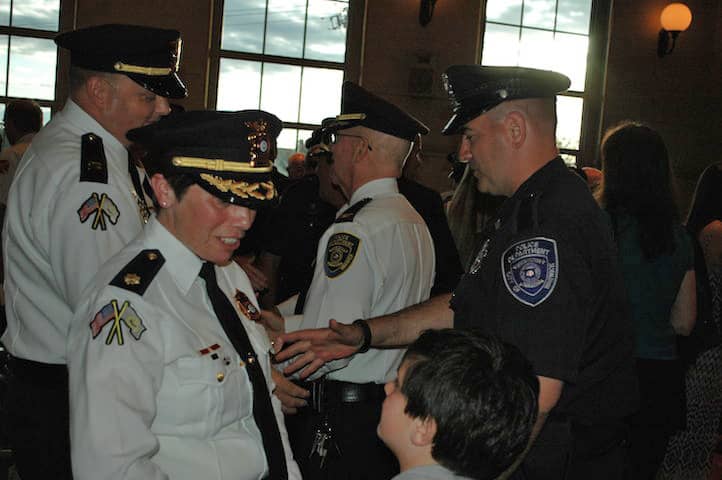 Warwick, RI — Warwick Post's first full year of reporting on the city was a momentous one, with historic developments, disasters natural and man-made, a local politician vying for the nation's highest office, a local man arrested for his involvement in a terrorist plot, the developing renewal of Apponaug Village, and a fight over public records between two elected bodies neither wants to give to the public.
Here are the year's big stories in detail:
POLICE AND FIRE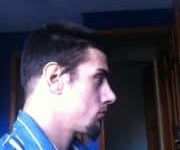 Warwick Man Charged with Involvement in Terrorist Plot On June 11, FBI agents arrested Nicholas Rovinski,  25, of 167 Aspinet Drive, charging him with conspiring to support the terrorist organization Islamic State (ISIL). The arrest followed a nine-day stakeout of his home by Warwick Police, State Troopers and the FBI, working together in a "Joint Terror Task Force."
The Task Force mobilized within hours of a  police shooting that killed Usaama Rahim of Roslindale, MA, targeted in a recent terrorism investigation involving him and David Wright of Everett, MA. Court documents connected to that investigation reference a meeting between Rahim, David Wright of Evertt, MA and one other on a Rhode Island beach. According to an FBI affidavit, Rovinski admitted to an agent that he was the third person involved in that meeting, during which the three discussed beheading Pamela Geller of New York, who had organized a conference in Garland, Texas on May 3, 2015, featuring cartoons depicting the Islamic Prophet Muhammad. Later, Rahim changed plans, expressing an intent to focus instead on police near his home.
Rovinski is scheduled to answer the charge in US District Court in Boston, MA Feb. 6, 2016.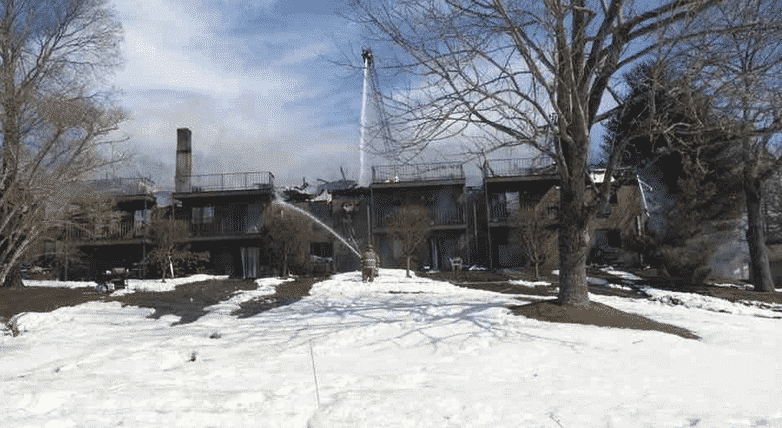 Westgate Condo Fire Displaces Families On March 11, Firefighters were called to Westgate Conominiums at 754 Quaker Lane at about 10 a.m. for a fire, extinquishing it with the assistance of several fire companies from neighboring communities, including Scituate, Coventry and Providence.
The blaze, which left many homeless, affected about 61 condo owners, destroyed 26 vehicles and caused the loss of $10,000,000 in property damage from the destruction of the condos and $5,000,000 in property damage from the loss of the condominium structure. The RI Fire Marshal reported the fire started in the living room. SBA disaster loans were made available to displaced condo owners and fundraisers were organized to help as well.
School Building Director Arrested for Misappropriating 70K  Warwick Police seized more than 220 items from the home of  former Director of Warwick Schools Buildings and Grounds David LaPlante on Dec. 7 and Dec. 10, equipment detectives allege he used to improve his kitchen and to clean up storm damage from the Aug. 4 "macro-burst," totaling about $70,000.
The School Committee voted to fire LaPlante on Dec. 8, and police arrested and charged LaPlante with five felony counts of Wrongful Conversion by Municipal Employee on Dec. 23.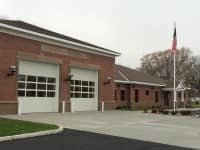 WFD Extinguishes 5-alarm fire at Four Seasons Condos Warwick Firefighters were called to a fire the Four Seasons Condo Complex at 1451 Warwick Avene at about 2:30 a.m. Sept. 19 that quickly escalated to a 5-alarms, involving three floors of the building. About 24 of the 48 units were compromised either by fire or smoke, but there were no injuries reported.
Potowomut Fire Station Debuts The Potowomut Fire Station – the neighborhood's only municipal building – officially started operations Dec. 1 at 8 a.m. after a grand opening Monday that drew about eighty neighbors, officials and firefighters to the 225 Potowomut Road location.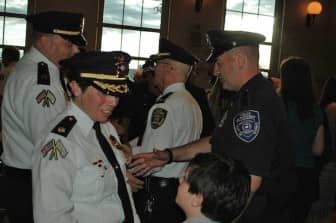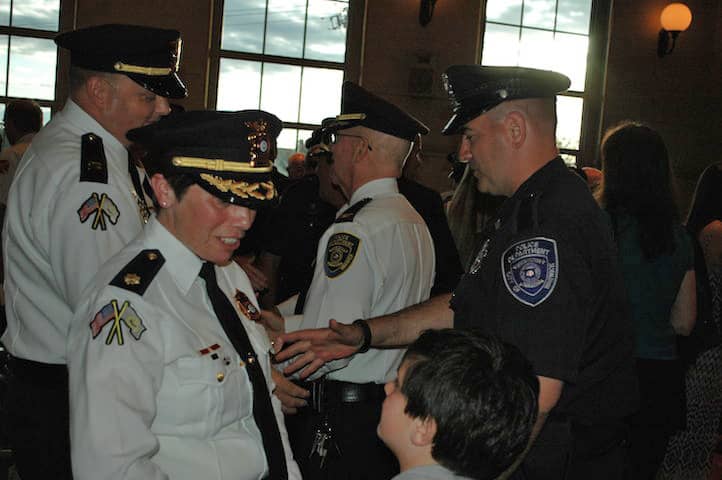 WPD Swears in First Female Major The Warwick Police department presented 19 special awards and swore in eight officers May 13 at City Hall in City Council Chambers, including Christine A. Kelley, the first woman promoted to Major in the department.
The promotion places Kelley among the highest-ranking female law enforcement officers in the state.
Kelley began her career with the department in December 1989 and was promoted to the rank of Sergeant in July 1997; Lieutenant in August 2001; Captain in October 2007.  She has earned an Honorable Service Commendation as well as 13 Third Class Commendations. She earned an Associate's Degree from the Community College of Rhode Island, a Bachelor of Science from Roger Williams College and earned a Master of Science in Administration of Justice from Salve Regina University.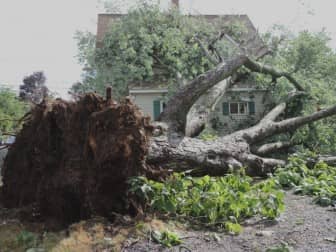 City Reels From 'Macro-Burst' Storm The Warwick Fire Department received 149 service calls from 5:30 a.m. till noon the day of an Aug. 4 "macro-burst" storm  – more than quadruple the usual volume. By Aug. 13, the WFD had handed out 700 damage assessment forms. Three days after the straight-line wind phenomena dubbed a macro-burst by weather scientists felled trees across Warwick, taking several power lines and substations with them, power had been restored to all but a handful of city residents.
As Warwick Post covered the aftermath of the storm, which surprised many people despite warnings of severe thunderstorms that morning, residents provided a series of quick photos that gave their neighbors a view of the damage.
Chafee's Presidential Bid Lincoln Chafee, former Warwick City Councilor, Warwick mayor, U.S. Senator, and R.I. Governor, briefly pursued aspirations to the Democratic presidential nomination, launching his campaign in June. His platform included raising the federal minimum wage and a compromise position on immigration reform, and pledged to appoint US Supreme Court Justices who would revisit the court's ruling in Citizens United stating that money equals speech, allowing near-unlimited influence by the wealthy and corporations via campaign contributions.
Chafee's presidential ambitions proved ill-fated. He was unable to expand popular knowledge of his campaign beyond derisive treatment of his aim for the US to embrace the metric system, and fumbled during the Oct. 13 Democratic presidential nomination debate, criticizing front-runner Hillary Clinton on her judgement for her vote for the Iraq War, then offering a meager defense of his own judgement on Chafee's vote to repeal the Glass Stegall Act.
He folded his campaign Oct. 23.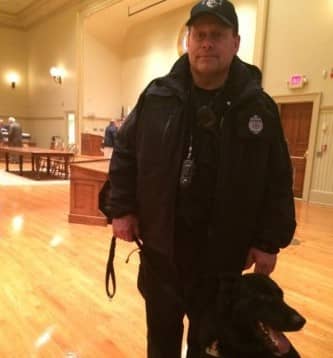 Council Eases Stringent Concealed Carry Gun Criteria In March, Councilwoman Camille Vella-Wilkinson drafted an ordinance overhauling the city's concealed carry permit policy to "ensure a  timely, fair and consistent permit process" and establishing "self-defense" as the prime criteria for determining need. Critics called the original process effectively insurmountable.
The first vote on the update April 6 was postponed after a bomb threat interrupted the Council's meeting that night. The meeting was rescheduled to the next day, and guarded by two officers as well as Patrolman Paul Wells and his K-9 partner, Fox.
The Council voted first passage to the updated permit rules, with additional detail added to the description of  "self-defense" when the city's Public Safety Committee determines need that won the support of Warwick Police Chief Col. Stephen McCartney. McCartney said an applicant shouldn't be able to simply claim a state of mind with no other cause for worry and expect a concealed carry permit. But, if someone had a documented threat to their safety, including a police report or a restraining order, "No reason that person shouldn't be able to carry a gun," McCartney said.
The updated concealed carry permit rules were approved during second passage at the Council's next meeting on May 11.
Council wins 'Ragosta Report' look, denies public access In June, City Councillors began what would be a months-long fight to win a copy of the School Department's "Ragosta Report" on the handling of allegations against Gorton Junior High School Science Teacher Mario Atoyan, placed on leave pending the results of his day in court on unrelated sexual assault charges in North Kingstown brought against him March 20. After months of meetings punctuated by angry statements about the School Committee's repeated refusal to release a copy of the report to the City Council, and several public protestations about the public nature of the documents and the public's right to access the information, the Warwick City Council voted to subpoena the School Committee for the Ragosta Report in September.
The School Committee rebuffed this formal demand as well, and the dispute continued in Superior Court, where Judge Bennett R. Gallo ruled the School Committee had to turn over the document. The City Council finally received a copy of the document in November.
The public, however, is still waiting for its own look at the Ragosta Report, as the City Council reviews it pending an as-yet-unscheduled public hearing on the contents. Public records requests to the School Committee by the Warwick Post and Warwick Beacon were denied and have each been appealed to the RI Attorney General's office. A public records request by the Warwick Beacon to the City Council was also denied, and the Beacon reports it has appealed that decision as well. A public records request by the Warwick Post for the document made earlier this week is waiting a reply.
APPONAUG DEVELOPMENT
Warwick Water Tower Falls On May 2, the Warwick Water Tower, a nostaligic landmark for some and an eyesore for others, was toppled to make way for the RI DOT's Apponaug Circulator Project, which will be built in part through the lot where the landmark stood. Apponaug's intersections are now in the process of being replaced by roundabouts, with the project expected to finish in 2017.
Circulator Project Progress In September, Warwick Principal Planner Rick Crenca reported the project is at least four months ahead of schedule, and recent progress shows glimpses of the finished product shaping up.
Businesses took notice of the impending improvements, and began staking their claims on plots within the soon-to-be modernized village.
Cumberland Farms set up a new location at Apponaug Four Corners, Piezonis took advantage of the move to set up shop in a new building next door, Chocolate Delicacy moved to the village from East Greenwich, and the restoration of the Victorial Lady, headquarters to the Central RI Chamber of Commerce across from Warwick City Hall, began late this year.
MILESTONES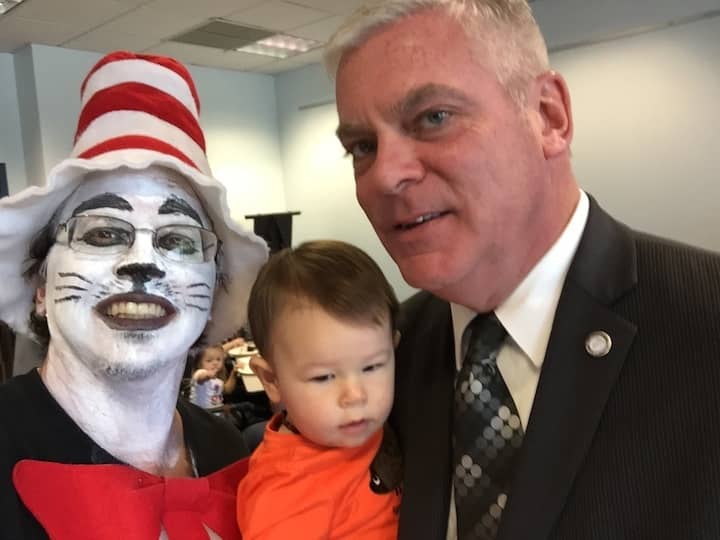 Library's 50th Year On Sept. 28, the city celebrated 50th anniversary of the Warwick Public Library's service with a party at its 600 Sandy Lane main branch. Attractions included The Cat in the Hat, classic 1965 cars, a vintage fire truck and sea shanties. Mayor Scott Avedisian also gave a brief speech congratulating the library staff and trustees on their long service to the city.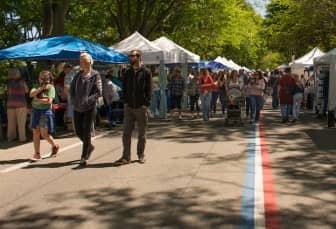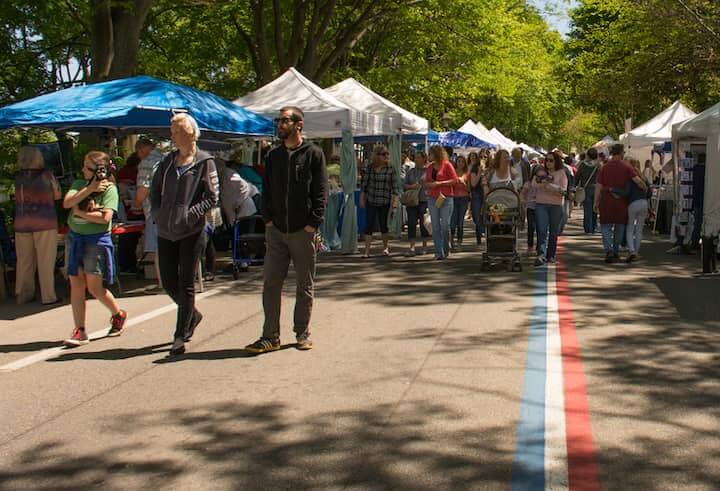 Gaspee Days 50th Year The annual series of historical heritage Gaspee Days celebrations began Jan. 21 as both Mayor Scott Avedisian and Gaspee Days celebrated their 50th birthdays. The celebrations included the the Gaspee Days Arts and Crafts Festival May 23 along Narragansett Parkway and the Gaspee Days Parade  and Gaspee Days 5K June 13.
Rocky Point Park Opens DEM Director Janet Coit joined Mayor Scott Avedisian, Governor Lincoln Chafee, members of Rhode Island's Congressional Delegation, key House and Senate members, representatives of the Rocky Point Foundation and Save the Bay, and other public officials Oct. 23 to celebrate the beginning of the park's redevelopment in anticipation of an Open House for the park that coming Saturday to explore the grounds and see the progress of the redevelopment of Rocky Point into  Rhode Island's newest coastal state park.
DEM acquired 83 acres at the site of the former amusement park in March 2013. This land was to be integrated with the 41 acres of shoreline at Rocky Point that was bought by the City of Warwick with the help of state and federal funding in 2007.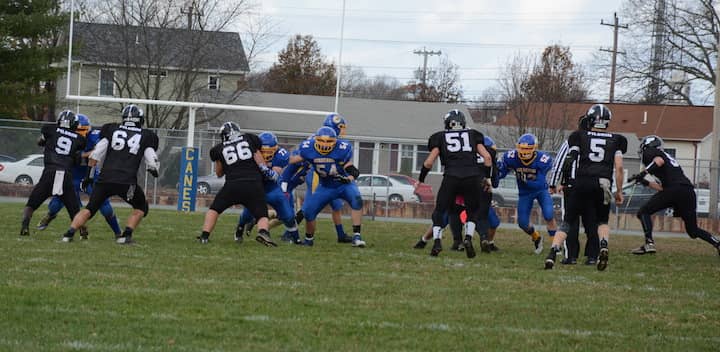 Final Warwick Vets/Pilgrim Football Match The 53rd matchup between annual Thanksgiving rivals Pilgrim and Warwick Veterans, at best a bittersweet occasion, tested the mettle and sportsmanship of the Hurricanes as they fought for points on their home field in the 46-12 game.
The matchup is the final one between the two teams. Next year,Warwick Veterans High School will be converted into a middle school as part of the Warwick School Department's school consolidation plan. Many students from Vets will begin attending Pilgrim High next September.