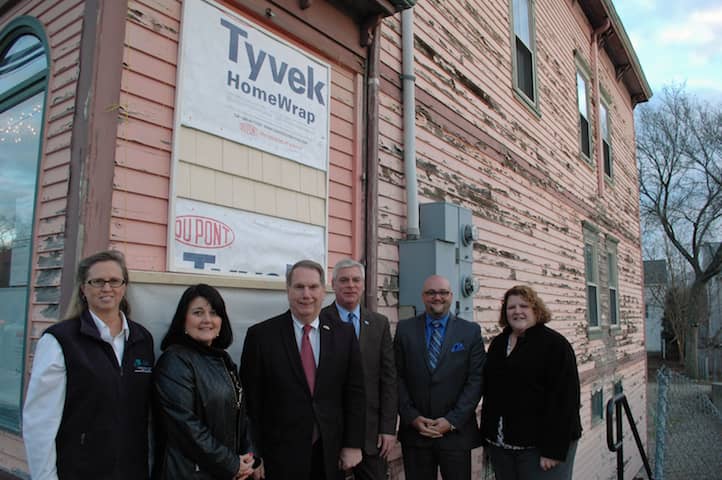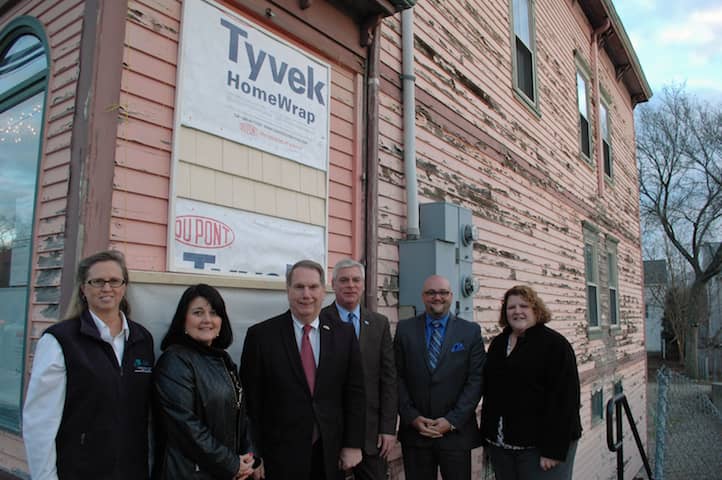 Warwick, RI — The Victorian Lady, the pink, pealing and aged four-story headquarters of the Central RI Chamber of Commerce at 3288 Post Road, will get started on a long-anticipated $200,000 update early next year.
"We need to restore the lady to her grandeur," said Chamber President and CEO Lauren Slocum during Wednesday afternoon's kickoff of the renovation plan,which has already secured $160,000 in pledges, according to Mayor Scott Avedisian's office.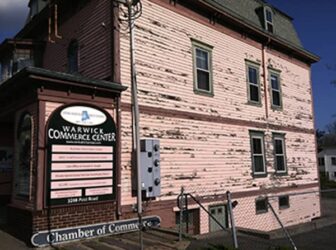 The restoration will include new siding, the restoration of a west-facing window currently blocked off, rebuilding the front stairway, repointing the brick, new windows, and heating and air conditioning improvements. In the business center next door, improvements will update the space to a modern conference and training room.
"We look forward to beginning the project no later than the first of the year," Slocum said. The building permits are currently in progress across the street at Building Department in the City Hall Annex. The project is expected to wrap up by early summer 2016.
The Chamber's capital campaign for the project began in 2014 shortly after the Apponaug Circulator project broke ground. The restoration efforts go hand-in-hand with the current construction happening through the village, according to a release from the Mayor.
Standing in the heart of Warwick, the Victorian Lady is a pillar for the City's entire business community. A true professional resource, the Chamber of Commerce is a legislative advocate for the business community; an accessible, friendly, helpful organization available to assist and help homebased, small and large businesses alike, according to the Mayor's office.
"The Chamber of Commerce continues to be a great partner with the City of Warwick, and a great liaison to our business community," Avedisian said.
Donations can still be made by calling the Chamber at 732-1100.