We Make It Easy and Affordable to Promote Your Business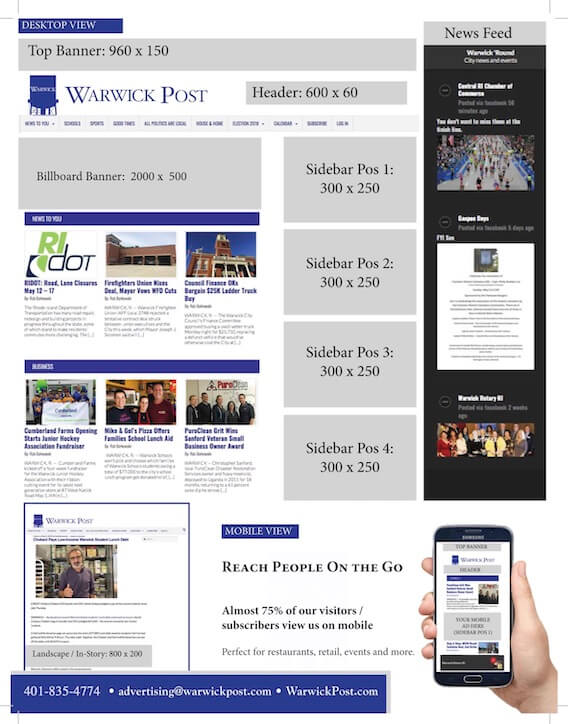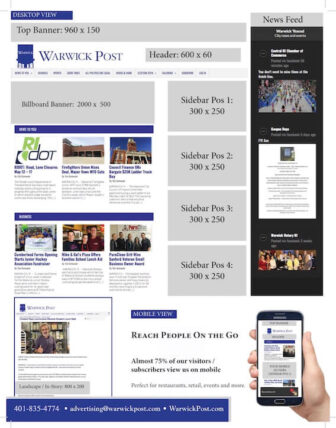 At WarwickPost.com, we believe that showcasing your business to local customers shouldn't be expensive or difficult — that's why we offer a range of affordable advertising options.
Here's our menu of options for local businesses:
Display & E-Newsletter Ads
Warwick Post offers a variety of affordable display advertising options, with pricing for spots beginning at flat rates for one-quarter share of voice (SOV). You'll pay the same rate even if our traffic spikes in a given month, providing you the benefit of increased viewers without a higher bill.
Ad spots are available on a run-of-site, page-specific and category-specific basis.
We also offer premium space in our daily e-newsletter. Please contact Sales Consultant Ron Welby at 401-835-4774 to discuss in detail.
See a high-res pdf of WarwickPost.com ad positions here.
Featured Directory Listings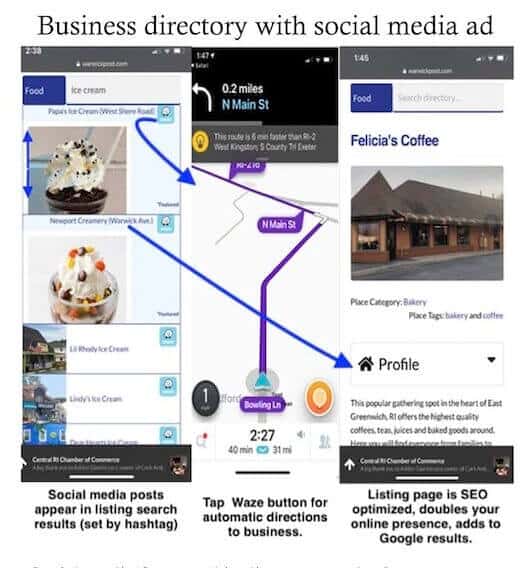 Local small businesses face many tough challenges. One of the big ones is spreading word of mouth and generating awareness of your business and services. Warwick Post has a plan for that:
Maybe we've already added your business into our directory – we're continuously updating the listings to add new restaurants to the list so readers know where to get food in town. If not, you can add yourself for free, which will increase your web presence, increasing the chances that your business will be in organic results. Or, you can use our automated system to buy a featured listing, which has a number of additional benefits:
Featured listing benefits:
Social media format ad in directory results & on your listing page
New posts to your social media update to results and your page automatically
Social media news feed ad, runs on all pages, updates with new posts.
Creates 2nd web page, enhancing SEO and Google results
Free Listing
Zilch, nada, zero
* UPDATE description (150 words)
*ADD 2 photos / menus
Featured Listing
$299/year
* UPDATE description (300 words)
*ADD 5 photos
*SOCIAL MEDIA AD in results & listing -update ad whenever you post