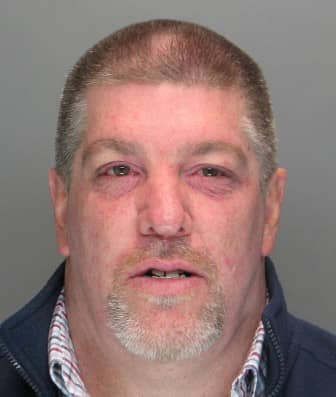 Warwick, RI — Warwick Police seized more than 220 items from the home of  former Director of Warwick Schools Buildings and Grounds David LaPlante on Dec. 7 and Dec. 10, equipment detectives allege he used to improve his kitchen and to clean up storm damage from the Aug. 4 "macro-burst," totaling about $70,000.
Police have charged LaPlante with five felony counts of Wrongful Conversion by Municipal Employee. Under Rhode Island General Law 11-41-27, LaPlante faces up to 20 years in prison and fines of up to three times the value of the items for each charge.
He will appear in Third District Court for a court screening on the charges Feb. 8, 2016.
Police executed the search warrant at LaPlante's 100 Fairway Lane home after Warwick Schools Supt. Phil Thornton and his staff met with Warwick Police Dec. 2 to report "purchasing irregularities" made by LaPlante dating back as 2011.
School Construction Manager Robert Corrente had discovered the irregularities while reviewing invoices. Corrente asked about several items LaPlante had purchased from the Grainger Supply Company and other items that didn't appear to be for school use, according to the warrant. Ultimately, Corrente found several purchases made between July 1, 2014 and November 2015 which were questionable. During this time, LaPlante earned a $100,000 annual salary from the district.
Thornton and school department staff told police they'd seen LaPlante using some of the equipment at his house. The equipment included self-regulating heat cables for thawing ice on his roof and LED spotlights totaling $2,631.47; Charlestown scalloped wood fencing and supplies from State Wide Fence Builders Inc. in Warwick totalling $2,205.61; and two 275-gal. oil tanks for $1,007.12 from FW Webb Company.
The warrant also notes that the fence was put up about six weeks after the Aug. 4 macro-burst storm that damaged the original fence on LaPlante's property. After the storm, which dropped a tree on his house, LaPlante also ordered a number of items that may have aided him in the cleanup, the warrant states. The items included several chain saws, cases, sharpening tools, engine oil, tensioning kits, electric winches, and a generator.
"Neighbors also confirmed that they have seen LaPlante numerous times in the past backing up his truck and unloading what they described as equipment and items both in to the garage and home. There is also a general feeling by these same neighbors that LaPlante always seems to have the 'right tools for the job' when something happens like the macro-burst storm or larger snow storms, etc.," according to the warrant.
The warrant also notes a number of misappropriated items not seized because they had been installed in LaPlante's home. Those items included a deck, kitchen cabinets, counter tops, a dishwasher, prefinished hardwood floors, LED spot lights, TV mounts, electrical switches and outlets, and kick space heater.
According to the warrant, the items seized Dec. 10 were among a supplementary list the school department provided of misappropriated goods dating back to 2011. Those goods included a Troy Built 30-inch snowblower, a large two-wheeled wheelbarrow, two dehumidifiers, numerous assorted tools, a pool pump and collapsible tent.
When asked about some of the discrepancies during a Dec. 4 meeting with Thornton and Chief Financial Officer Anthony Ferrucci, after being served with a suspension letter, Thornton reported LaPlante apologized several times and said, "I'm all done." He refused to say anything else and left the meeting, according to the warrant.
Copies of the warrant and full lists of the more than 220 items seized by police are embedded below: