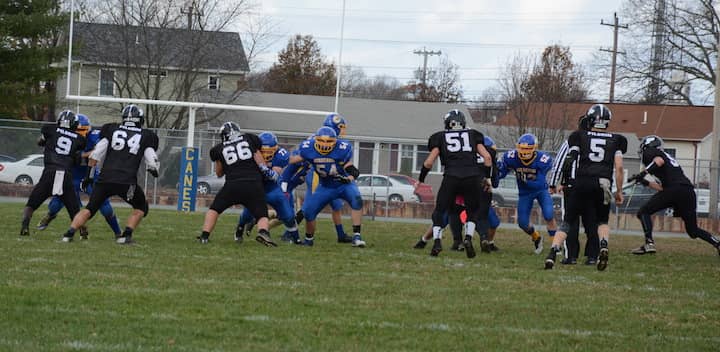 Warwick, RI —The 53rd and final matchup between annual Thanksgiving rivals Pilgrim and Warwick Veterans, at best a bittersweet occasion, tested the mettle and sportsmanship of the Hurricanes as they fought for points on their home field in the 46-12 game.
At halftime, with the Patriots dominating the morning at 22-0, coaches for each team noted the game was largely psychological.
"This is a tie game if not for mental mistakes," said Hurricanes Coach Rob Pacifico.
For Patriots Coach Thomas O'Connor, the key was to "stay within ourselves, not let emotion get the best of us."
"It's unfortunate we're down. Pilgrim's a great team," said Warwick Vets Principal Gerry Habershaw, who took a moment during halftime to gather together with several former Warwick Vets Hurricanes players for a quick cheer at the 50-yard line.
The second half saw a meager rally for the Hurricanes, but they were only able to rack up 12 points on two touchdowns before the clock ran out.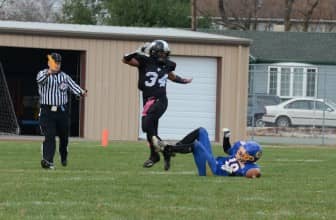 The matchup is the final one between the two teams. Next year, Warwick Veterans High School will be converted into a middle school as part of the Warwick School Department's school consolidation plan. Many students from Vets will begin attending Pilgrim High next September.
"I definitely hate to see us lose our last year," said Jason Brown, Warwick Vets Class of 1991, a former Hurricanes player who went on to play for Hofstra from 1991-1995.
Brown said that while it's sad to see Warwick Veterans close down, "Overall, I think it's better for the city, it's better for the kids."
"I just think it's unfortunate that Warwick hasn't been able to figure out how to keep families from leaving the city," said Paul Ferns, Warwick Vets class of 1988, a captain with the Hurricanes from 1987-88.
Ferns said as families have made difficult choices to send their children to other communities' schools and to private schools, sports programming has suffered. Even so, "I can tell you Gerry Habershaw and Kenny Rix have done an amazing job keeping the spirit of the student body up and instilling pride in Warwick Vets," Ferns said.
"We were overmatched all year, especially today, but we had kids that just kept fighting. It was a pleasure being around them," said Pacifico after the teams shook hands, "I can't say enough about the integrity of these boys and the men that these boys turned into. It was my pleasure being around them."
"You showed how to get through adversity," Pacifico told the Hurricanes during their final huddle, coaches standing to the left as the players took a knee, everyone tearing up. "It's time to turn the page in your life," he told them, then led them as a group to meet with O'Connor.
Next year, O'Connor told them, they've got a shot with the Pilgrim Patriots.
"I know it's been tough for you guys. I'm happy to have you guys," O'Connor said.