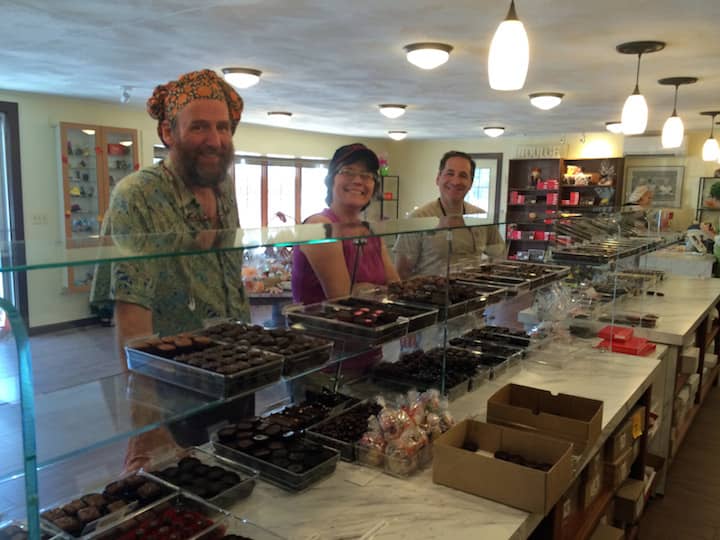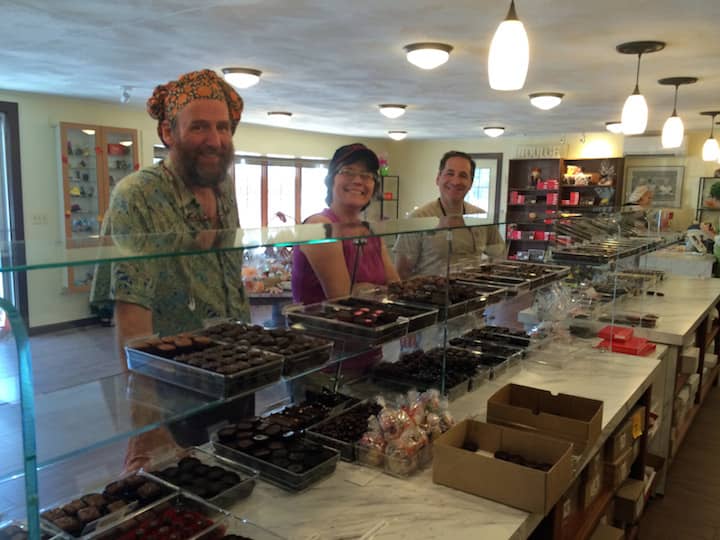 Warwick, RI – Chocolate Delicacy had only been open in its new location a few days before customers from their old East Greenwich location tracked them down at the old Fagnant Carpet building on Gilbane Street in Apponaug.
"So you're here instead of East Greenwich now? You're even closer to me?" Jeff Herman exclaimed on entering the shop, which the owners, Marie and Dave Schaller, have been sprucing up all summer.
About three-quarters of Chocolate Delicacy's stock is made in-house. On Friday, Dave was in the basement kitchen, cooking up treats for customers while Marie was attending to some paperwork.
The shop sells peanut brittle, fudge, almond butter, chocolates, solid chocolate designs, and home-made Easter bunnies. They've also got an assortment of Halloween candy ready for the season.
"I think we might try beer brittle later this afternoon," Marie said, noting that, of course, she taste tests the batches, to ensure quality, so, "I know it's good," she said.
"This is the best palce on the planet," – Jeff Herman
The duo started their business in 1992 in East Greenwich, but their old shop there had become too crowded by other businesses and traffic. East Greenwich's Main Street is growing, certainly, Marie said.
"So much so, we felt like we were getting crowded out," she said. Along with the fact that a large number of their customers have aged over the past two decades, and can no longer make it in the front door of their former location.
"You miss them," Marie said.
Those problems are neatly solved with the more open location on Gilbane Street, along with a freshly built handicapped accessible ramp.
Marie and Dave met at Vassar College, in Poughkeepsie, NY, and have been a team ever since. They wound up living in Boston after college. They started their first business, Tempters, in Medford, MA, an ice cream shop, in a space a relative let them use.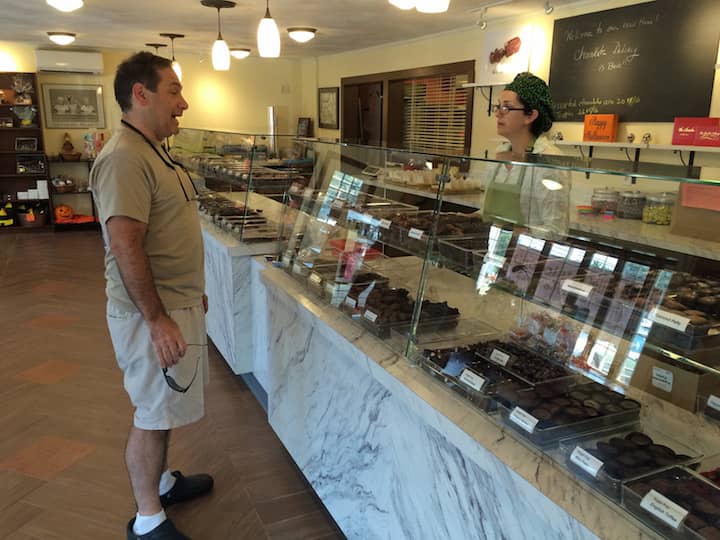 But they had family in Rhode Island (Dan grew up in Wellesley, MA, Marie grew up in East Greenwich), so they moved to the Ocean State to work for the family business, Wickford Seafood.
"We didn't really like fish," Marie said, so they opened Chocolate Delicacy in East Greenwich.
Dave took a one-day candy making class at RISD to prepare for the experience, and they began soliciting chocolate samples from suppliers to see what they wanted to use in their chocolates. "These 10 lb. slabs of chocolate were flying in," Marie said.
When they had their recipes ready, they rented a spot on Main Street in East Greenwich, which was 1/3 empty at the time, and started Chocolate Delicacy. It's been a successful two decades, if the loyalty of their customers is any indication.
Marie and Dave smiled as Herman exclaimed the shop's praises. "This is the best palce on the planet," he said, shortly after placing an order for a few sweets from the counter.