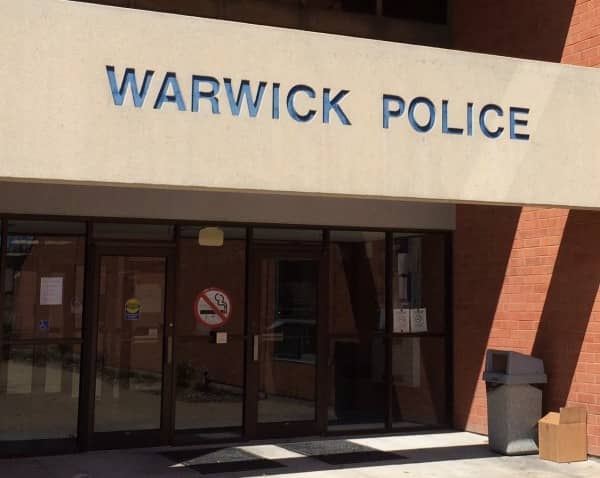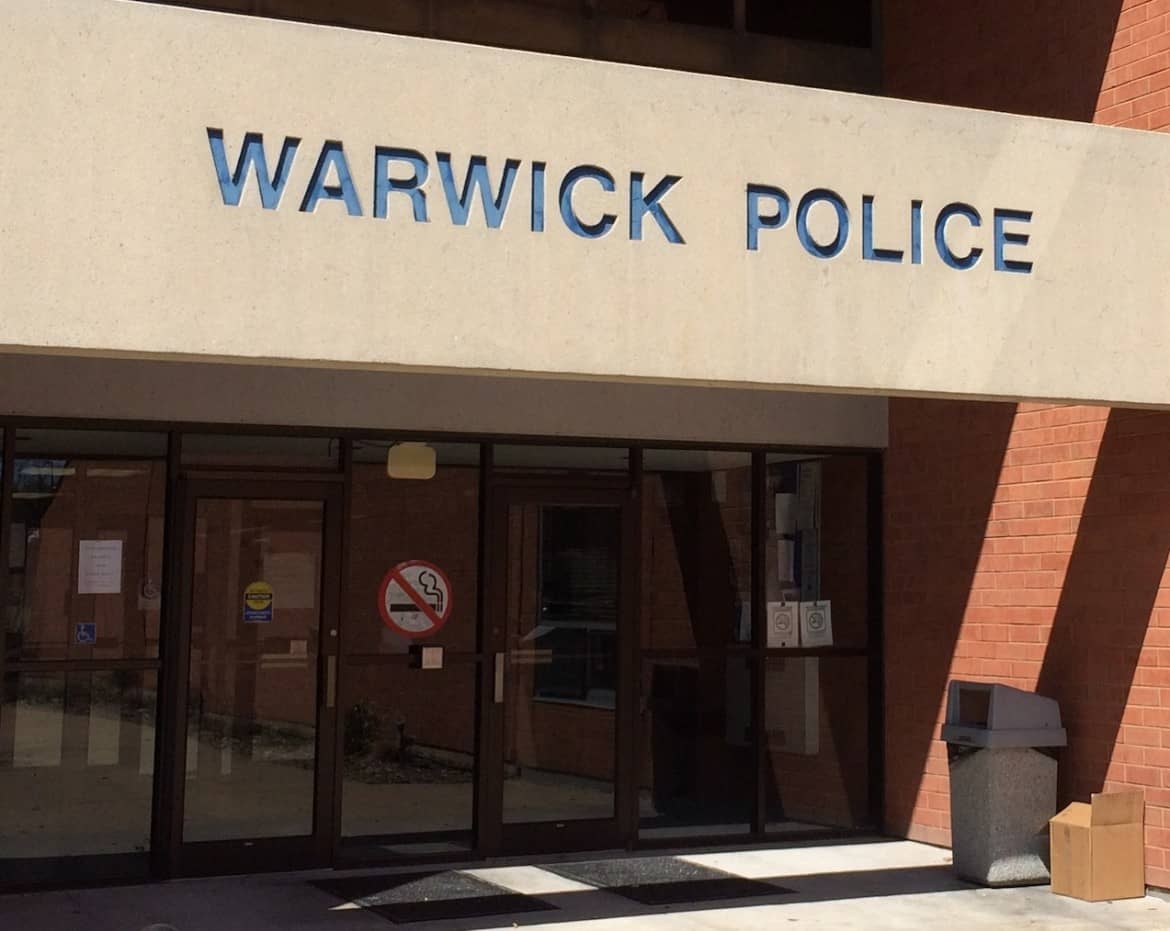 Editor's note: The following Warwick, RI arrests and incidents were taken from the Warwick Police Department's website and from publicly available reports. An arrest reflects charges against an individual, and does not indicate guilt or innocence.
WARWICK, R.I. – The Warwick Police Department reported 172 arrests for the month of July, 2016, including several DUI charges stemming from erratic driving and an apparent case of a resident pouring an herbicide on a neighbor's tree.
The entries [see list of arrests here] exclude juvenile offenses and charges like driving with a suspended license, the department states on the website.
July 3: Motorcyclist injured, charged with DUI
Officer Ryan Lancaster responded to 495 Oakland Beach Ave. for a report of a crash and found a red Suzuki motorcycle, its front end covered in blood, with the rider in a Warwick Fire Department ambulance being treated for an injured left arm.
Ludovino Medeiros, 37, of 64 Pearl Ave., Warwick, told Lancaster that he'd taken his uncle's motorcycle "out for a spin" after drinking two Twisted Tea drinks. After Medeiros refused to take sobriety tests at the scene and a blood test at Kent Hospital, Lancaster charged him with DUI, blood-alcohol level unknown, and refusal to submit to a chemical test.
July 6: Man claims "accident" in pouring herbicide on tree
Officer Mitchel Voyer arrested Bruce R. Gempp, 65, of 104 Ginger St. on a charge of malicious injury to property on July 6 at 3:44 p.m. after Gempp's neighbor reported seeing him pour a white powdery substance on a tree in the neighbor's yard.
Gempp at first claimed that he had treated the tree with Miracle-Gro fertilizer, but after Voyer looked into the incident further, Gempp said he'd accidentally put Stump-Out on the tree.
Gempp is scheduled for a pretrial hearing on Aug. 10 in Third District Court.
July 9: Women found with neglected animals, drugs after traffic stop
Kristina Case, 21, of 201 Briarbrook Dr., North Kingstown, and Alicia Tetreault, 25, with a last known address of 18 Rosewood Ave., Warwick, face charges of heroin possession after Officer Aaron Steere stopped them in a 1999 Dodge Caravan with registration plates that belonged to another vehicle.
Case was also charged with driving with a suspended license.
Steere also reported finding seven cats in poor health riding the minivan. He placed the animals with the Warwick Animal Shelter for treatment.
The women are due back in court on Aug. 22.
July 11: Motorist alerts WPD to erratic driver
After a motorist reported seeing a blue Ford F150 stopping and swerving on Post Road, two local officers charged the truck driver with DUI and refusal to submit to a chemical test.
Officers Sokphannareth Chea and John Zaborski reported that they saw the truck driven by Adam Amaral, 32, of 54 Larchmere Dr., Rumford, stop in the middle of Post Road near TF Green Airport after it had nearly hit a telephone pole, then swerve into the opposite of travel.
Amaral was due back in court on Aug. 2. No information had been posted on the state court website by the publication of this article.
July 16: DUI charge follows wrong-way driving
Officer Thomas Duncan reported that a gray 2015 Toyota drove north from Post Road, then north on Greenwich Avenue, going against southbound traffic, nearly crashing into four southbound cars, leading to a DUI charge against Abdias Granillo, 33, of 114 Norfolk St., Apt. Second Floor, Cranston.
According to Duncan, Granillo gave no reply when asked for his license and registration, then told the officer it was "none of [his] business" where he was headed. Granillo also failed a field sobriety test and later claimed that the arrest was racially motivated, and to have been knocked down by an officer when he had actually fallen by himself.
At the time of his arrest, Granillo had been serving a one-year suspended sentence and one year's probation imposed in September, 2015, on felony domestic trespassing and vandalism charges brought by Cranston Police. At a probation violation hearing on Aug. 2, Granillo was remanded to the ACI. He was later released on personal recognizance.
Granillo pleaded not guilty to the Warwick charges on Aug. 2 and is scheduled to attend a pretrial hearing on Aug. 17.
July 18: Crash results in DUI charge, man charged with taking A/C unit
A three-car crash in front of Work Out World on West Shore Road at 3:30 p.m. resulted in the arrest of one of the drivers for illegal oxycodone possession and DUI.
Officer Scott Chanthaphouvong saw the three cars still in the eastbound lane, and reported that the driver of the third car in line was trying to hide something inside a plastic grocery bag.
A search of the bag turned up several round blue pills later identified as 30mg Oxycodone tablets.
Chanthaphouvong charged Mathew J. Maleski, 41, of 489 Maple Valley Road, Coventry, with felony possession of the prescription drug, DUI, and driving with a suspended license.
Maleski is due in court for a felony screening on Aug. 29.
That night, Warwick Police arrested a Providence man after the second of his video-recorded attempts at stealing an air conditioner from Next Gen Mechanical at 106 Hallene Road proved successful.
Video surveillance showed the man, later identified as Tony Holford, 35, of 88 Ellery St., Apt. 1, Providence, had not taken 'no' for an answer.
When Officer John Zaborski reviewed the footage, he saw Holford and two friends try to stealing the air conditioner from the property at 9 p.m., but the attempt failed when the trio was unable to lift it. They returned at 10 p.m. with a fourth man and loaded it on a box truck, according to the officer's report.
Zaborski found Holford driving a truck with registration plates that didn't belong to it around 11 p.m. on Airport Road.
Warwick Police charged Holford with a misdemeanor charge of larceny and driving with a suspended license, his third such offense.
His trial is scheduled for Aug. 25.
July 23: Open beer leads to DUI charge
After Officer John Curley reported seeing a green GMC Canyon pickup swerving westbound on Division Street, he pulled it over and found the driver with an empty beer can on the floor, three full cans on the seat next to him, and a dog, according to police.
Curley charged Frederick Tanner, 54, of 68 Maple Ave., West Warwick, with DUI, blood alcohol unknown, and cited for refusing to take a breath test.
Tanner failed to attend an arraignment hearing on July 26, and a warrant has been issued for his arrest. Coventry Police also have a DUI case pending against him.