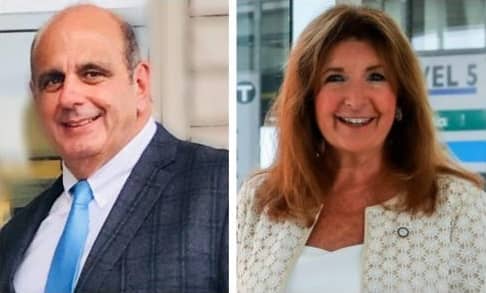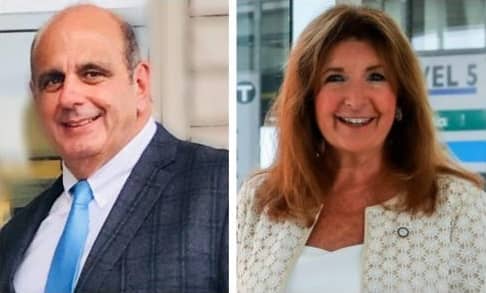 WARWICK, RI — Now that Primary Day 2018 is over, Warwick voters turn their attention to the Nov. 6 general election matchup between Democrat Mayor Joseph Solomon and Republican challenger Sue Stenhouse.
While already notable because it will be the first time in 18 years that Scott Avedisian is not on the mayoral ballot, this race has a number of other factors that could swing the result in either direction.
Here's a look at how they may affect this race:
Organization
Whatever the issues, whatever the differences in policy ideas, whatever the campaign messages, elections are ultimately decided by one thing: Turnout.
That doesn't mean just inspiring people to support one candidate over the other; it means ensuring that voters physically get to their polling place and fill in the circles on their ballots. 
Solomon got more than 6,000 votes out of about 9,000 cast on a rainy Wednesday during an off-Presidential election year primary. By comparison, there were only 7,000 votes total cast in the 2014 Democratic mayoral primary.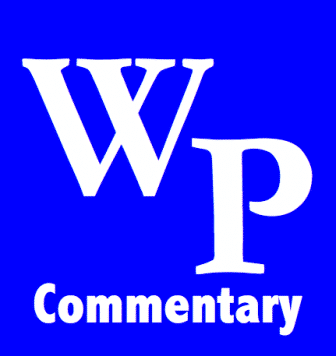 By any measure, that's an impressive feat for Solomon and shows that he has an effective organization behind him.
Stenhouse's capacity for turnout, of course, has yet to be tested. But the support she is clearly counting on from Avedisian may be a major factor.
Consider: In the 2016 election, when Democratic candidates swept nearly the entire Warwick ballot, the only exceptions were Avedisian and Pat Morgan, whose district includes a section of West Warwick.
In fact, Avedisian got more votes than any candidate on the Warwick ballot — 6,000 more than Hillary Clinton in Warwick, and 8,000 more than Donald Trump.
(Only two referendum questions, on an amendment to the state constitution related to the ethics commission, and a $27 million bond to build a new veterans' home, drew more voters than Avedisian.)
So the question here is: Can Avedisian's popularity and ability to bring the people to the polls translate into success for Stenhouse in November?
Funding
Because he had a primary, Solomon has already reported his campaign finance activities — as of Sept. 5, he had just over $218,000 to spend, about 10 times more than the next two Democratic challengers combined.
Of that, Solomon raised just over $109,000 since May, when Avedisian announced that he was stepping down.
Stenhouse, by comparison, isn't required to report on her finances until Oct. 9, though she has held a couple of campaign events, including her kickoff announcement held at Chelo's on Aug. 14. According to the Beacon, about 50 people attended the announcement, compared to the 500 or so who Solomon reported were at his campaign launch in May.
Stenhouse told the Post via email that her campaign has "a number of fundraisers" leading up to the reporting deadline, and will include the results in her next filing.
While Solomon had a primary to navigate, Stenhouse didn't — meaning it's yet to be seen what kind of fundraising potential Stenhouse has.
Image and reputation
Even with its size, Warwick is a place where small-town, retail politics is the name of the game, meaning the candidate's public image and reputation will be prominent in voters' minds.
With his time on the city council and in the mayor's office, and his recent citywide campaigning efforts, Solomon is presenting himself as an experienced public servant and responsible steward of taxpayers' money (though there are some potential blemishes to that image, given this year's tax increase) who will keep the proverbial steady hand to the till.
Stenhouse seemingly can't be mentioned in any press report without her 2016 Cranston Senior Center photo op stunt being brought up. That's the kind of episode that simply doesn't disappear with time, and Stenhouse will have to figure out a way to answer the inevitable questions about it.
Over the next two months, both candidates will have to present their best images while fending off possible attacks on their respective reputations.
Pocketbook issues
This year's election is shaping up to be one based about finances: How will these candidates handle taxpayers' money in running the local government?
As the incumbent and long-time city councilman, Solomon will rightly be asked a lot of questions about his stewardship of the city budget — including this year's state-capped tax increase.
That followed the FY18 budget that held the tax rate steady but still increased spending by $6.5 million, resulting in a $4.2 million deficit.
(It's also worth noting that the Solomon-led council passed the FY18 budget without a tax rate hike instead of Avedisian's proposed 46-cent-per-$1,000 tax increase that would have raised an estimated $7.1 million.)
So, for Solomon, that's two straight budgets that had completely different approaches to the tax rate — and are both in the red.
He's also given vague explanations about the accumulated surplus that Avedisian said he left behind, most recently hinting to the Warwick Beacon that it may be less than $20 million instead of the $23.7 million that Avedisian claimed it was.
Stenhouse doesn't have the same length of time managing Warwick's budget, although she did serve on the city council and made decisions on the city's finances in the past.
One potential Stenhouse strategy would be pointing to Avedisian's management and saying, in essence, "You didn't get these massive tax hikes under him, and you won't get them with me as mayor."
When it comes to city finances, Solomon will have to defend his mixed record while Stenhouse needs to show she's from the Avedisian school of fiscal management that kept the city out of major fiscal problems for nearly two decades.
Experience
Solomon was on the council for 18 years and serving as council president when Avedisian abruptly announced his resignation in April. Under the city charter, he was sworn in to complete Avedisian's term in May without triggering a special election.
Stenhouse previously served on the council and has stints in a few local and state government jobs on her CV.
At first blush, Solomon may have the edge in this category, but Stenhouse could argue that she has a wider perspective on issues facing the city — specifically funding for education, statewide tourism, and business development — that Solomon may lack because of his time on the local city council.
The proverbial elephant in the room, of course, is the aforementioned photo op. She could point to 50 legitimate accomplishments, and they could still be overshadowed by the cross dressing bus driver.
At the same time, Solomon would be walking a tightrope if he tries to make the photo op snafu a main campaign topic: Bringing up the two-year-old incident could backfire if he doesn't have good enough answers for his management of the city budget that resulted in a combined $8 million deficit over the last two fiscal years.
Conclusion: Expect a close race
The 2018 mayoral election in Warwick promises to be the closest contest in almost two decades — which, admittedly, is a low bar to clear, since Avedisian routinely trounced opponents by a 2-to-1 margin or more in every election he ran since 2000.
Solomon already showed in the primary that he has the organization and funding — as well as the government experience — to significantly outpace the other Democrats on the ballot.
But Avedisian promises to be a main influence in the race, as he has already shown by releasing transition documents through Stenhouse that showed Solomon was actually more aware of the situation with the city annex building than he claimed to be at a Rotary meeting in July.
Ultimately, the decision for Warwick voters comes down to an incumbent mayor and longtime city councilor with an established party apparatus versus a challenger with legitimate, if checkered, experience and potential support from the still-highly popular former mayor.
The bottom line: Either candidate has a strong chance to win the mayor's race, and the final margin could be the smallest in a generation.