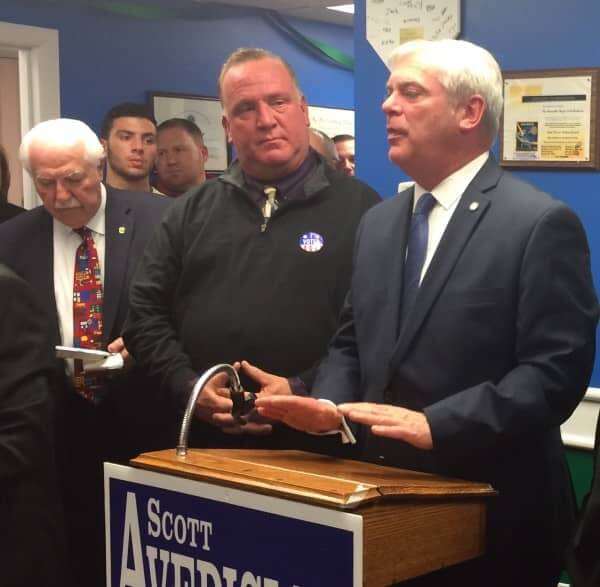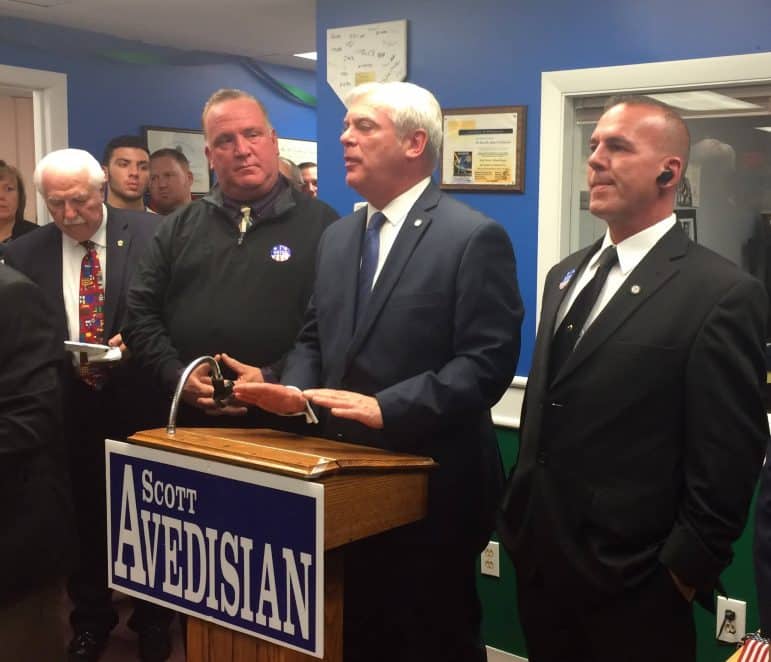 Warwick, R.I. — Incumbent Republican Mayor Scott Avedisian fended off the latest challenge to his 16-year tenure on Nov. 8, defeating Democratic challenger Richard Corrente by a nearly 2-to-1 margin.
During his acceptance speech at his Airport Road campaign headquarters after 9 p.m., Avedisian said he won because he and his administration are responsive to the needs of Warwick residents.
"We truly try to look at what is important to the people of this city, to respond to their concerns, and to make sure that the future is bright and prosperous for everyone that we deal with on a daily basis." Avedisian explained.
As results were reported following the 8 p.m. close of polls, Avedisian's lead was clear after 35 percent, or 12 of 34, of precincts reporting. At 8:30 p.m., the state Board of Elections reported 3,901 for Avedisian to Corrente's 2,170. By 10:30 p.m., with 100 percent of precincts reporting, Avedisian had 24,300 to Corrente's 13,278, or 64.4 percent to 35.2 percent.
From there, Avedisian widened the margin, eventually racking up 65 percent to Corrente's 35 percent by 9:30 p.m. with 94 percent of votes counted, according to the Board of Elections website.
"Being positive about the future always trumps being negative," Avedisian said of his opponent, whom he congratulated for the effort he put into his campaign.
Also Tuesday night, Democratic candidates swept the nine City Council seats, with Richard Corley winning in Ward 1, Jeremy Rix in Ward 2, Timothy Howe in Ward 3, Joseph Solomon in Ward 4, and Donna Travis in Ward 6. Wards 5, 7, 8, and 9 had Democratic candidates Edgar Ladouceur, Stephen McAllister, Joseph Gallucci, and Steve Merolla, respectively, running unopposed.
While the result was the same as the last seven general election contests, dating back to 2002, this year's race was notable for Corrente's nearly two-year-long campaign and more aggressive spending than all but one past opponent, reporting nearly $42,000 in loans to his campaign in the losing effort.
In 2002, Raleigh Jenkins spent $2,095 to secure 6,521 votes to Avedisian's 24,922. Two years later, Michael Woods spent $99,000 — the highest total to date in campaigns against Avedisian — to ultimately lose 24,357 to 10,014.
In 2006, Donald Torres spent about $20,000 and finished behind Avedisian, 24,595 to 11,676. Democrat John T. "Jack" Kirby ran against Avedisian in the next four elections, losing each time: roughly 3-to-1 in 2008 and a little over 4-to-1 in 2010, 2012, and 2014.
Kirby spent less than $2,000 in each of those races, according to his campaign finance reports.
Avedisian first earned the post by defeating Woods in a special election held in 2000 following the death of the late U.S. Sen. John Chafee and appointment of then-Mayor Lincoln Chafee to the vacant seat by then-Gov. Lincoln Almond. Campaign finance reports for the 2000 election are not available on the Rhode Island Board of Elections campaign finance website.
Corrente's run was also marked by campaign claims that turned out to be false, including his incorrect allegation that Warwick lost more than 4,000 businesses over a decade [which Avedisian blasted during the campaign's lone debate], and that he got unfair increases in valuations on his properties, when Avedisian is actually paying a higher net tax bill. Corrente's residence was the subject of a foreclosure due to nonpayment of taxes, according to the Warwick Beacon, and is now owned by a Louisiana company.
Local voters' continued support for Avedisian follows two years of generally positive news, including the opening of the Potowomut Fire Station, recent budgets that continue to maintain city services, and the addition of food truck nights to the city's events.
That support continued despite the admitted lack of staffing and supervision that resulted in the drowning death of a six-year-old in City Park over the summer; denial of requests for public release of the Ragosta Report, which described a failure of school department officials to investigate reports of a teacher drawing sexually explicit pictures on students; and the belated release of the list of sidewalks required to be cleared under the city's new shoveling ordinance.
The victory for Avedisian keeps him in the company of Rhode Island's longest-serving mayors, including Ralph aRusso of Johnston [24 years], Vincent A. Cianci of Providence [21 years], Salvatore Mancini of North Providence [20 years], and James A. Doyle of Pawtucket [13 years].
Editor's note: Rob Borkowski contributed to this report.