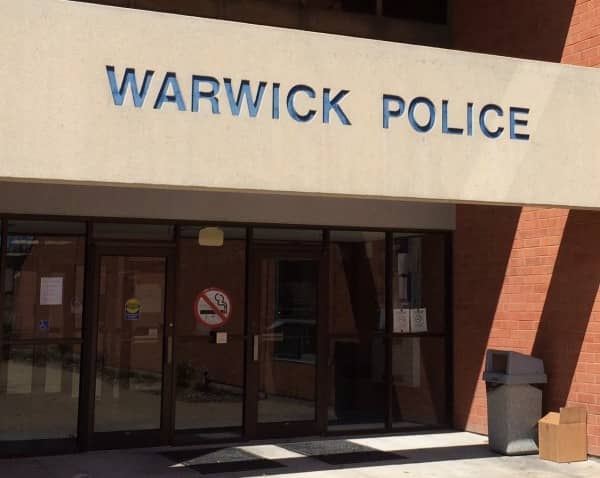 WARWICK, R.I. – Among the 173 arrests reported by the Warwick Police Department in September, 2016, were a man charged with illegal discharge of a gun, another man arrested for drag racing, and four people charged with coordinating the theft of $1,200 from a local Stop & Shop.
The entries [see list of arrests here] exclude juvenile offenses and charges like driving with a suspended license, the department states on the website.
Sept. 2: Drag racer gets red flagged
Officers arrested Christopher Severino, 26, of 25 Cantara St., West Warwick, for drag racing on East Avenue. Severino was also charged with driving with a suspended license.
At arraignment on Sept. 27, Severino pleaded no contest to the reckless driving charge and guilty to the suspended license charge. Judge Mary E. McCaffrey sentenced Severino to a one-year suspended license and one year's probation, plus a 30-day loss of license, for reckless driving, and imposed fines and court costs for the suspended license charge, his second offense.
Sept. 10: DUI suspect thought she was in Johnston
A Smithfield woman is scheduled for arraignment on Oct. 4 following her arrest by Officer Jeremy Smith on Namquid Drive. According to Smith's report, Kerilyn Shaw, 26, sped by him at 58 mph in a 35 mph zone on Warwick Avenue.
Smith also reported that Shaw's car made a U-turn on the street, weaved between the travel lanes, and struck a curb before she stopped the car. Shaw appeared drunk and said she thought she was in Johnston, according to Smith's report.
Sept. 16: Truck vs. tree, slumped driver result in DUI charges
An 2:30 a.m. collision led to a DUI charge against Jonathon Myers, 28, of 155 Lockwood St., West Warwick, whose 2001 Ford pickup truck had crashed into a tree on Post Road. Myers's injuries prevented officers from testing his breath for alcohol, and Myers refused to submit to a chemical test.
Officer Jeffrey Taranto also reported that Myers was not wearing a seatbelt, and did not have insurance on his truck at the time of the crash.
At 8:22 p.m., Officer Manuel Pacheco and three other officers responded to a call about an unconscious driver at the drive-through window of the McDonald's at 2930 Warwick Ave. By the time officers arrived, the driver, Jason Leone, 45, of 130 Chapel St., Block Island, was awake but appeared drunk.
A search of Leone and the van found open beer cans [including one that had apparently just been emptied onto the floor], "nips" liquor bottles, and several Oxycodone pills for which Leone did not have a prescription.
Officers charged Leone with one felony count of drug possession and one count of DUI. He posted bail on Sept. 19 and is awaiting referral to Kent County Superior Court.
Sept. 18: Quartet nabbed for coordinating Stop & Shop robbery
After employees stopped them from trying to leave the Stop & Shop at 2470 Warwick Ave. with an estimated $1,200 in merchandise, four people were charged with one count each of larceny and conspiracy by Warwick police.
Derrick Mathias, 26, of 185 Glen Drive, Kaleb Schultz, 22, of 135 Glen Drive, Kayla Schultz, 26, of 185 Glen Drive, and Rocky Phelps, 33, of 185 Glen Drive were found walking through the Willow Glen condominiums property after they left two full grocery carts behind at the supermarket.
All four pleaded not guilty at arraignment on Sept. 29 to misdemeanor charges of larceny and conspiracy. They are due for separate pretrial hearings on Oct. 17.
Sept. 19: Car burglar picks wrong mark
An off-duty correctional officer gave a car burglar a face full of pepper spray — and provided police with a quick arrest — after discovering the thief.
Officer Thomas Greene arrived at a home on Posnegansett Avenue just before 1 a.m. to find the suspect, identified as Kevin Gilchrist III, 24, of 130 Pilgrim Parkway, Apt. 8, rolling on the ground and yelling loudly. The ACI officer said that his car alarm had awoken him, and that when he went outside, he saw Gilchrist in a physical struggle with a neighbor.
Gilchrist pleaded no contest to two counts of larceny at arraignment on Sept. 19. Judge Mary E. McCaffrey sentenced him to 90 days in jail for each charge, plus a one-year suspended sentence and one year's probation on each count. McCaffrey also sentenced him to a six-month prison term for violating probation from a conspiracy charge in a case brought by Warwick Police in April that also included three counts of larceny.
Sept. 29: Shooter arrested after report from off-duty Newport officer
Local officers responded to Tidewater and Payton Avenue after an off-duty Newport police officer reported a man walking in the neighborhood carrying a gun.
William Leavitt, 41, of 123 Payton Ave., faces felony counts of carrying a gun without a permit and firing a gun in a compact area, identified by police as the kitchen of his home, and charges of vandalism and disorderly conduct.
According to local police, the Newport officer confronted Leavitt and had him stopped briefly before Leavitt ran into his house and fired four shots inside the kitchen.
Warwick officers arrived a few minutes later, and Leavitt surrendered, unarmed.
Leavitt was released on bail at a hearing on Sept. 29 and attended an arraignment on Oct. 3. He is next due in court on Nov. 28.
Unsolved thefts: WPD seeks help to locate stolen property
During September, 2016, Warwick Police also reported several cases of larceny. Anyone with information on any of these cases is asked to call (401) 468-4200.
Sept. 5: Items stolen from boat
Officer Kevin McGuire responded to 127 Benedict Road for a report of stolen fishing gear from a boat stored at the property. The owner told McGuire that three fishing reels, three rods, and a tackle box with gear, collectively valued at more than $1,400, had been taken.
Sept. 13: Landscaping tools taken
A resident of 319 Post Road reported that a Husqvarna weed whacker and a RedMax  backpack leaf blower, valued at about $600, had been stolen from underneath a tarp cover on her husband's pickup truck. Officer Mark Jandreau reported that the resident's husband found the tools missing at about 8 a.m.
Sept. 17: DeWalt saw reported stolen
A Waterman Avenue resident approached Officer Manuel Pacheco at his patrol location on West Shore Road to report that a man and woman in a blue Nissan pickup truck had taken a compound saw valued at $500 out of a trailer on his property. Another officer saw a vehicle fitting the resident's description on Warwick Avenue heading toward Cranston and notified police in that city, but no further report of the vehicle was made.
Sept. 19: Tires and rims removed from rental
Officer Brian Murray responded to the Homewood Suites, 33 International Way, for a report of all four tires and rims missing from a car rented from Enterprise and parked at the hotel. The 2016 Toyota Camry, valued at $28,000, had been left on rocks by the suspects, reported Murray, who also noted that there were no surveillance cameras in the area.
Sept. 22: Van stolen from Warwick Mall parking lot
Warwick Police are investigating the theft of a 2004 Ford Econoline 350 van from the Warwick Mall parking lot outside Buffalo Wild Wings. Officer Brian Fontaine reported that the van's owner said he had parked and locked the van at 9 a.m. and found it missing when he returned at 3 p.m.
The van owner also stated that he'd asked Warwick Mall security whether they had towed the van, but they had not. Fontaine went to the mall and saw surveillance footage showing a light-colored Oldsmobile Aurora sedan parking next to the van and a suspect getting into the van from the passenger side "after attempting to gain entry on the driver's side for several minutes," Fontaine reported.
Sept. 23: Business name takes on new meaning with trailer theft
Officer James Vible responded to Something Fishy pet store and spoke with an employee who said that the company's trailer, a 2009 Carr model valued at $7,000 with tools and equipment stored inside, had been stolen from the property between 7 p.m. on Sept. 22 and 10:30 a.m. on Sept. 23.
Vible referred the case to Warwick detectives.