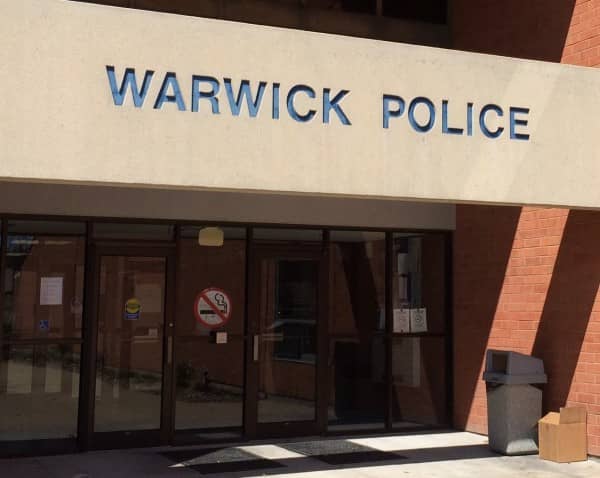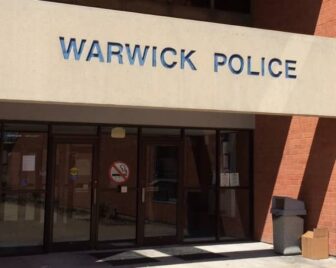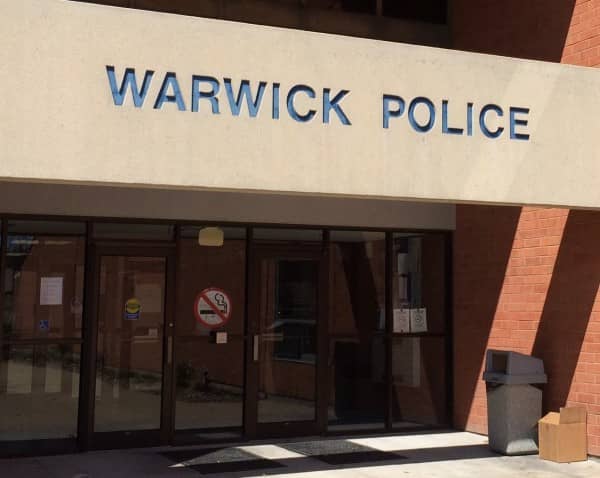 WARWICK, RI — Fatal car accidents, a burglar bitten by a dog, and controversial license plate cameras led this year's list of most-read police reports on WarwickPost.com this year.
Here are the top five most-read police stories of 2022:
State Police Investigate Fatal Warwick Crash on Rte. 95
Rhode Island State Police responded to a crash on Interstate 95 early on New Year's Day that killed the 17-year-old driver of one of the vehicles. Officers reported that the victim's Nissan Altima had been struck by a Mercedes about 1 a.m. near the Rt. 117 overpass.
Investigators concluded that the Mercedes had hit the Altima in the rear quarter, sending the Nissan off the highway and into an embankment, where it hit a tree and rolled over onto its roof.
Police reported that the driver of the Mercedes, later identified as Aramis Segura, 30, of Charlestown, fled the scene on foot and was later found hiding in the East Greenwich home of his girlfriend, Alicia Peckham, 25.
A statewide grand jury returned indictments in June against Segura on felony charges of driving to endanger, death resulting; leaving the scene of an accident, death resulting; and habitual violations of driving with a suspended license. The grand jury also charged Peckham with leaving the scene of an accident, death resulting; harboring a criminal; obstructing a police investigation; and committing a violation of common law.
On July 15, Kent County Superior Court Associate Justice Melissa E. Darigan ordered Segura held on $250,000 bond with surety. Segura has been held at the Adult Correctional Institutions, Cranston, for failing to meet the bail terms, and is scheduled for pretrial on Jan. 9.
On Dec. 16, Associate Justice Linda Rekas Sloan approved Peckham's request to modify the original bail terms of $20,000 with surety, and scheduled a pretrial hearing for Jan. 10.
Warwick Police: 'Wrong Turn' Ends with Felony Charges
A Connecticut man blamed "a wrong turn on the highway" to explain how Warwick Police found him on Pilgrim Parkway Jan. 25 carrying suspected burglary tools and stolen checks in an unregistered SUV.
Ofc. Keara Enos reported seeing the man's vehicle at about 1:30 a.m. and wrote that she "found this to be unusual due to the time of day and location."
After following the SUV onto Pilgrim Parkway, Enos pulled it over and spoke with the driver, identified as Erick Gomez Rodriguez, 34, of 80 Upton St., New Britain. Despite having a GPS device in the vehicle, Gomez Rodriguez claimed that he'd gotten lost on the highway.
When Enos checked the registration plate, she found that it actually belonged to Warwick Tree Service.
Officers also reported finding a large pry bar and other tools in the passenger compartment, including bolt cutters, prying and wrecking bars, and assorted headlamps and flashlights, as well as a number of checks that had been reported stolen from a Post Office in Andover, CT., .120 oz. of marijuana, and drug paraphernalia.
Gomez Rodriguez remains subject to an arrest warrant for failing to attend court hearings.
Dog Bites Burglar, Police Arrest Man
Warwick Police took custody of an alleged burglar who suffered a dog bite when trying to enter a local home Aug. 22.
Officers from the East Greenwich Police Department found Alcides J. Medina, III, 32, of no permanent address, climbing out the front window of a house on Division Road at about 10:30 p.m. The homeowner reported seeing Medina climbing into the house through the same window, which set off an alarm.
Medina told police that one of the dogs kept in a kennel had bitten him on the leg, and Warwick fire and rescue personnel took him to Kent Hospital for treatment.
The home's doorbell camera had been damaged, but otherwise officers found no damage or missing items.
Medina is currently awaiting trial on one felony count of breaking and entering and a misdemeanor charge of vandalism.
Council Puts 'Police State' Step on May 16 Agenda
After registration plate cameras were installed without notice in Cranston, Pawtucket and Woonsocket last year, Warwick City Councilors took up the question this spring at the request of Police Chief Col. Brad Connor.
Connor asked the city council for a bid exception, meaning the camera contract wouldn't follow the city's guidelines for bids, because Flock Safety is the only company in Rhode Island that provides the cameras.
The Rhode Island chapter of the American Civil Liberties Union (ACLU) opposed the plan, saying that "[t]he capability that these cameras have to indiscriminately track when and where drivers go can create an oppressive system of government surveillance in a free society."
Connor said the system of 10 traffic cameras, paid for over a two year contract at $27,500 for the first year and $25,000 for the second, would only be used to record license plates, and that the images would be saved for 30 days before being deleted. He said the system is not intended to be used to write traffic tickets.
Warwick councilors voted in October to approve the camera contract, subject to a new city ordinance that governs their use.
State Police Charge Warren Man in Fatal Rte. 95 Crash
A Warren man is currently awaiting trial on a felony charge of driving to endanger, death resulting, stemming from his involvement in an April 30 fatal crash that blocked Interstate 95 north for several hours.
Rhode Island State Police identified Ryan Van Winkle, 32, as the driver of one of two vehicles involved in the incident. The passenger, Matthew J. Yoder, 39, of Newport, died in the crash, which police said may have been a case of road rage.
The occupants of the second vehicle alleged that Van Winkle had been the aggressor in the incident, according to police reports.
A pretrial conference is scheduled for Jan. 23.