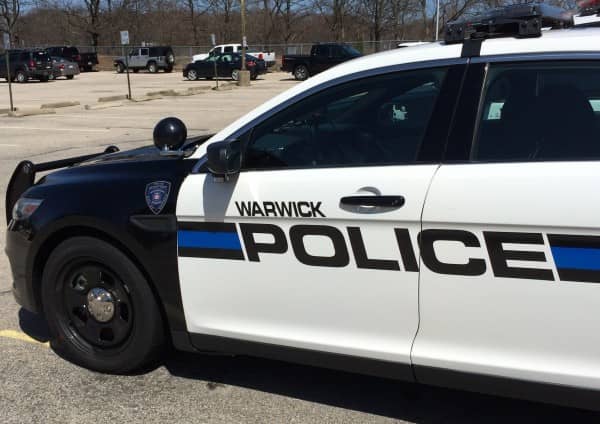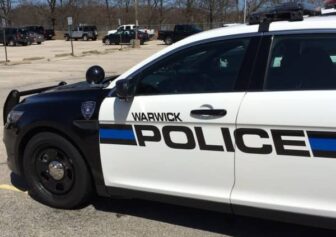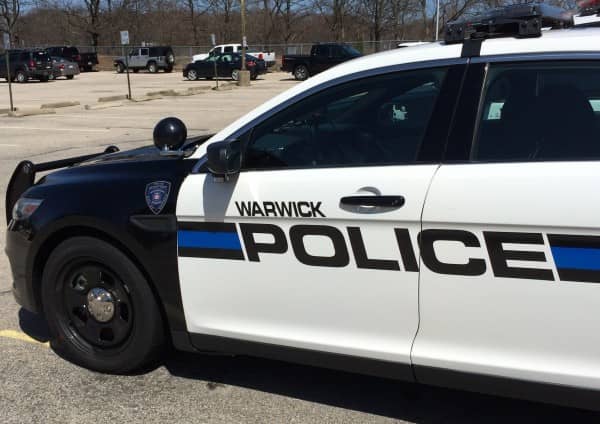 WARWICK, RI — Warwick Police arrested  a man, clad only in boxer shorts, who used a shotgun to threaten the driver and passengers of a 2007 Ford Taurus at his 117 Theodore Ave. home Nov. 19 at 9:38 p.m.
Police charged David E. Cereto, 43,  with four counts of Felony Assault and/or Battery, and also with carrying a weapon while under the influence of alcohol, possession of a weapon by someone convicted of a violent crime, and disorderly conduct, according to Warwick Police records.
According to the report of Officer Keara Enos, she was among officers called to the area of Walton Avenue and Theodore Avenue for a report of that a man had pointed a shotgun at a car and its occupants.
Officer Connor Bemis met with the occupants of a blue 2007 Ford Taurus a short distance away on Darrow Drive. The occupants were a 19-year-old woman, a 19-year-old man and two 21-year-old men, all Warwick residents, according to Enos's report.
The 19-year-old driver told Bemis she had driven down the dead-end Theodore Avenue and was attempting to turn around to drive out when a man, which she said was in his 40s or 50s, came out of a house at the end of the street, wearing only boxer shorts, carrying a shotgun. She said the man chased them down the street with the shotgun aimed at them.
The passengers repeated the account, and their descriptions led police to 119 Theodore Ave. Police set up a perimeter around the property, and also gathered on Abbott Avenue to monitor the rear of the lot. WPD dispatch searched call logs for the area and identified Cereto as an occupant.
As officers continued to surround the home equipped with lethal and non-lethal weapons at low-ready position, a man, wearing only gray/blue boxers and glasses, with long brown hair, exited a trailer behind the house. He responded to officers' commands to kneel and place his hands behind his head. Enos and Officer Sara Goes then handcuffed him and placed him in a cruiser. He was subsequently identified as Cereto.
Cereto told officers he had left the trailer after noticing a car turning in the cul-de-sac, which he and his mother did not like. Cereto said he had argued with the people in the car, but denied holding or pointing a firearm at them.
A woman, 33, was also called out of the trailer and detained in handcuffs in a cruiser. Officers then approached the home to speak with Cereto's mother. She confirmed she didn't like the frequent traffic turning in their neighborhood, and said the incident with the car had woken her up, and that she had witnessed "the whole thing," according to Enos' report. She invited officers into the home and when asked, pointed out what she said she thought was a BB-gun in a closet. Officers inspected the firearm, which was identified as an unloaded wood-handled Remington 1100 shotgun, according to the report. Officers secured the weapon.
She said when the car began turning around, her son was in the trailer, and she was at her front door. She said he began yelling at the car's occupants, but had not entered her house to retrieve the gun, and that she would have stopped him from doing so, according to Enos' report. When asked if her son had been drinking that day, she said she believed he had. She added that he is very protective of her.
A witness informed police they had witnessed Cereto standing in the street wearing only boxers and carrying a shotgun. Another witness reported hearing someone say, "Don't worry, I've got the shotgun," and "There you go, keep moving. Keep moving.
Another witness provided officers video footage of the incident, showing Cereto following the car down the street with a long black object, following the car at a quick pace, positioning the object on his shoulder, similar to how someone would wield a shotgun. In the video, the man can be heard saying, "Keep moving, motherf***er!"
Each of the victims identified Cereto as the man with the shotgun, and indicated they wanted to press charges. Enos arrested Cereto, and transported him to Warwick Police Headquarters, 99 Veterans Memorial Drive, where he was charged and submitted to a breath test of his blood alcohol level, which he said, "Will probably be pretty high," according to the report.
The breath test returned a result of .082. A check of Cereto's record showed he had previously been convicted of Felony Assault with a Dangerous Weapon in West Warwick in 2008.
Cereto was indicted on the charges on Nov. 21 in Third District Court. He is scheduled for a court screening Feb. 20. He was released on $10,000 bail with the following conditions:
Non-Domestic No Contact Order
Pretrial Services to Monitor