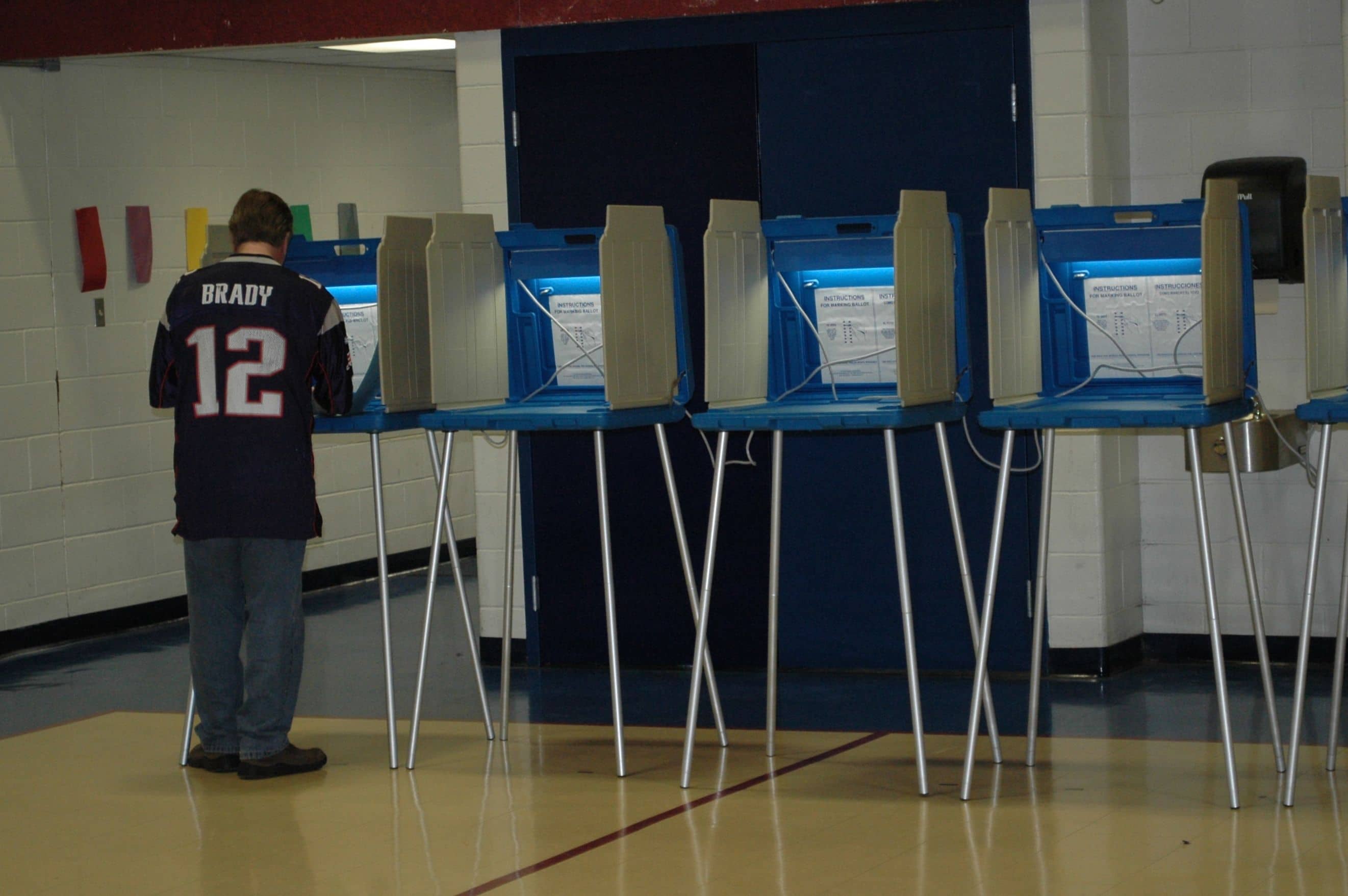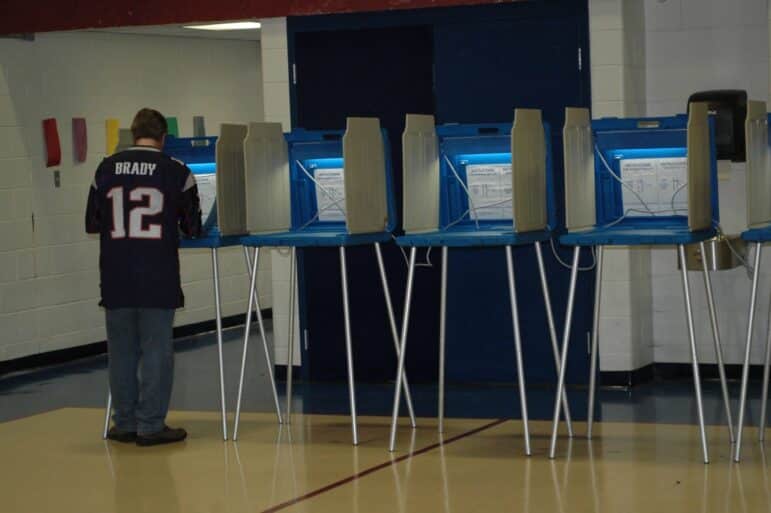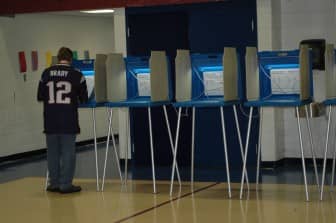 WARWICK, RI — There's one day left till the 2018 mid-term election of candidates local, state and federal — here's what you need to know before the big day about the weather, the polls, and the candidates.
Weather: Pack an umbrella
Tomorrow's forecast calls for rain, then a possible thunderstorm, with a high of 62 degrees and patchy fog. Showers and a chance of thunderstorms are expected to continue until midnight.
There's a chance that foul weather will negatively affect voter turnout, according to a 2007 study by the Journal of Politics. The report find that rain significantly reduces voter turnout,  just under 1% per inch.
The Voter Participation Center predicts an 18 percent drop-off in voter turnout in Rhode Island, and drop-off in turnout nationally.
But poll workers may not need to resort to their novels and smart phones to pass the time during Tuesday's midterms even so, if primary voting is any indication. The Pew Research Center found that turnout in the primaries for the U.S. House of Representatives surged this year compared with the last midterms in 2014, especially among Democrats.
Nearly one fifth (19.6 percent) of registered voters – about 37 million – cast ballots in House primary elections, according to Pew's analysis of state election results. That was a 56 percent increase over the 23.7 million who voted in 2014's House primaries; turnout that year was 13.7 percent of registered voters.
Pew reports turnout rates were also substantially higher in this year's Senate (22.2 percent) and gubernatorial (26.5 percent) primaries than in 2014 (16.6 percent and 18.6 percent, respectively), though the increases were relatively similar for both parties.
Which leads us to:
Polling hours, locations, precautions
Warwick Polling locations open at 7 a.m., for voters who want to get a head start on the process and attempt to beat any anticipated rush of 2018 mid-term voters. Most other polling places throughout the state open at that hour, but you can check your own city or town's hours at the RI Secretary of State's website.
Polls in Warwick close at 8 p.m.
If you're still unclear on where you're voting, or where that polling place is, you can check the list of polling places we posted this summer in advance of the September primary.  The direct link to look up your polling place goes to the Secretary of State's website.
Mayor, City of Warwick
This race pits Charter-appointed Mayor Joseph J. Solomon against mayoral challenger Sue Stenhouse.
Warwick City Council
Ward 1: This race pits candidates Democrat incumbent Richard Corley against independent Patrick E. Maloney.
Ward 2: Democrat Jeremy Rix is unopposed on the ballot in this election.
Ward 3: Democrat Timothy Howe is running unopposed on the ballot in this election.
Ward 4: This race pits Independent Mike Penta against Democrat James McElroy
Ward 8: Democrat Anthony Sinapi runs unopposed on the ballot for this seat
Ward 9: Democrat Steve Merolla runs unopposed on the ballot for this seat.
Warwick School Committee:
District 1: Kyle D. Adams and Richard Cascella compete for this seat. Tanios Bouramia dropped out of the race and has endorsed Adams.
District 2: Dist. 2 incumbent Terri Medeiros and Dist. 2 challenger Judith Cobden are vying for this seat.
District 3: Nathan Cornell, Paul Bowe, and Cory Smith are competing for this seat.
Question 1: $250 million for Rhode Island school buildings: This item would borrow $250 million for the state to spend toward renovations and new construction of school buildings.
Question 2: $70 million for higher education facilities: If approved, this item would provide $45 million to URI and $35 million to RIC for facility improvements.
Question 3: $47.3 million for environment:  This referendum covers various environmental projects, including clean water [$7.9 million], local recreation projects [$5 million], and local open space [$2 million].
Local referendum question:
Question 4: $40 million in Warwick school improvement bonds: Voters are asked to approve or reject an act of the Rhode Island General Assembly that allows the city to borrow $40 million in new bonds to finance improvements at local schools.
Question 4 also notes that at least 35 percent of the money will be reimbursed by the state.
General Assembly Representatives:
DISTRICT 20: DAVID A BENNETT (DEMOCRAT), DANIEL ELLIOTT (INDEPENDENT). This race notably inspired Councilman Jeremy Rix to publicly clarify his political support for Bennett when Elliott posted a doctored photo of Rix to his Facebook page, making it appear as if he had held a political sign for Elliott.
Following the posting of Rix's letter, Rix: Honesty and Respect Matter in Elections, Elliott responded with his own letter to Warwick Post. Despite Elliott's introduction saying the letter was in response to Rix's message, Elliott's letter did not address the councilman's complaint, or acknowledge it, and the letter was rejected.
Elliott declined to resubmit a letter directly responding to Rix's complaint, but he admitted in an email that he had posted the image, and then refused to delete it, "…while people were still commenting on it," then took the image down.
DISTRICT 21:  MICHAEL L UNDERWOOD (INDEPENDENT), CAMILLE F VELLA WILKINSON
DISTRICT 22:  JOSEPH J. SOLOMON JR, (DEMOCRAT)  is unopposed in this election.
DISTRICT 23: JOSEPH SHEKARCHI is unopposed in this election.
DISTRICT 24:  EVAN P. SHANLEY (DEMOCRAT) and JULIE CAIOZZO
DISTRICT 26:  VINCENT MARZULLO (INDEPENDENT), PATRICIA L MORGAN (REPUBLICAN) 
DISTRICT 27: MARK E BOURGET (INDEPENDENT), PATRICIA A SERPA (DEMOCRAT)
General Assembly Senators: 
Governor:  INCUMBENT GINA R. RAIMONDO (DEMOCRAT), ALLAN FUNG (REPUBLICAN), BILL GILBERT (MODERATE), JOSEPH TRILLO (INDEPENDENT),   LUIZ-DANIEL MUNOZ (INDEPENDENT) ANNE ARMSTRONG (COMPASSION)
Congress: 
Senate: INCUMBENT SHELDON WHITEHOUSE (DEMOCRAT), CHALLENGER ROBERT FLANDERS (REPUBLICAN)
House of Representatives: INCUMBENT JIM LANGEVIN (DEMOCRAT), CHALLENGER SALVATORE CALOZZO (REPUBLICAN)
Secretary of State:
INCUMBENT NELLIE GORBEA (DEMOCRAT), CHALLENGER PAT CORTELESSA (REPUBLICAN)
Attorney General:
PETER NERONHA (DEMOCRAT), ALAN GORDON (COMPASSION)