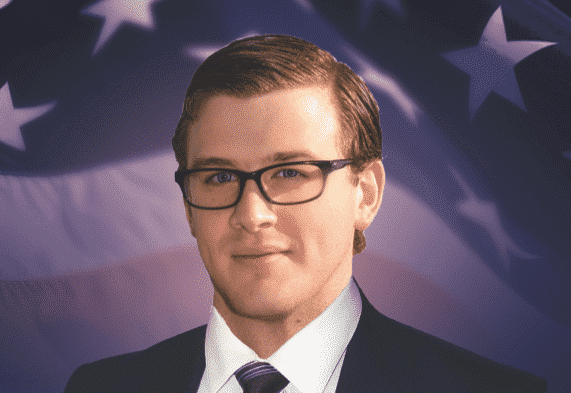 WARWICK, RI – Kyle Adams, 25, of 44 Bly St., single and a graduate of Pilgrim High School, is running for the Dist. 1 School Committee seat to address maintenance and program neglect, as well as financial decisions he questioned during his time as a student in the system.
Since graduating from Pilgrim in 2010, Adams earned an accounting degree from Bryant University in 2014 and a masters degree in business administration from Johnson & Wales, on a course plan that compressed a two-year program into 14 months.
He's worked as a financial analyst for Bank of America, an IT Project Manager for HB Communications in Waltham and a data processor for DCYF and project manager coordinator.  He's currently seeking a new job as he turns his sights on his first run for public office.
Adams attended Warwick Schools starting in grade school, and has been paying close attention to the quality of education he's received there.
"By my senior year, I noticed that Warwick Schools had begun to decline, but what is happening now is much worse than when I was a student," Adams said.
While at Pilgrim, he said, the school seemed to be falling apart. Ceiling tiles fell, birds flew in the classrooms/hallways, bad odors in hallways, and buckets were used to catch water from leaky ceilings.
"Since then the only thing that I know to have been fixed is the leaks from the roof, because it is new. The wildlife and smells are still problems, while the ceiling tiles still show evidence of water damage and exposure to animals," Adams said.
Adams said he has also been concerned by the number of teacher layoffs, compounded by an increase in students.
"This trend has only continued, which the 72 layoffs this year prove," Adams said.
Also, he said, he was disheartened to hear about several programs, such as Marine Environmental, that district leadership was discussing eliminating at the time, which has since been eliminated.
Adams said the schools should be "clean, safe, and warm" for students. He said pests and unhealthy air quality are not safe for students, teachers, or staff.  Instead of cutting the second shift custodial staff, he said, schools should reinforce it and consider reinstating a third shift.
However, he said, "My biggest concern is the communication between the school committee and the city council.  The School Committee has continuously disrespected the city council, which results in poor outcomes when they are asking for more funds."
He said his concern about the communication between the School Committee and parents stems from recent events. The School Committee implemented a new report card for elementary students with no explanations on how to interpret the new grading system, he said. With no warning, the school department made the report card paperless, assuming the parents would go online to look for it, which is difficult for parents that do not have internet access.
If elected, he said, he would make sure that parents are aware of any policies that affect their children, and push for regular meetings that include at least the chair of the School Committee, the City Council President, and the Mayor to establish better communication.
"Also, if elected, I will treat the teachers with respect and get their opinions before the school committee blindly implements policies of the administration, because the teachers are the experts who are actually in the classrooms educating the students.  I will work towards negotiating a fair and educationally sound contract and do so in a timely manner," Adams said.
Adams said he feels he received a great education from the teachers, given their limited resources. Those resources, including textbooks and paper, are continually cut, he said.
"If elected, I will look into bringing back teacher resources, such as elementary guidance, elementary science, and elementary math interventionists. I would also restore special education resource services, restore physical education at the high schools to a full year, and provide proper technology, proper textbooks, online texts, and more.  I would make education better by doing my job as an elected school committee official and hold the administration accountable for their actions. The district would not have been in the funding situation it finds itself in now if the school committee had not allowed the superintendent to spend money on outside law firms, a public relations firms, more administrators, and on major purchases, such as Mutual Link, that could perhaps be funded by grants," Adams said.