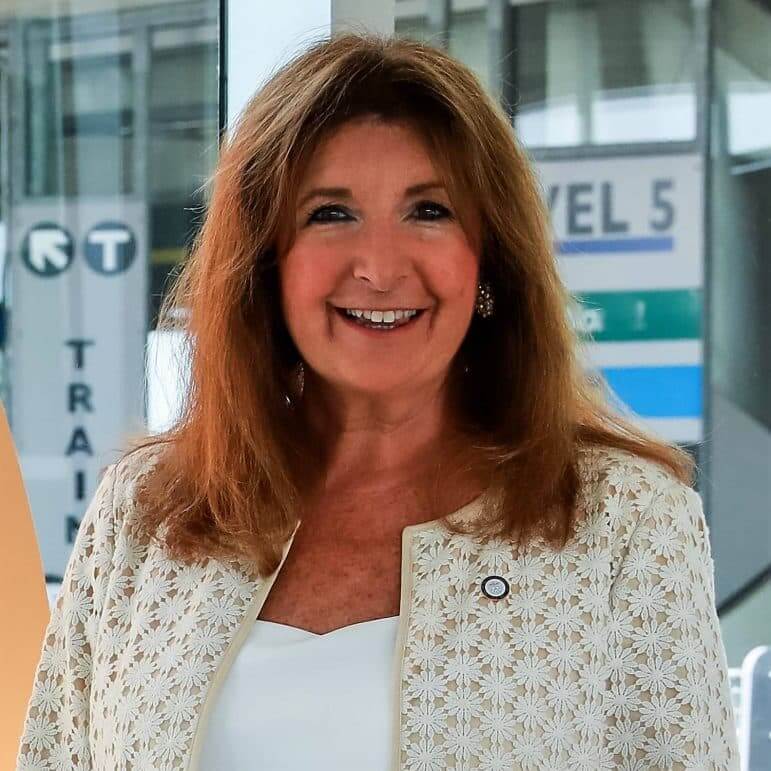 Editor's note: This article has been edited to correct an error describing how a volunteer became involved in a press conference announcing the Snow Angels program in Cranston. 
WARWICK, RI — Republican mayoral candidate Susan Stenhouse hopes her long public service, including a bipartisan Warwick City Council tenure, will persuade voters to let her heal the school-city rift and grow the economy.
First, she knows, she must address questions about the last press conference she organized as executive director of Cranston's Senior Enrichment Center, a staged event she says she'll never repeat.
The event cost the politician her job and scuttled her program, Snow Angels, organized to aid seniors unable to shovel snow off their sidewalks.
Stenhouse said the event, featuring a man costumed as a elderly woman wearing a name tag sticker labeled "Cranston citizen," and artificial snow trucked to the site, was meant as a representation of what her program would accomplish, and was not intended to deceive.
While she was organizing the conference, she said, the woman she'd intended to involve as a representative of the elders in need of the program, which would've used Cranston high school students fulfilling their school public service curriculum requirement, backed out of being part of the event because she didn't want to be portrayed as frail, and in need of help.
So, Stenhouse said, when her colleagues were made aware of the situation, one volunteered.
"I was told he had dressed up at other events and the seniors loved him," Stenhouse said. She accepted the offer of his help. The snow was trucked in from the local ice rink because there was no snow on the ground at the time. Each element had been intended to illustrate the work she intended to accomplish, she said.
"There was no intention to deceive," Stenhouse said.
Within a week, photos from the press conference inspired more attentive reporting, revealing the man and the artificial snow, neither of which were explained to reporters or represented as props in news stories. The staged event made news regionally, nationally and internationally.
She lost her job as a result as a result, and Snow Angels never got a chance to aid a senior with clearing their walk.
"I'll never be in that position again," Stenhouse said, because in politics people are always looking for something.
When asked if arranging the press conference with a person costumed as an old woman and manufactured snow was too easy to misconstrue as deliberate deception, Stenhouse said that wasn't it.
"People are going to see things as they want to see them," Stenhouse said.
Assuming voters see her as Warwick's next mayor, Stenhouse said she's very interested in applying her experience working with council members from both parties to improve the working relationship between the council and the Warwick School Committee.
Stenhouse pointed to the dispute between the two parties over the school department's budget this year. It's little wonder, she said, that the two bodies were not on the same page, since the School Committee and City Council never held the state-mandated joint meeting to review the budget.
"There might have been things that they could have negotiated with the School Committee if the had had that meeting," she said.
The mayor is supposed to ensure that the two bodies have that meeting, Stenhouse said. It's the mayor's job to meet with the heads of all the city's departments, including the school department.
"The mayor is actually the ambassador between all these entities," Stenhouse said.
Stenhouse speaks with some authority on the subject of local government. She represented Warwick's Ward 1 on the City Council from 2000 until 2007, when she began serving on the Warwick Planning Board, which she recently resigned from to focus on her mayoral candidacy full time. She also served as director of community relations in Gov. Donald Cacieri's administration from 2003 till 2011, and was director of member promotion for the Greater Providence Chamber of Commerce from 2011 till 2013.
She was also a candidate for secretary of state in 2006, when she lost with 173,490 votes to Ralph Mollis with 200,058 votes.
Stenhouse said she would also like to jumpstart activity on the City Centre plan, a blueprint for developing 95 acres surrounding Green Airport, the Warwick Rail Station, and the InterLink, within easy access of Rte. 95 and Rte. 295. She said little has progressed on development of the area since ground was broken on the Hyatt Place Hotel in April 2017.
"Hotels are going to be viable no matter what," Stenhouse said.
But, she said, further development faces a hurdle because builders are reluctant to start projects in what said is a blighted area. Many current property owners within the district manage real estate that should be renovated or redeveloped to enhance the area, she said, but property won't sell, which is holding up the process. She said as Mayor, she would work with property owners and developers to reach an agreement, to move the area's development forward for the city.
"I feel like that's the mayor's role," Stenhouse said. Otherwise, Warwick is stuck. "We're kind of stuck in the 60s, it seems, " She said.
Stenhouse also wants to work with state and federal officials to fund Warwick programs for education, public safety and public works, and provide upgrades for timely, responsive, constructive services in the city.
Stenhouse said her work on the council, where she always waited for all the available information before making a decision, is the standard of service voters can expect of her as mayor: reserving judgment until all the details are known.
"There's always another piece of information," she said.