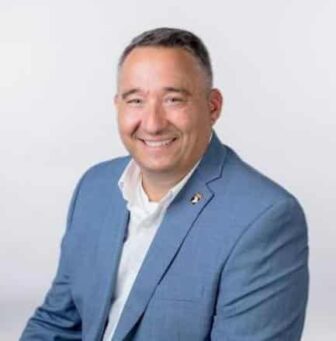 WARWICK, RI  —  Incumbent Democrat Ward 3 Warwick City Council candidate Timothy Howe, math teacher at Pawtucket's Tolman High, Army veteran and President of the RI Military Veterans Organization, is running for a new term Nov. 3.
Howe has been a vocal advocate of his ward with the Rhode Island Airport Corporation on noise and pollution concerns. Howe was also supportive of Warwick students protesting the 2019 $7.7 million school deficit and its potential negative effect on sports, but critical of their teachers, whom he said failed to educate them about open meeting law dictating the course of that meeting.
Warwick Post.com emailed the same 10 questions to each Ward 3 candidate Monday night and gave them until Friday, Oct. 30, to respond. Each was asked to acknowledge receipt of the emailed questions, and their intent to answer them.
Howe acknowledged receipt Oct. 27 and returned his answers on Oct. 30.  Here are his answers:
1) During the May 27 budget hearing, Mayor Solomon failed to answer or to pledge to answer several questions posed by citizens and Council members, as reported in the Warwick Post article: Warwick Budget Hearing Questions Unanswered.
What would be your approach to handling this behavior if it were your questions ignored? What if a citizen or fellow council member's budget question went unanswered?
HOWE: As a High school teacher of multi-level diverse learners, I have learned to re-word and re-address my questions to ensure mutual understanding. If my questions were ignored, I would professionally, calmly and maturely ask the question perhaps in simpler and reworded terms.  If I feel my question was deliberately ignored, I would state, "For the record, you ignored and refused to answer my question." I would not spew the vile and childish language used by Mr. Rob Cote. Especially since many Civics educators encouraged their students to listen to hearings.
2) Warwick City Council subcommittee meetings often run over time, delaying the start of the full Council meeting. What is your assessment of this process? Should it be changed, and if so, how?
HOWE: This is a perfect follow up from question one.  Simply put, the Finance Chair and Ward 5 Councilman Ed Ladouceur uses the committee as a soapbox for his ego and his agenda driven handlers.  Finance committee is the first committee to meet.  A long finance meeting guarantees a stall in the procedural process.  Which forces our citizens to get frustrated with local government, and eventually leave the chambers feeling they don't have a voice.  He and the outgoing Council President Merolla use this committee to stall or filibuster entire meetings to delay items they don't support.  These actions cause massive delay on zoning and business development.  These actions also cause delay to citizens who have filed claims from getting a chance to voice their reasons for the claim.  It is a gross and abusive method of governing.  This is one of the reasons I called for the Council President to resign from that position.
3) What other processes of the City Council would you argue to change? 
HOWE: Our Council operates under "Roberts Rules of Order".  I used it when I was commander of the Warwick Disabled American Veterans.  I use it as President of the Rhode Island Military Organization.  It is a solid and the most used procedural format in the US.  What it can't control is weak leadership.  Weak leadership is the iceberg that will sink the unsinkable ship.  The council under Council President Merolla and Vice Ladouceur is leaderless.  I wouldn't change the Council process, I will change the Council leadership.   
4) During a recent City Council meeting, Councilman Ed Ladouceur complained of his inability to get the City to properly repair Lipitt Park following a recent car crash that damaged it. The meeting ended with his successful resolution forcing the City to make the repairs.
Should citizens expect that their council representative must pursue such measures to secure City services? How would you address this problem?
Thank you for asking this question.  This also reinforces my statement from question one.  Councilman Ladouceur demanded a wooden pole that was hit by a car, that scratched the pole and didn't obstruct any path to the park, be immediately replaced.  I remind CM Ladouceur that I too have beautifications I would like in my ward, however, I am aware we are in the middle of a pandemic.  Our revenue is down, and our city is playing catch up after 30 years of Republican mismanagement that ignored our roads, parks and infrastructure.   I know that CM Ladouceur and my opponent feel his ward should get all the money and resources, but I represent Ward 3.  Let's also not forget CM Ladouceur tried to kill the desperately needed $7 Mil bond that will fix Ward 3 sewer infrastructure. He didn't succeed because I stood up to his attempt at using city improvements as political footballs.
5) Looking back at the 2019 Warwick Schools budget crisis, how would you handle city and school communication differently?
Thanks to Mayor Solomon and a majority of the school committee, communication has greatly improved.  In 2019, I recommended to the CP it would have been beneficial if the Council and the Committee designated one "Ambassador" from each group to address the major issues before they became what it did.  No action was taken. The big challenge was under the Republican Administration, from 2008-2017, the school department was level funded at $119M and our buildings fell to unsafe conditions.  In just the last two years under Mayor Solomon, myself, CM's McAllister, Travis, McElroy and Sinapi, added $5 Mil to the budget and are now exploring 21st century learning facilities.
6) Millions of dollars have been budgeted the last few years for repairing Warwick's roads, yet only a fraction of that amount is ever used. For instance, in the article, Schools' Budget Ask Would Have Added $104 to Median Tax Bill, DPW Director Mat Solitro reported there was $3.1M unspent from the $5M in the previous year's paving budget. This year, the paving budget was reduced to $500K, but a $10M bond has been secured for paving.
Will you continue to vote to approve budgeting paving funds in amounts the city typically fails to use?
My wife and I moved to Warwick in 2002 after my discharge from the US Army.  When we moved here, the roads, schools and parks were still usable and in mid life.  Our roads, parks, schools and infrastructure were completely ignored by the Warwick Republican administration, while they proposed a yearly tax hike.  This past session, we passed the $10 Mil roads bond at 1.24% interest.  Mayor Solomon wisely retained a third party engineering company that will prioritize paving based on roads durability, safety and quality of life.  This prevents other councilpersons from demanding they get all the paving services because they have more valued houses and "pay more taxes."  I will always seek to improve our infrastructure.  I will always expect to see a line item for that.  I will support it.  If it isn't spent, I will seek a reason.
7) How would you make the city's road projects more accountable and transparent to citizens?
HOWE: I wish someone asked this question when the previous Republican administration never spent money allocated for paving then put it in the general fund.  The Mayor brought in a third party engineering firm to assess and prioritize the roads.  This guarantees the safety and efficiency of the paving project.
8) Was the surprise Dec. 20 special meeting to ratify the Firefighter's Contract called by the Warwick City Council, catching one Council member on a flight, and ultimately ruled illegal, a wise decision? 
HOWE: Yes.  We followed all procedural protocols.  I mentioned earlier stall tactics like filibustering and long winded speeches that delayed numerous projects.  Per our charter, the contract was negotiated and approved by the administration and Fire union.  It is the council job to assess and vote up or down.  We can not modify.  Once Council President Merolla and CM Laduoceur realized it had the votes to pass, they began the political tactics.  Again, putting personal ambitions in front of the legal job of the council and further delaying job growth in Warwick.
9) Considering the Warwick Firefighters' union's past history with contractual agreements, was it wise to pass the document with uncorrected errors?
HOWE: The previous Republican administration made the deals that unnecessarily cost taxpayers hundreds of thousands of dollars.  The rank and file firefighters don't make the rules.  That's like blaming the soldiers for a General's poorly planned attack.  To answer the document errors, four well paid lawyers stated the errors were "scrivener's" errors and did not affect the language of the contract.
What is your position on upholding the Constitution of the United States of America, including the First Amendment? What of the country's unbroken record of the peaceful transfer of power?  
HOWE: I spent ten years literally on the front line defending our constitution and country.  In 2000, VP Gore didn't concede until December.  If the election is as close as many predict and with the added layers brought on from this pandemic, I see no rush in conceding or claiming victory until all votes are counted.  The concession speech is the true beginning of the peaceful transition of power.  Forty Four Presidents have guaranteed the honored tradition of a peaceful transition of power.  Once all votes are counted, I will expect a concession and peaceful end to this election cycle.  It is my wish and belief in this country that though one may not like the results, the many will prevent such an outrageous act.
The First Amendment must be protected and peaceful protests are constitutionally protected.  Both are protected with a peaceful and gracious concession.