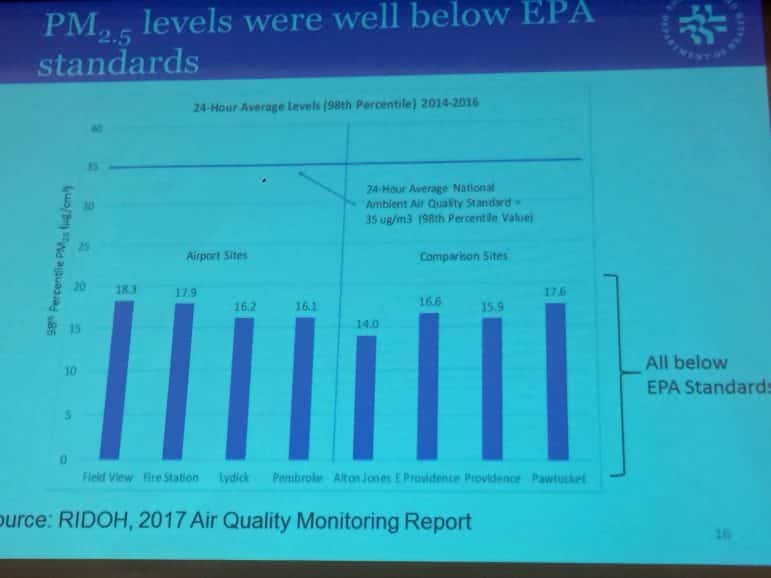 WARWICK, RI — Ultra-fine particle (smaller than 0.1 microns) pollution from T.F. Green Airport is only slightly higher than that found in more urban cities, according to the RI Department of Health's monitoring sites, but that was little comfort to residents who complained of soot, fumes and noise from the facility Thursday at Pilgrim Senior Center.
The meeting, hosted by Rep. Joseph M. McNamara (D-Dist. 19, Warwick, Cranston) and Senate Majority Leader Michael J. McCaffrey (D-Dist. 29, Warwick), drew about 42 people. It began with Dr. Michael Byrns, toxicologist at the RI Department of Health, reviewing air quality monitoring data from four sites: Pembroke site (east of airport); Lydick site (northeast of airport); Field View site (southwest of airport) and the Fire Station site north of the airport.
The chart Byrns showed put readings from the most polluted of those sites, Field View, at 18.3 Particle Matter, or (PM2.5) per cubic centimeter. The reading is not much more than the highest reading among test sites, 17.6 PM2.5 per cubic centimeter, in the city of Pawtucket. Both of those measurements are far below the Environmental Protection Agency's Ambient Air Quality Standard, 35 PM2.5 per cubic centimeter.
The particles measured are not visible to the naked eye. They are fine, inhalable particles, with diameters 2.5 micrometers and smaller, thirty times smaller than a human hair. Such particles can get deep into people's lungs and some may enter a person's blood.
Byrns also noted westerly winds are pushing the bulk of that pollution from the airport toward the east.
"It's almost never is coming from the east," Byrne said.
The observation is similar to that of the assessment from Gregory Wellenius, associate professor of epidemiology at the Brown University School of Public Health, reported Wednesday, before the meeting, by WarwickPost.com.
In 2015, a study by the California Environmental Protection Agency's Office of Environmental Health Hazard Assessment (OEHHA) demonstrated an association between long-term exposure to ultra-fine particle air pollution and death from heart disease.
During the meeting, Byrne compared the ultrafine particle air quality near the airport to that of homes located near an interstate highway.
"How does that comfort us knowing that it's not any higher than an interstate?" said Alfred Guertin, who lives on Lydick Avenue, near the Lydick monitoring site, with his wife, Melissa.
"I'm not saying it's good," Byrns replied.
Many residents were concerned with the effects of living near the airport that are visible to the naked eye.
Guertin complained of trails of black soot running down his roof, and that it is impossible to grow grass in his yard. Getting the Rhode Island Airport Corporation (RIAC) to respond to his concerns has been fruitless and frustrating, he said.
"I've been pretty much kicked aside and ignored and I'm not happy about it," Guertin said.
Charlie Dana, who lives on Wells Avenue, also complained of visible signs of the airport.
"I'm in a wind tunnel. I've got luggage tags in my yard from the airport," Dana said.
Councilman Timothy Howe, (Ward 3) whose ward encompasses the airport, noted his constituents complain of noise and fumes from the planes landing nearby. He asked if the fine particles found by the monitors could be detected by scent.
"A lot of this stuff you are going to be able to smell," Byrne said.
Howe also noted that many trees in the area that had acted as a visual and physical barrier to some of the fumes, wind and noise, had been removed in 2013.
"There's no buffer, no barrier to protect people from the fumes and some of these fumes are very heavy," Howe said.
Byrne said there's no reason trees can't be reintroduced to the neighborhood.
Charlene Vick, representing RIAC, said the airport corporation has been planting shrubs and trees while landscaping in the area, and would consider putting more trees in the area.
Howe thanked the officials for accepting his suggestion to restore tree and vegetation buffers to the neighborhood, but noted that the same suggestion had been made to RIAC CEO Iftikhar Ahmad two years ago, but no action has been taken.
Two years ago, the Permanent Air Quality Monitoring Act was amended to extend for an additional two years. It changed the location of air monitoring sites, specifically near the youth playing fields known as Winslow Park, where hundreds of children gather regularly for various sports leagues.
The move takes the air monitoring equipment away from Jan Pangman's neighborhood, a change she has protested, since she fought to have the equipment set up nearby to protect her neighborhood. She also argued the new monitoring would find no surprises.
"We already know that it's going to do harm to those kids," Pangman said.
Byrne reminded residents that the RIDOH is taking comment on their monitoring projects, and encouraged people who wanted to provide written comment to mail letters to him at:
Dr. Michael Byrns
Department of Health
Center for Health Systems Policy and Regulation
3 Capitol Hill
Providence, RI 02908