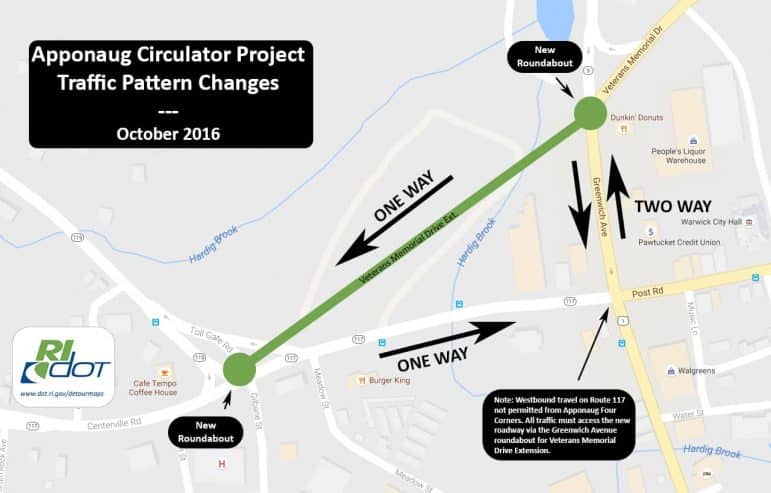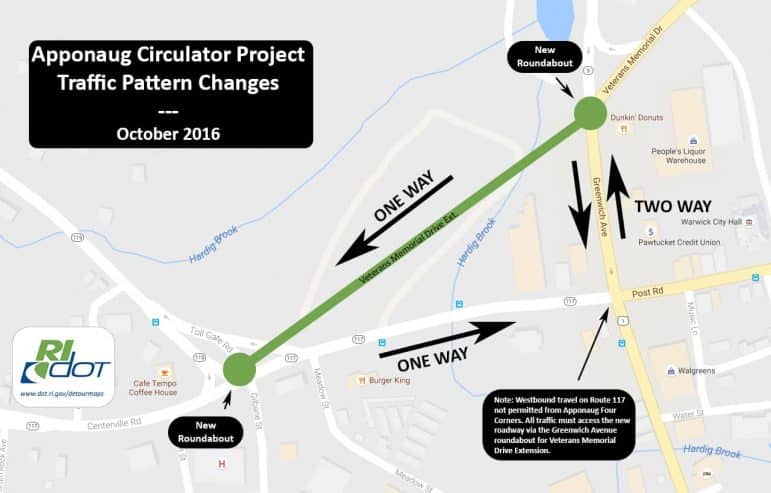 WARWICK, RI — RIDOT will open the westbound section of the Veterans Memorial Drive Extension, the new roadway segment in Apponaug, in the early hours of Friday morning, and motorists should beware that Greenwich Avenue near Apponaug Four Corners will now be open to two-way traffic, Warwick Police report.
RIDOT and WPD details will be present through the weekend to help with the transition, Warwick Police reported on their Facebook page Tuesday. RIDOT has "strongly advised" motorists to follow posted speed limits and signs while traveling through the new traffic patterns. The agency has also released a map showing the changes motorists should be prepared to navigate Friday.
Police also reported the following developments coming Friday:
The new roundabout at Greenwich Ave and Veterans Memorial Drive (the Dunkin Donuts) will be fully functional.
Centerville Road from the Toll Gate Rd roundabout to Apponaug Four Corners will be one way, eastbound only.
Greenwich Avenue from Apponaug four corners north to the new roundabout will now be TWO WAY traffic. This is one of the anticipated problems-drivers will not realize Greenwich Avenue will be two way traffic.
Post Road going through Apponaug in front of city hall will remain one way traffic.
RIDOT has also released the following alerts about the changes:
 The newly open westbound Veterans Memorial Drive Extension will create a direct connection to Route 117 West, I-95 and the Toll Gate Hospital area, without traffic lights.
Eastbound traffic on Route 117 will continue to flow in its original configuration on Centerville Road toward Apponaug Four Corners.
There will be restricted Westbound Travel on Centerville Road
Drivers heading north on Route 1 (Post Road) from East Greenwich will not be allowed to turn left onto Centerville Road.
Southbound traffic on Greenwich Avenue at Apponaug Four Corners will not be allowed to turn right onto Centerville Road.
Traffic traveling north on Route 1 from East Greenwich that is bound for Route 117 West, I-95 or the Toll Gate Hospital area will need to drive north through Apponaug Four Corners to the roundabout at Veterans Memorial Drive and use the new Veterans Memorial Drive Extension.
Police advise that if you want to get to a business on Centerville Road between Toll Gate Road and Apponaug four corners (near Burger King) from points east of Toll Gate Rd (if traveling north on Post Road from Cowesett) you should proceed north on the new two-way Greenwich Avenue, go around the new roundabout at Veterans Memorial Drive toward Toll Gate Road.