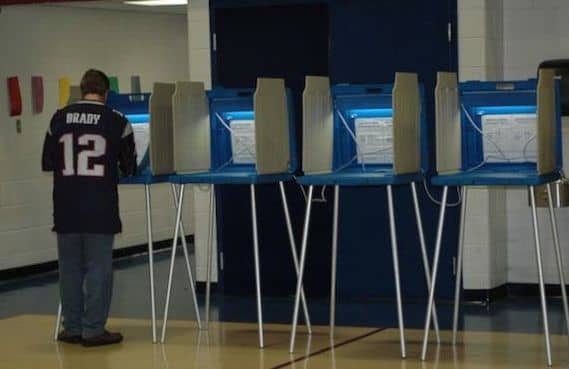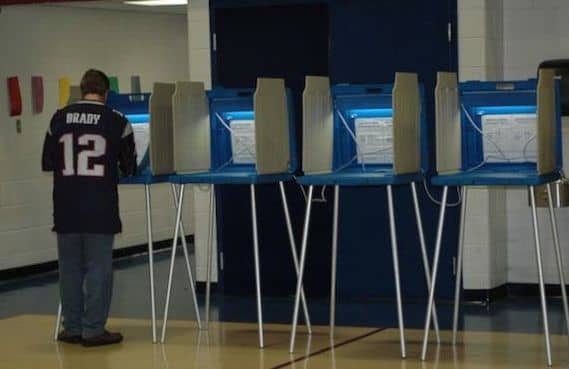 WARWICK, RI — There's one day left till the 2016 election of candidates local, state and presidential — here's what you need to know before the big day about the weather, the polls, and the candidates.
Weather+Motivation=Crowds
Tomorrow's forecast calls for balmy, sunny conditions, with a high of 62 degrees fahrenheit, with no clouds. That alone is likely to inspire a high turnout. Couple that with the antipathy large numbers of voters have for both presidential candidates, and the oft-expressed desire to deny one or the other a victory, and your polling place is likely to experience higher turnout than regular voters are accustomed to.  Which leads us to:
Polling hours, locations, precautions
Warwick Polling locations open at 7 a.m., for voters who want to get a head start on the process and attempt to beat an anticipated rush of 2016 voters. Most other polling places throughout the state open at that hour, but you can check your own city or town's hours at the RI Secretary of State's website.
Polls in Warwick close at 8 p.m.
If you're still unclear on where you're voting, or where that polling place is, you can check the list of polling places we posted this summer in advance of the September primary.  The direct link to look up your polling place goes to the Secretary of State's website.
Federal law protects against intimidating or bribing voters, buying and selling votes, impersonating voters, altering vote tallies, stuffing ballot boxes, and marking ballots for voters against their wishes or without their input. It also contains special protections for the rights of voters and provides that they can vote free from acts that intimidate or harass them, as US Attorney Peter F. Neronha has announced.
To report suspected election fraud or voting rights abuses at the polls in Rhode Island, the United States Attorney's Office can be reached by the public at (401) 709-5068.  In addition, the FBI field office in Rhode Island will be prepared to receive allegations of voting fraud and other election abuses at (401) 272-8310.
Mayor, City of Warwick
This race pits incumbent Mayor Scott Avedisian against challenger Rick Corrente.
Warwick City Council
Ward 1: This race pits candidates  Republican Rick Cascella, against Democrat Richard Corley.
Ward 2: Democrat Jeremy Rix and Republican John Silvaggio are the candidates for this contest. Silvaggio and Rix did not respond to an invitation to answer Warwick Post's candidate questionnaire.
Ward 3: Democrat Timothy Howe faces off against Kenneth Nelson.
Warwick School Committee
This race features four candidates running for two at-large seats on the board: Incumbent Karen Bachus, David Testa, Danny Hall, and Dean Johnson.
General Assembly Representatives:
DISTRICT 19: JOSEPH MCNAMARA (DEMOCRAT), DAVID D MASTRIANO (INDEPENDENT)
DISTRICT 2o: DAVID A BENNETT (DEMOCRAT), DANIEL ELLIOTT (INDEPENDENT)
DISTRICT 21:  MICHAEL L UNDERWOOD (INDEPENDENT), CAMILLE F VELLA WILKINSON, MICHAEL W PENTA (REPUBLICAN), could not be reached for an interview.
DISTRICT 22:  JOSEPH J. SOLOMON JR, (DEMOCRAT), ELIZABETH K SMITH(INDEPENDENT)
DISTRICT 24:  EVAN P. SHANLEY (DEMOCRAT) (Republican Stacia Huyler declined to respond to the Warwick Post's questionnaire.)
DISTRICT 26:  VINCENT MARZULLO (INDEPENDENT), PATRICIA L MORGAN (REPUBLICAN) 
DISTRICT 27: MARK E BOURGET (INDEPENDENT), PATRICIA A SERPA (DEMOCRAT)
General Assembly Senators:
Ballot Questions: 
There are seven ballot questions facing voters tomorrow – visit Ballotopedia for a full synopsis of each: