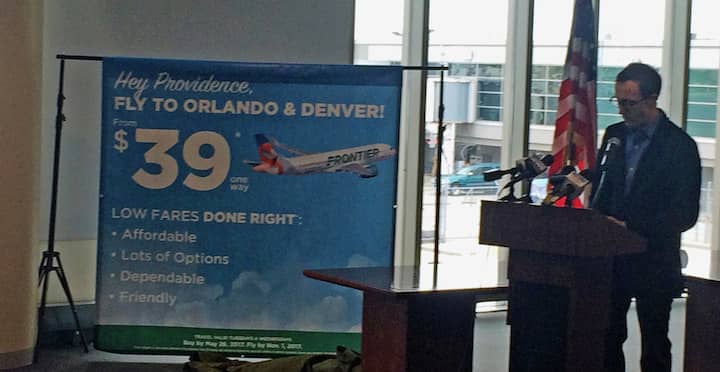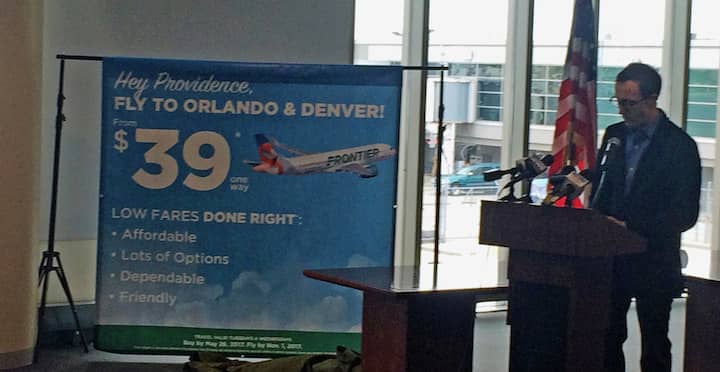 WARWICK, RI — In August, Frontier Airlines will begin flights from TF Green to Orlando, FL, and Denver, CO adding a much-requested destination to the airport's offerings and boosting the local economy.
Denver, CO is often asked for as a new destination among airport travelers, said Gov. Gina Raimondo. "It's top of the list in demand," she said.
The announcement, made at the conference room on the second floor of the airport, was the second this year. In February, the airport announced flights to Ireland through Norwegian Air.
"I could get used to this," said Raimondo.
Tickets to the two destinations are being offered an an introductory rate starting at $39, and a bundled fare, The WORKS, starting at $59 each way. The WORKS includes one carry-on bag, one checked bag, best available seat, full refund at least 24 hours in advance, no change fees and priority boarding.
The introductory rates are valid for Tuesdays and Wednesdays through the end of October and must be booked by Friday, May 26.
"It really is a great game-changer for the airport to have service that reaches out to such different constituencies and different regions. And a lot of that is because of the hard work that goes on here, and also the hard work that goes on with our whole travel and tourism," said Mayor Scott Avedisian. The mayor noted both the work of the city's tourism department led by Karen Jedson as well as the Central RI Chamber of Commerce, led by Lauren Slocum.
Avedisian noted the introductory rate puts air travel to Orlando and Denver within the range of a dinner out for most couples.
Senate Majority leader Michael J. McCaffrey (D-Dist. 29, Warwick), House Majority Leader K. Joseph Shekarchi, Councilman Steven McAllister and Council President Joseph Solomon also attended the press conference. 
McCallister, whose district includes the neighborhood along Main Avenue that lost homes to the expansion of TF Green Airport in 2014, said he is heartened to see the promised benefit to the city from the expansion begin to materialize.
"Now I want to see it prosper, because it had a big effect on the neighborhood," McAllister said.
Shekarchi credited the teamwork of state, airport, and city officials in the work to build airport commerce. "We are all working together on a collaborative effort on behalf of Rhode Islanders," he said.
McCaffrey said that in addition to the commercial benefit to local business from the new flights, "It's probably going to give a lot of families in RI an opportunity to go to these places," he said.