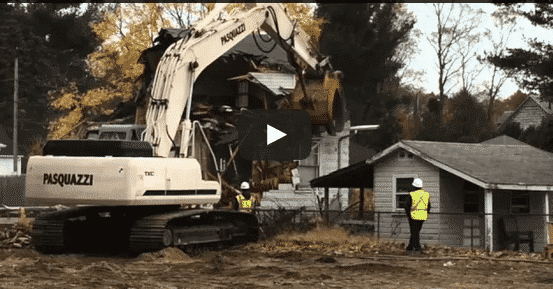 Warwick, RI -Main Avenue neighbors gathered to watch the demolition of the Kingma home Tuesday morning, among the first steps in the expansion of TF Green Airport.
Next door to the house, Ray and Marie Greene reminisced as an excavator tore apart what had once been home to the late Betty Kingma and her five children. The eminent domain invoked to take the house nearly claimed their own home, but it was spared.
"I wish it wasn't," said Marie. She said she's not looking forward to life with an expanded airport and the new traffic pattern.
"I'm thankful it is," said Ray. He said he wasn't looking forward to moving all his belongings.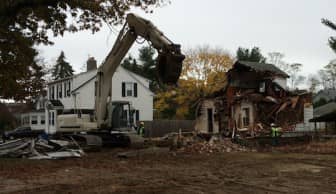 Betty Kingma died six months ago, Marie said, so she's spared the sight of the house being levelled. But two of her children, twins Maureen and Arlene, now in their 50s, stopped by early Tuesday to watch.
They told her the sight would've killed Betty, Marie said.
The homes are being levelled so Main Avenue can loop around an expanded airport. The Rhode Island Airport Corporation has contracted Pasquazzi Bros. of Cranston to level the 308 Main Ave. home and at least two others on Child Lane.
On Monday, the company levelled 309 Main Ave. as well. Nearby, the home office of dentist James Davenny will also be spared, but his back yard will be his front yard when the road is on its new course, Marie said.
In September, officials celebrated the coming expansion of TF Green Airport, which will allow international flights to and from Rhode Island.
Ray and Marie's daughter, Katie St. Jean, who grew up with the Kingma children and has fond memories of the place, doesn't agree the expansion is a good thing.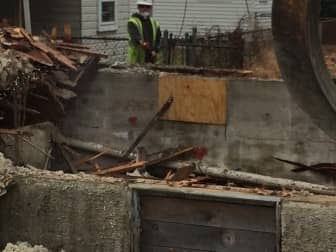 "Everybody drives by and they just see a house being torn down. She cooked Thanksgiving dinner here, spent Christmas mornings here," Katie said.
Ray said had their home been taken by eminent domain, there would've been little they could do but accept their fate and take what the Airport Corporation offered them for the house. That likely wouldn't have been as much money as they would've preferred.
"Probably not. That's all speculation. It never got to that point," Ray said.