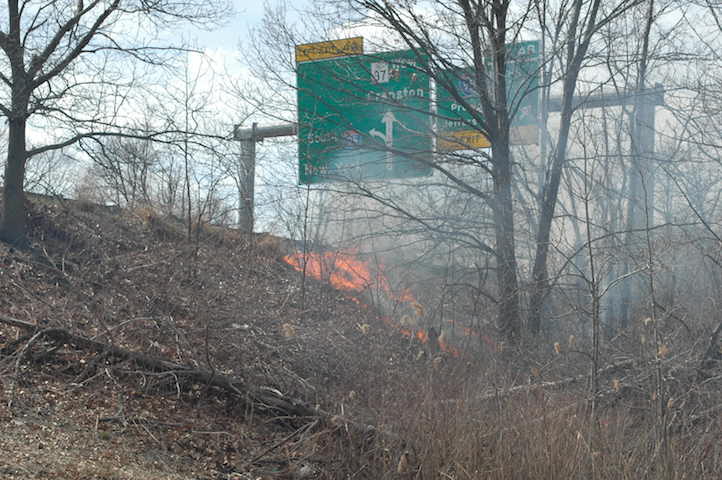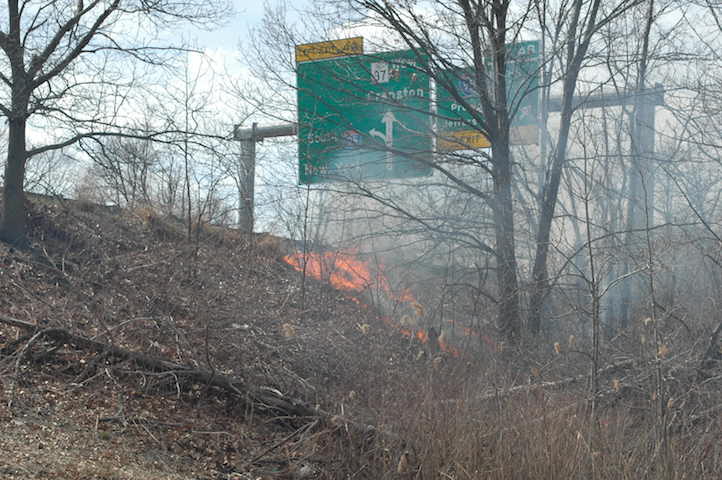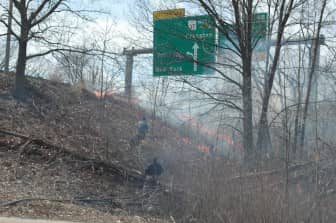 Warwick, RI — Warwick firefighters were called by National Grid to the area of 78 Jefferson Boulevard for pole and wire fire that also caused a small brush fire on the side of the Rte. 37 overpass nearby  at about 2 p.m., bringing both under control by about 3 p.m.
Three firefighters on Engine 1 responded to the scene at the Rte. 37 overpass over Jefferson Boulevard, where leaves briefly caught fire before the crew was able to douse them. Firefighters Mike Boynton and Mike Schmidt, led by Lt. Jay Fury,  had to wait for National Grid to cut power to the lines before they could put water on the second fire.
Burning leaves caused a lot of smoke to briefly drift over traffic on Jefferson Boulevard, where one lane was blocked to allow the WFD access to the overpass.
Heavy winds quickly dissipated the smoke. Firefighters had the flames under control, but not out, at about 2:40 p.m., and tapped into a nearby hydrant to make sure of the fire.
David Graves, spokesman for National Grid, said the pole/wire fire was caused by the heavy winds. The fire knocked out power to about 1,000 customers, he said, whose power was restored by about 2:15 p.m.
"Very windy out there right now," Graves said, which is causing a lot of downed trees and power lines.
A gale warning remains in effect through 11 p.m. tonight, with winds from 15 to 35 knots possible till then.