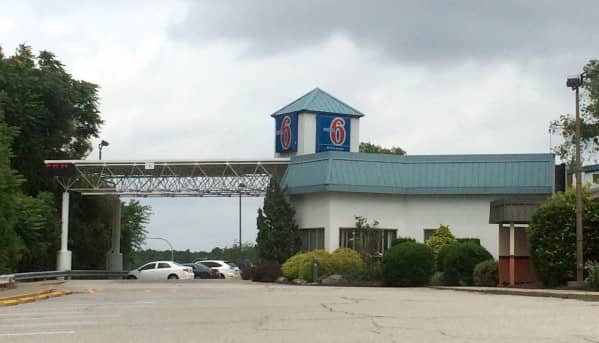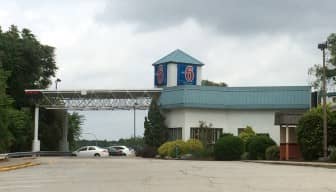 Warwick, RI – Warwick Police responded to Motel 6 at 20 Jefferson Blvd. at 2 p.m. Monday where a man had retreated with a revolver after chasing a woman into the parking lot firing several shots, resolving the situation peacefully thanks to the efforts of a SWAT negotiator.
The shooter, Robbie Zeigler, 39, of Cranston, fired at the woman but didn't injure her, said Warwick Police Maj. Raymond Gallucci. The department received two calls reporting the incident, one from the hotel and another from the woman, for a man shooting a gun in the parking lot.
By the time officers arrived, including patrolmen, detectives and members of the department's SWAT team, they had determined the shooting was the result of a domestic altercation, and that Zeigler had returned to his room with the gun.
Across the street at the Jefferson Boulevard Mobil Station, clerk Mike Hamouille said he saw several police officers show up at the scene, but didn't know what had happened. "We knew something bad was going on," Hamouille said.
Next door to the motel at Doherty's Ale House, Manager Amanda Leigh was walking to a local shop when she noticed the officers. She learned from a reporter on the scene there was a man inside the motel with a gun, and returned to her building. "I told everyone to stay inside," Leigh said.
After setting up a perimeter, the department called in SWAT negotiator Lt. Rick Rathbun to reason with Zeigler into giving up the gun. Zeigler, who Gallucci said seemed intent on harming himself, eventually agreed to toss the revolver outside the motel room through a window which had been broken earlier during the couple's argument.
"We give him (Rathbun) all the credit," in resolving the situation, Gallucci said.
The officers arrested Zeigler, charging  him with felony domestic assault, firing a weapon in the commission of a violent crime, and possession of a firearm without a permit. He was arraigned on the charges Tuesday morning, and will appear in court July 28 for a bail review hearing, then on Aug. 4 for a screening.