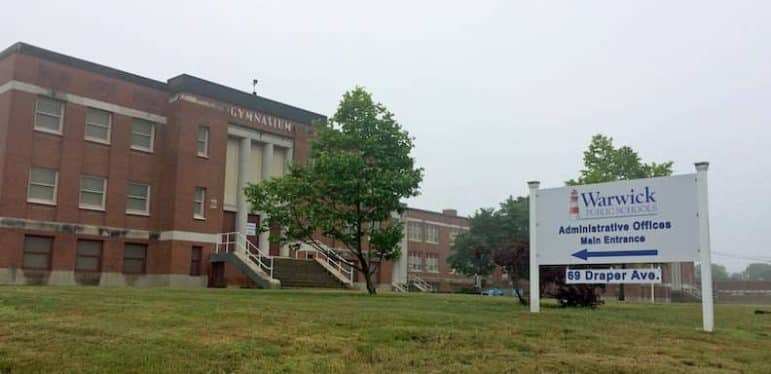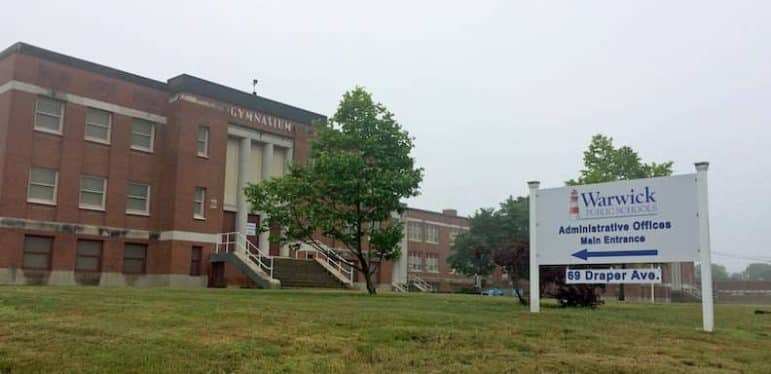 WARWICK, RI – The Warwick School Committee has made Warwick Schools masks mandatory this fall, but doubts from teachers and officials remain over whether it will be safe for students and staff to engage in in-person learning.
Superintendent Phil Thornton has announced his intention of going with a hybrid model, with students being separated into groups and attending classes on different days. All schools would be closed on Monday to allow for cleaning.
The rate of COVID-19 infections has been rising in Rhode Island in the last few weeks.
The estimated cost of hiring additional staff and obtaining the necessary PPEs and sanitizing equipment adds up to $15 million, which the school district does not have.
Last month, the school committee approved a new health and safety policy. It reads in part:
Warwick School Committee will require all persons inside of a Warwick Public Schools facility to wear a face mask. This includes: 
Adults, including educators and staff
Students age two and above
Masks/face coverings must also be worn by all students on the bus. The same applies to staff with medical or other health reasons for being unable to wear face coverings. Face shields worn in place of a face covering must extend below the chin and back to the ears. A student may take off a mask when it is approved by a teacher or school administrator.
"The problem is nobody knows everything there is to know about this virus," Netcoh said in reference to how coronavirus is spread through the air.
Students with special needs (documented in an Individualized Education Plan (IEP) or 504 may be accommodated or exempt from this mandate at the recommendation of the IEP or 504 case manager in consultation with the parent.
Students with medical conditions (as documented in an Individual Health Care Plan (IHCP), may be accommodated or exempt from this mandate with a doctor's note in consultation with the school nurse. A release must also be signed in the event that the school nurse or school physician needs to consult with the student's doctor.
The required use of masks will remain in effect until the School Committee ends the requirement.
"I think it's a good policy," said Darlene Netcoh, President of the Warwick Teachers Union. "I think to keep everybody safe, everybody in the building needs to wear a mask."
Students who do not comply with the policy will be subject to disciplinary action.
"I think they would just not allow the student to come to school," said school committee member David Testa. "They would have to learn remotely from home."
Testa said testing all students for COVID-19 may not be feasible, but at the very least, the adults in schools can be tested.
"Most of all the positive cases are with adults," Testa said. "If you have 500 teachers and 8 of them test positive, then you know they don't show up to work. If you have 20 custodians and 2 of them test positive, then those two don't report to work."
The committee also approved a new communicable disease policy. It reads in part:
Notification of the existence of a communicable disease in a school shall be disseminated to parents of students who attend such school at the direction of the school physician. His action will be accommodated in concert with the guidelines established by the R.I. State Department of Health (General Laws of Rhode Island, Chapters 21, 22, and 38, Title 16, Part II – Health
Services), and the administrative personnel in charge of the school health program.
Students and District employees may be excluded from school and/or all school-related activities if they are suspected of (based on legitimate tracing and/or medically recognized practice) or diagnosed as having a communicable disease as determined by the Department of Health Services that poses a significant health risk to others or that renders them unable to adequately perform their jobs or pursue their studies. Such decisions will be made on an individual basis and in consultation with one or more health care professionals. Students and employees excluded from school pursuant to this policy may appeal their exclusion as set forth in the administrative procedures implementing this policy.
 The schools closed last March when the cases of COVID-19 began spreading throughout the state.
"The reason we were able to do some well in the spring (with distance learning) was that we had already worked with our students for over half of the school year," Netcoh said. "We can not go back to the buildings if they are not safe."
Netcoh explained that many of the city's school buildings are old and some classrooms do not have windows. In addition, there are some teachers and teacher assistants who are in their 70s and 80s. People over 60 are most vulnerable to COVID-19.
"The problem is nobody knows everything there is to know about this virus," Netcoh said in reference to how coronavirus is spread through the air. "Are we allowed to use fans in the classroom? Our classrooms are 100 degrees at the beginning of the school year. I want to be in school teaching my kids, that's what all teachers want but we have to be safe."
"I think (the situation) changes by the hour," Testa said, who doesn't agree with Governor Gina Raimondo's belief that all schools will be able to reopen for classroom instruction.
"It sounds to me that in her mind all districts can return to full in-person elementary school with no problem. I think she's wrong. I just don't think that that's possible," Testa added