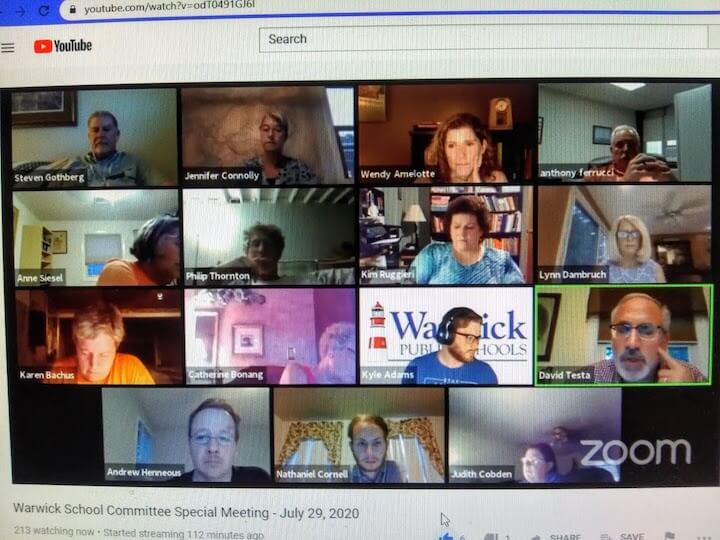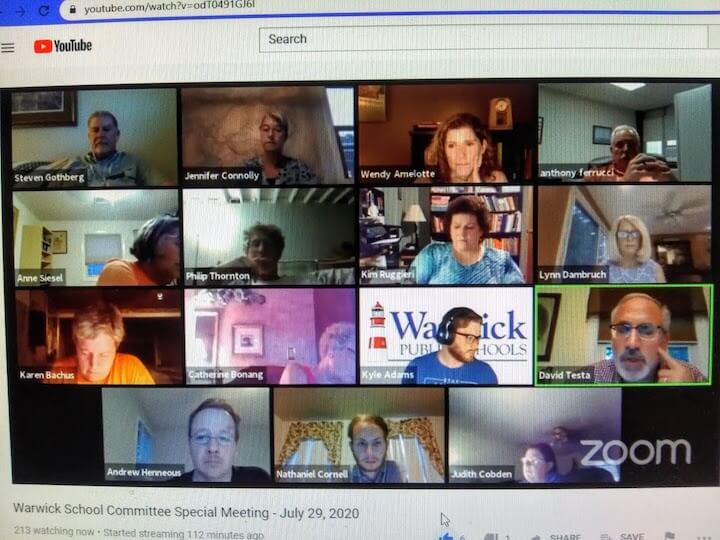 Warwick – The School Committee's Reopening Task Force estimates in-person school costs this fall at $15 million, while distance learning's cost is $4 million, Chief Budget Officer Anthony Ferrucci told the board Wednesday night.
The $9 million additional cost will be incurred to hire several new employees and to pay for sanitizing and protective equipment to prevent the spread of coronavirus,  among other costs, said Ferrucci, chairperson of the task force, while presenting the reopening plan to the board.
The School Committee voted to accept the plan.
At the board's July 16 meeting, Superintendent Phil Thornton recommended a partial reopening of schools for the fall. Students will be split into two instructional groups. One group will meet in-person on Tuesday/Thursday and one group will meet in-person on Wednesday/Friday. Monday will be a professional development day so all students would be engaged in distance learning. The schools will also be deep cleaned on that day.
New positions required for the plan include: 39 part-time building aides, 104 part-time lunch aides/cashiers, 86 full-time custodians/cleaners, 30 part-time bus monitors, and 36 full-time substitute teachers.
Ferrucci said there needs to be additional Compensation for Overages, Coverages and support for managing arrival, departure and social distancing. "To cover 20 buildings, averaging 4 hours a day in coverage, we are budgeting for 15,000 hours of additional stipend supports," he noted.
The district also needs to purchase: 800 Boxes of Disposable Gloves, 2,100 Dispensers, 3,600 Chromebooks, 34,300 Surgical Face Masks, 400 Cases of Disinfectant, 4,000 Keyboard skins, 3,420 N95 Face Masks, 10,000 Software Licenses, 267 Face Shields Barriers & structures, 95,688 Disposable Gowns, 187 Plexiglass Dividers, 38 Isolation rooms, and "distancing furniture."
However, Ferrucci said the ability obtain the necessary supplies in time for September 1 is a problem because other cities and towns are also reaching out for the same materials.
Members also worried there might not be enough applicants to fill the openings. Ferrucci said there are only 4 applicants (so far) for the 80 custodial positions.
"Every district is in the same boat," said member David Testa. "We don't have the money to pay for this."
"The logistics of staffing are a problem," Ferrucci explained. "We are ramping up. We're doing the best we can."
Ferrucci told the School Committee Wednesday the items identified in this budget are not included in either the Fy2020 or Fy2021 budgets. Funds to support these initiatives will have to be provided by alternate sources. Some of that cost can be covered by a $1.4 million surplus to use for the reopening costs. The rest may come from federal pandemic response funding.