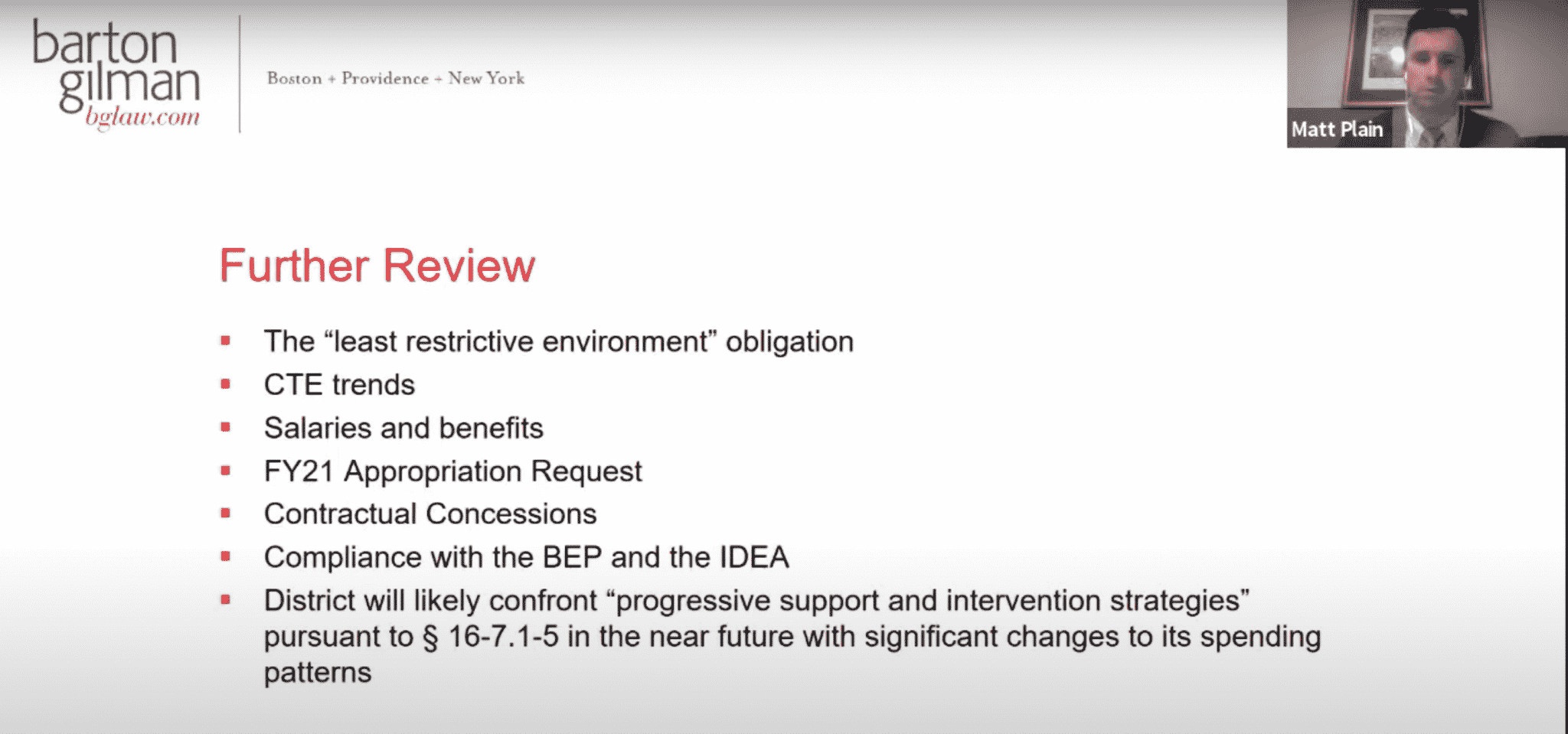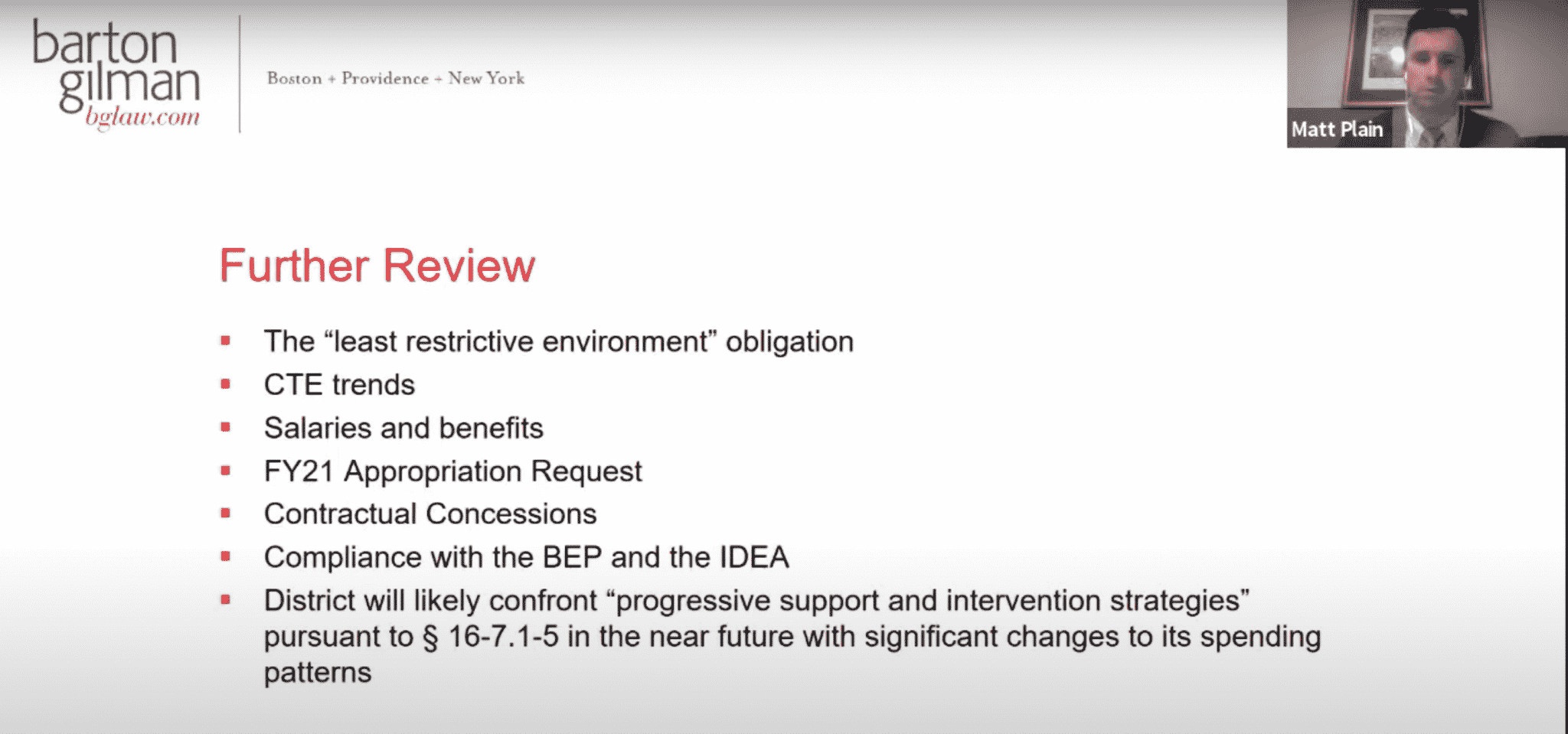 WARWICK, RI —Barton Gilman's Phase II instruction and fiscal Warwick Schools audit warns the district's under-spending on special and general education by $7.2 million, pointing it toward a RIDE takeover.
The Providence law firm finished the second part of the audit in January of 2020, but the pandemic prevented their presentation scheduled in the early part of that year, said Matt Plain, the Barton Gilman attorney who presented Phase I of the Providence law firm's audit of Warwick Public Schools in December of 2019. Plain presented the belated second part during Tuesday's meeting.
In part, the audit finds the Warwick School District, "is at the top of the range for certified staff pay/benefits," Plain said.
Also, according to the audit, "Warwick Public Schools' demographics trend toward selected suburban communities, a relatively low number of resident students attend charter schools, and the district's transportation costs appear reasonable."
Plain noted the report was based on administrative and staff interviews, along with budget and expenditure comparisons with selected urban and suburban districts including Cranston, Providence, East Greenwich, and Coventry.
Plain reminded Committee members that the Phase I audit advised a $6.9 million increase in the budget to maintain educational "status quo".
Phase II, he said, shows the District needs "significant curriculum development and additional supports at the administration level," to meet state Basic Education Plan (BEP) compliance.
Plain said the FY21 budget should have had another $3.2 million for general education and another $3.5 million increase for special education to meet statutory requirements. With supplies, programming and staffing factored in, he said, the district's budget ought to be $7.2 million higher than it is.
"In viewing that all together, we see that the district is likely on a path to progressive support and intervention strategies in the near future," Plain said. He said that means state intervention in Warwick government to increase funding in those areas, referencing "progressive support and intervention strategies," laid out in RI General Law 16-17, 1-5 for districts that fail to fund basic education levels.
That law was amended in 1998 to remove most of its language, including the part establishing progressive support and intervention. The only portion remaining is: "Community requirements — Adequate minimum budget provision. — The school committee's budget provisions of each community for current expenditures in each budget year shall provide for an amount from all sources sufficient to support the basic program and all other approved programs shared by the state," and "Each community shall contribute local funds to its school committee an amount not less than its local contribution for schools. The courts of this state shall enforce this section by writ of mandamus."
RI General Law 16-7-24, on the other hand, states, "A community that has a local appropriation insufficient to fund the basic education program pursuant to the regulations described in this section and all other approved programs shared by the state and required in law shall be required to increase its local appropriation in accordance with § 44-5-2 or find efficiencies in other non-education programs to provide sufficient funding to support the public schools."
Another conclusion of the report indicates the district has a higher ratio of teachers to students than comparative districts, Plain said.
"I take your audit very, very, seriously," Testa said.
"There is no hidden stash of money, this is headed for a real train wreck," said Committee Member Karen Bachus. "Please hear it and respond accordingly."
Darlene Netcoh, President of the Warwick Teachers Union, who criticized the Barton Gilman audit in 2019, renewed her critique of the firm's assessment of district finances.
"As I told you at your meeting with the City in December 2019, I have reasons to question its validity," Netcoh said.
"This report has inconsistencies, omissions, selective comparisons, biases, opinions, and outright inaccuracies that render its findings highly unreliable and ultimately invalid," Netcoh said. "The auditing company compared the proverbial apples to oranges when it placed our district's collective bargaining agreements – CBAs, both for WTU and WISE, in comparison to others."
She said the agreements are the result of decades of give and take, as are those in other districts, each taking different approaches to the same issues.
"Our district pays into social security while others do not," for instance, she said.
Criticizing Warwick's CBAs by comparing them to those in other districts led to specious conclusions, Netcoh said.
Reporter Joe Siegel contributed to this article.