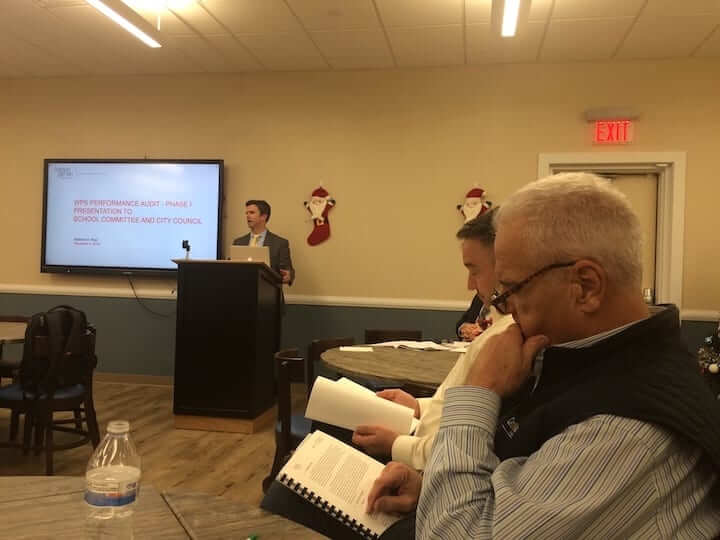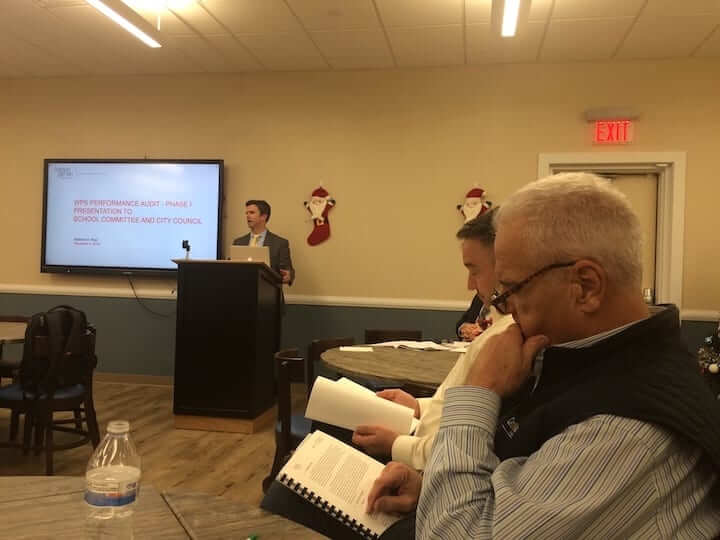 WARWICK- Matt Plain, attorney with Barton Gilman, presented the Providence law firm's audit of Warwick Public Schools Wednesday night at Tides Cafe, telling officials the District needs an $8 million FY21 increase and must pursue union concessions. 
The 24 people gathered at  the Warwick Area Career & Technical Center (WACTC)'s cafe at 575 Centerville Road included eight City Council members (Councilman Richard Corley was not present), the entire School Committee, Superintendent Philip Thornton, School Finance Director Tony Ferrucci, and Warwick Teachers Union President Darlene Netcoh.
"I've been trying to get this since 2013," said School Committee Chair Karen Bachus. "It's an auspicious event."
"The City Council and the School Committee are trying to work together," Netcoh said. She noted it was a positive development.
Plain explained his presentation would cover half of the audit, which addresses fiscal and programatic aspects of school spending. The next part of the presentation will likely be scheduled after Christmas, said Thornton.
In comparing Warwick to Coventry, Plain said his firm had determined that if the district matched that town's top step pay level for teachers, Warwick would spend $1,671,278 less on salaries. If matched with Cranston's top teacher pay level, it would spend $3,457,195 less than it does now.
We recognize that's one data point. That's a snapshot. That's a slice. A contract is chock full of not only material financial terms, it's also replete with language and work condition terms," Plain said, "These are things we suggest you might want to address incrementally over time."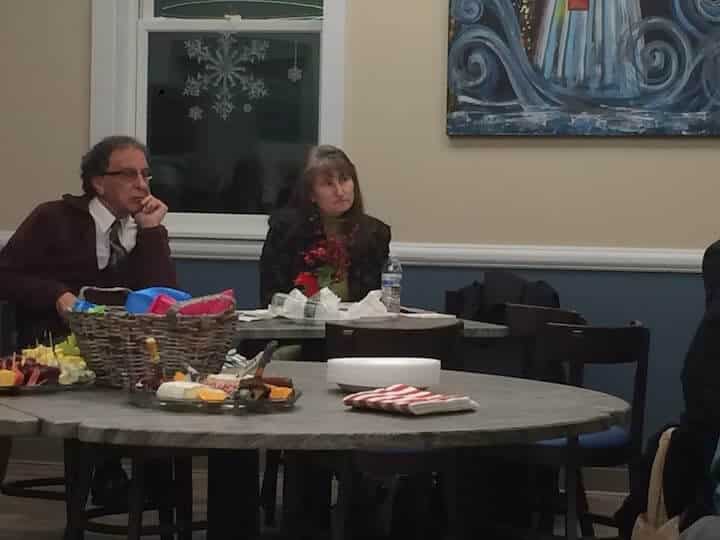 Netcoh said using only a few districts to draw the audit's conclusions had created a "highly misleading" picture of the district's budget and the demands of contracts that are the result of 50 years of negotiations.
"I think people need to realize what contracts are," Netcoh said.
Plain also noted that though the district's policy offering teachers longevity salary increases is in line with other districts, that element of teacher compensation adds more than $750,000 to the district's salary line item.
Plain also pointed out a provision of the contract 12-16-2, adding a maximum percentage of students with IEDs who can be educated in a single classroom. The provision was added to the WTU contract after teachers and students protested high numbers of students with IEPs or 504 special education plans in single classrooms in 2016, Netcoh said after the meeting. Protesters at the time said classrooms with 28 students could have 15 students with IEP's or 504s.
"That provision on its face has, we think, I think, Constitutional implications," Plain said, "Because it suggests that decisions are being made about classroom placements based on the contract rather than the individual needs of students." Plain added that the audit strongly advises the district to discuss further with their legal counsel.
School Committee member Kyle Adams pointed out the context of the IEP provision, noting it was actually added to prevent Constitutional violations based on IEP classroom ratios.
"You know why the language is in there? Because if left to their own devices, historically, because I've been here a long time, historically if left to their own devices this district does not schedule properly," Netcoh said. She said the problem goes back further than 2016, to 1992, when she had 22 IEP students in a class of 27.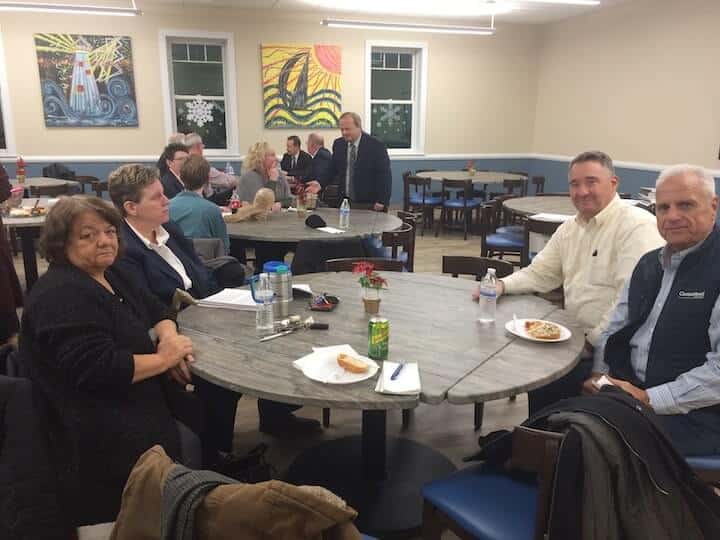 Netcoh criticized the audit for failing to consult with the WTU, noting the failure to take the 2016 IEP dispute into account was just one example of how not checking with them resulted in inaccuracies. She also noted the report refers to another report that lists the number of teachers at 102 more than the current audit, which has the number at 806.
"Obviously this audit is all about attacking the unions, both us and WISE," Netcoh said.
WTU Executive Director Jim Ginolfi asked Plain if the auditors had intentionally neglected to consult with them during the audit.
"It wasn't intentional," Plain said.
After Plain's presentation, Ferrucci briefly introduced the School Department's 5-year plan, which only seeks $6.1 million of the $8 million the audit suggests for FY21.
"We all agree. $8 million is not achievable. I agree. I don't even think $6 million is achievable," Ferrucci said. But, he added, it's a place to start.
Despite the challenges to the audit, the officials took heart in  sharing the information as a group as a step in the right direction.
"This was something we should've done a long time ago," said Councilwoman Donna Travis.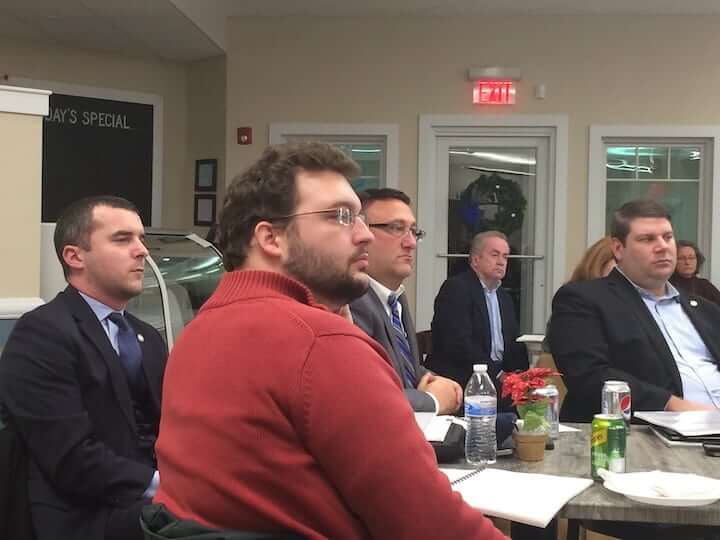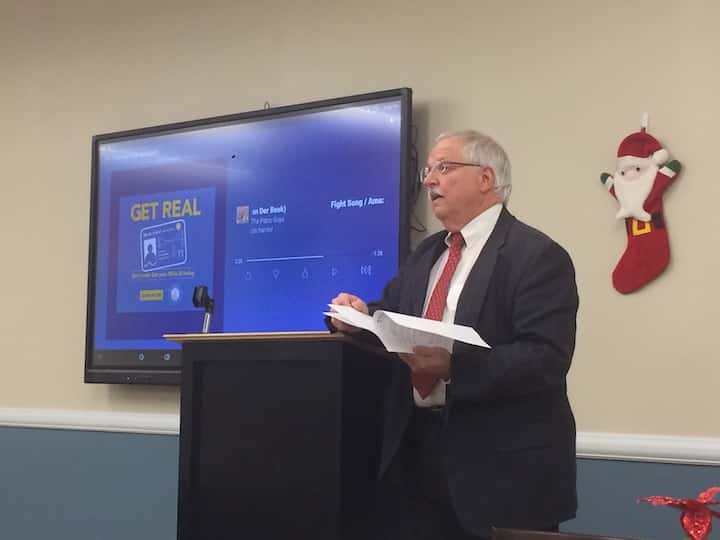 Warwick School Committee Five Year Budget Plan
Warwick Schools Fiscal Audit-Phase I