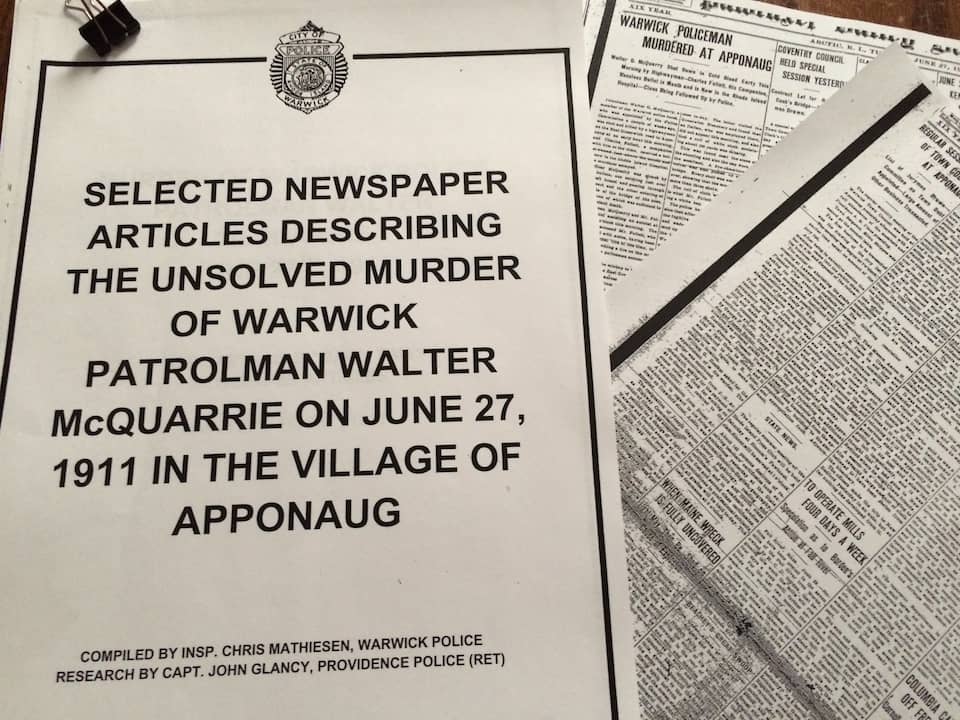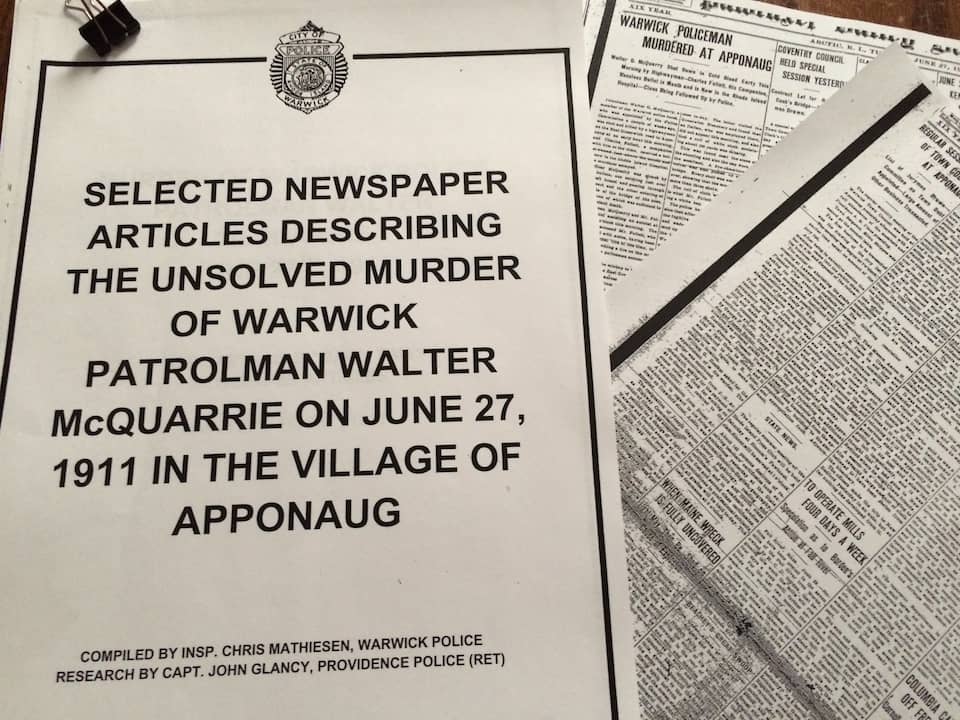 Warwick, RI – Warwick Police Inspector Chris Mathiesen has collected a lot of department history since he started in the 1960s, including weapons, badges, articles and records, and he's hoping the public can help him add a photo of Patrolman Walter McQuarrie, shot and killed on duty in 1911, to the records.
Mathiesen has assembled a pile of papers describing the tale of McQuarrie's murder, shot once in the face and again in the chest by a man after asking where he'd gotten a bolt of cloth he was carrying through Apponaug after midnight June 27 that year.
Details, taken from reports in the Providence Journal, the Pawtuxet Valley Times and other unnamed sources, reference "autoists" instead of drivers, and a frank assessment of McQuarrie's condition, "Dead as a door-nail."
It was a foggy evening, after midnight, when the gas street lights had been turned off for the day, Mathiesen said. The accounts paint a detailed picture of early Apponaug, where carriages were still in use and police work was much more difficult due to challenges of communication and transportation. "It's fascinating to me, because I've always been into things like that," Mathiesen said.
Mathiesen said he hopes getting news out about the officer's murder in 1911, and his search for information about the officer, will spark the curiosity of someone who might have a photo of McQuarrie in their attic, basement, or records.
McQuarrie had stopped to help an "autoist" change a tire, enlisting the help of a friend, Charles Follett, who had worked on autos before. McQuarrie and Follett got the tire changed and sent the man on his way. They started walking home a short distance away, according to a June 27, 1911 Pawtuxet Valley Daily Times article.
The two met a man carrying a large bag filled with an unidentified bundle, and McQuarrie, joking, asked if the man had been out robbing clotheslines. In response, the man pulled a pistol and shot Follett in the face. He shot McQuarrie twice, once in the face and once in the chest, as the patrolman moved to help his friend.
A follow-up story in the Times reported authorities had determined the man, described as an Italian, had stolen a large amount of cloth from the Greenwich Bleachery, and had fled to either New Bedford or Providence.
A Providence Journal article from that year identifies the suspect, being sought in Providence, as Celli Gietano. Gietano was never found, and McQuarrie's murder remains unresolved, Mathiesen said.
Other undated reports from the Providence Journal tell Gietano had been whistling as he approached the two men, according to Follett's account. It also noted that an undertaker's assessment of McQuarrie's wounds revealed that either shot would have been fatal.
McQuarrie's funeral was held Jun 29 at his home in Apponaug, according to an account in the Times from June 30, 1911. He was survived by his widow, Madeline, a daughter, Madeline, 11, his mother, Margaret, and brother, Robert, both of Providence.
With a photo, Mathiesen hopes to commission a painting to join that of two other officers killed on duty hanging in the community room of Warwick Police Headquarters at 99 Veterans Memorial Drive.
McQuarrie has also not yet been added to the National Law Enforcement Officers Memorial. The remaining Four Warwick Police officers who have died on duty are named on the memorial, however:
Officer John B. Gendron, shot several times and killed by a suspect he and a fellow officer found sleeping in a freight car in 1902.
The two officers with portraits are: Donald R. Casasanta, killed by a speeding vehicle in 1981, and Kenneth R. Fratus, killed by a truck while directing traffic in 1971.
Officer Christopher Feeney was killed by a vehicle while directing Christmas traffic in 1971.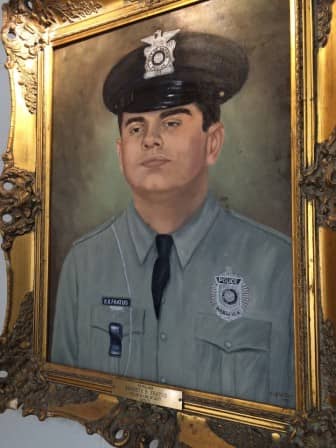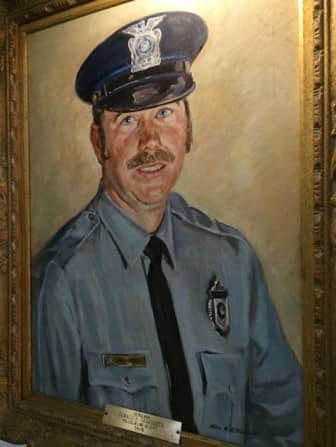 Mathiesen worked with Fratus staking out the local sand dunes, where stolen electronics were being stashed, waiting for hours before arresting a man who showed up to add to the pile. After, Mathiesen went to the shooting range, and Fratus left for his traffic assignment.
Mathiesen said Fratus didn't see the truck approaching him until it was too late.
"I have his (Fratus's) badge. It's completely flat," Mathiesen said.
Mathiesen said local trucks were equipped with reverse alarms shortly after Fratus' death. Ed Peterson, the inventor of the alarms, sold the first one in 1967, according to a New York Times obituary for the man in 1999.
Historical records for the Warwick Police Department weren't well kept before Mathiesen started his collection, which is stored in increasingly tight storage at the Warwick Police Department. He said he hopes to add his
records to the archive at City Hall, ideally, with McQuarrie's photo included.
"I want to leave this as a legacy to our police department," Mathiesen said.