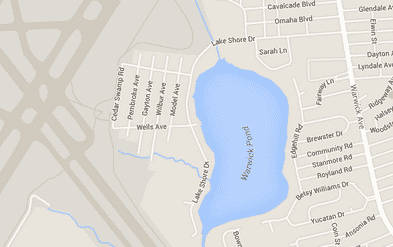 [wpgmappity id="44″]
Warwick, RI – The RI Department of Health and Department of Environmental Management have lifted a warning against contact with water and fish from Warwick Pond issued in August.
Blue-green algae blooms, also known as cyanobacteria, were reported in Warwick Pond in a warning the Health Department issued Aug. 18. At the time, the agency warned the blooms, marked by water that  resembles green paint or thick pea soup, would likely stay in effect until November.
Water contaminated by the toxins created by cyanobacteria, Microcystin and Anatoxin, cause skin rashes and irritation of the nose, eyes, and/or throat. If water containing algal toxins is ingested, effects may include stomach aches, diarrhea, vomiting, and nausea. Other health effects, which are rarer, include dizziness, headache, fever, liver damage, and nervous system damage.
Cyanobacteria health advisories remain in effect for Sisson Pond, St. Mary's Pond, and Lawton Valley Reservoir, all in Portsmouth; Watson Reservoir in Little Compton; and Paradise Pond and Eastons Pond South, both in Middletown. Additionally, the advisory for Eastons Pond South has been extended to Eastons Pond North. All of these bodies of water are supply sources for the Newport Water system, so recreational activity on all Newport Water reservoirs is restricted.