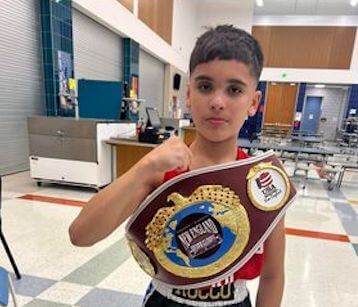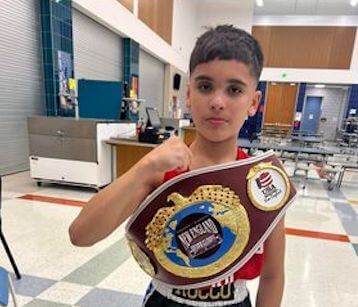 WARWICK, RI — Roccoangelo "Rocco" Emery, 11, has lived and breathed boxing and fitness for years, so his recent Silver Gloves New England win in Lynn, MA Dec. 11, isn't surprising.
It's the discipline and challenge of the sport provides his drive, though.
"It's like, I just like being in shape," Rocco said, and, when he's in a match, "I like that nervous-ness and being excited at the same time." And that's an experience that's with him, win or lose, he said.
Boxing has been a passion for the young athlete for most of his life. He used to sleep with a pair of boxing gloves, his father, Harvey Emery, said. Rocco, a student at Winman Middle School, said his love of boxing probably comes from the movies, maybe Rocky, though he can't say which one really inspired his love for the sport.
Wherever his love of boxing and fitness started, it's something he's committed to daily, working out on a weight bench in the basement after school, then alternating either boxing or karate practice in the evenings. He does take Saturdays off, his dad said.
Boxing is a difficult sport to remain competitive at, requiring not just more stamina than the average person, but more stamina than your opponent. "You gotta train so you aren't the first one to get tired," Harvey said. He said he's asked Rocco, "This is hard, why do you want to do this?"
"I just like the whole thing about it, staying in shape and fighting," Rocco said.
During last year's Silver Glove competition, Rocco broke his wrist, and couldn't compete. This year, his cast had been off six months before his next opportunity.
His trainer, Bry Lemme at Hard-Knocks Boxing Club in West Greenwich, said Rocco was in a group of about 8 kids training for the competition. About a week out, it was down to five, then three, and Rocco was among those three. Lemme taught him to work offensively during the match, and control his opponent, pushing him into defense, and Rocco worked hard to learn.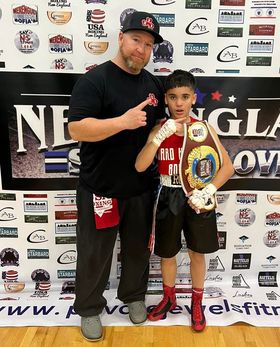 The work paid off as Rocco won all three rounds during the Lynn match.
"He controlled his opponent by putting his opponent against the ropes," Lemme said, then delivered a combination of punches that won the fight.
Lemme said the Silver Gloves competition is akin to the adult Golden Gloves matches, "So this is like the Super Bowl of kids boxing," he said. And it's a win that is hard-earned.
"He puts in the hard work. I know he does it at home, too," Lemme said. "He's a good kid. He always works hard and trains hard."
In a few months, Rocco will compete in the King of the Ring competition, which brings boxers from around the world.
A boy of few words, Rocco really seems to enjoy himself in the ring, Harvey noticed. "This quiet kid is no longer quiet," he said.