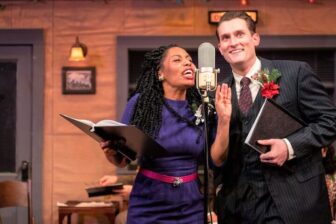 WARWICK, RI — For the third year in a row,  Gamm Theatre  is bringing audiences back to Bedford Falls in "It's A Wonderful Life: A Live Radio Play," with many of the same cast and crew returning for the production.
Jeff Church ("Describe the Night") is in winning form as good-natured everyman George Bailey, who faces mounting financial problems with his Building and Loan business.
The 1946 motion picture "It's a Wonderful Life" has become a beloved holiday favorite. What makes this version of the story special is the ability of the actors to recreate the world of Bedford Falls in the WGAM radio studio, designed by Michael McGarty.
Fred Sullivan ("A Midsummer Night's Dream") returns as George's nemesis Henry Potter, a selfish and arrogant man who cares little about the problems of working class men and women. Money is all that matters to him.
When George's problems become too much to bear, he contemplates suicide and has a fateful meeting with the angel Clarence, who shows him what life would be like had he never been born.
Sullivan is wonderfully versatile, exhibiting a menacing growl as Potter and a whimsical lilt as Clarence, who is desperately seeking his wings.
Lynsey Ford is solid as Mary, George's fiancée and later, his wife. Richard Noble ("Arcadia"), Rodney Witherspoon II as Harry Bailey, and Helena Tafuri ("Assassins") provide solid supporting performances.
Milly Massey capably plays the show announcer as well as George's young daughter Zuzu, while Will Malloy makes an invaluable contribution as the sound effects technician, providing a variety of sounds including cracking ice and bell chimes.
Gamm's Artistic Director Tony Estrella, who played George last year, serves as the director this time, and the result is a high energy show with a lot of heart. There are some clever touches, including an amusing commercial for a local credit union. Jessie Darrell Jarbadan's 1940s era costumes and Noah Beauregard's lighting enhance the storytelling.
The actors warm up the audience with sing-alongs of holiday favorites including "Jingle Bells" and "The Twelve Days of Christmas."
There were also readings of special messages from audience members. It's a terrific way to spend a few hours on a cold winter night.
"It's A Wonderful Life: A Live Radio Play" celebrates community, compassion, and
shares a valuable message. All of us have something to give to our fellow human
beings. We all matter.
It's A Wonderful Life: A Live Radio Play runs through December 24. The Gamm Theatre, 1245 Jefferson Blvd., Warwick, RI. For tickets: call 401-723-4266 or gammtheatre.org.