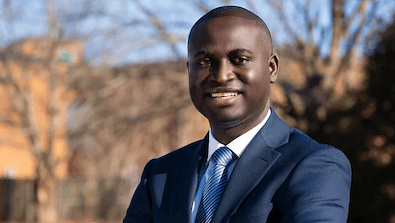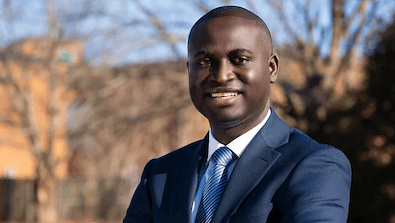 PROVIDENCE —  Omar Bah, a journalist tortured in The Gambia in 2001 and totalitarian state target, founder of the Refugee Dream Center in 2015, providing a hand-up to those in need, is one of six candidates for U.S. Representative of RI Dist. 2.
Bah, a progressive Democrat, who stood for human rights and freedom as democracy was waning in The Gambia, despite dire threats to his safety, aims to co-sponsor legislation codifying voting rights and strengthening democracy. He supports the PRO act ensuring workers' right to unionize, and expanding federal support for technical, vocational, and on-the-job training programs. He wants to phase out unnecessary COVID-19 restrictions while strengthening the most impactful, with an eye on safely living with the disease.
Through the Refugee Dream Center he helped thousands of immigrants, refugees and other working-class Rhode Islanders to find affordable housing.
During the Sept. 13 primary, Democratic voters will consider which candidate is the best to represent their interests, but also which candidate can do that and still win the general election.
To provide voters with better insight into each candidate's positions, ideas and views of the future, WarwickPost.com has asked each candidate eight questions, giving them equal time to reply. All responses from the candidates have been published at the same time.
Candidates were urged to answer the questions directly: "An answer which skirts the subject or reads as a deliberate attempt to avoid the question will be registered as a failure to answer the question." Only three of the six candidates responded to the questionnaire sent out Sept. 1: Sara Morgenthau, David Segal, and Bah.
Here are Bah's answers:
1. What do you make of the candidates left off the debate stage during the WPRI candidate debate?
WPRI and its parent company Nexstar Media have shut me out of the August 30 debate, based on biased rules about polling data. Nexstar's polling criteria was not applied consistently for all candidates nor did it take into account the large margin of error, which renders the survey data meaningless, as a tool for evaluating the performance of most candidates with respect to each other. This grievance is not just about me, because it highlights the struggles faced by the thousands of everyday Rhode Islanders who are being – and have historically been – shut-out of the political process, by the system. Many have stopped trying to engage altogether. Since the days of redlining, nuanced rules and barriers have been established which in-effect shut-out and marginalize certain populations, making it nearly impossible for them to succeed when seeking positions of power. Some of these barriers (such as gerrymandering to eliminate the influence of people of color in politics) are overt, while others (such as legacy admission policies at prestigious schools) are implicit and deeply embedded in our institutions. Both types of barriers lead to the same endpoint: people without access to family money, and insider political connections – some of which are developed over generations (as we see in this race) – have little chance of ever accumulating wealth, power or influence.
2. You've indicated your support for a woman's right to choose protected by law at the federal level. What is your objection to the state-by-state approach?
First of all, access to reproductive health of a woman's choosing – which includes abortion – is a constitutional right. It is a human right, and it is not acceptable that some women in this country may lose access to such a basic right which women have enjoyed for almost 50 years based on where they live. Secondly, if at some point in the future republicans – many of whom have become a proxy for the religious-right – were to take control of Congress and the presidency, it is very likely they would pass a nationwide ban on abortion. If that were to happen, states would no longer have any jurisdiction over this matter.
3. Are term limits the best way to curb politicization of the Supreme Court? Please explain.
I do not know what is the "best" way to curb the politicization of the Supreme Court (SC). There has always been potential for the SC to be politicized, over the last 230+ years, so we must ask ourselves as part of this process: what has changed in the 2-3 years? Clearly, the system has largely worked, but it is also clear that improvements can be made to the system. I support a commission to study the issue and propose a solution, which should be a deliberate and bi-partisan effort – otherwise we risk creating a partisan solution which will not be respected by a large proportion of the population. And if SC loses credibility among US citizens, we will have an even bigger problem. Term limits may very well be part of the solution; I am also interested in ways to ensure more equitable representation on the SC. I don't believe the founders of our republic intended our constitution and institutions to be un-malleable.
4. The race for this Congressional seat in November has been characterized as a choice between conservative and liberal concerns, although Republican candidate Alan Fung has demonstrated support of former President Donald Trump during his abuses of political norms, disrespect for veterans, rhetorical and material attacks on America's long-running record of peaceful transition of power, his documented involvement in stirring the Jan. 6 insurrection and unexplained delay of and reluctance to defend the Capitol and Congress. Do you consider yourself a more conservative politician than Fung in this regard?
"In this regard," I am nothing like Allan Fung, who has supported Donald Trump despite that man's clear disdain for democratic principles, the constitution, and the constitutional rights of this country's citizens. This is a pivotal time for democracy. I bring to the table a context that other candidates lack, having lived under both democracy and dictatorship. I stood up for human rights and freedom in a country where democracy was waning, despite dire threats to my own safety, and as my reward, I was hunted down and tortured by brutal dictator who thought he was above the law. I nearly lost my life as a result. I will use my platform as a US Congressperson, along with my personal story, to wake up the many people in this country who have become numb or ambivalent about what is taking place. And what is taking place is nothing short of a slow-moving attempted coup. I have seen it before and it is happening. It is happening in broad daylight for all the world to see.
5.  The person who succeeds Congressman Jim Langevin representing this district in Congress will need to win bipartisan support for their efforts during an unprecedented period of divisive sentiment. How will you balance the need to work with Republicans as their party and their members embrace authoritarian ideas?
For the past 15 years I have worked successfully with Democrats, Republicans, Independents and Green Party members. I have even collaborated with Allan Fung and his wife Barbara Ann Fenton-Fung on numerous occasions. The sad truth is that the Republicans that have been brave enough to stand up to the extremist elements of their party are being voted out of office. I think until moderate/ reasonable Republicans are again able to win their primaries, we are going to have a hard time collaborating on certain issues. But I do think the electorate is going to force these changes over the next few years – once Republican voters realize that the fascist, racist, climate-denying insurrectionist candidates they are nominating cannot win in a general election, change will happen. And we will edge closer to equilibrium. Hopefully it will happen quickly so we have time to save our planet.
6. What legislation would be your first priority, and what is your plan to win support for it in Congress?
Having worked on the grassroots level for the past 15 years – helping refugees, immigrants and other working class families to improve their own lives – I view housing as this state's highest priority. It is no secret that the cost of living on the east coast, and particularly Rhode Island, is very high. Low wage workers can barely make enough money to pay their bills, let alone afford to buy a home. Every day, I see multigenerational families – 8-10 people in a two-bedroom apartment – struggling to put food on the table. Many are forced to move to states like Ohio where the cost of living is actually reasonable. And this is a shame for all of us – for those that have to displace their families, of course – and our state is losing diversity. States like RI desperately need not simply housing relief but long-term solutions to create and sustain more affordable housing.
7. Where would you turn to for ideas on how Congress can curb inflation? What efforts do you consider the most likely to win support in Congress?
Bah did not respond  to this question.
8. Where would you most like to increase domestic spending in Rhode Island? What is your plan to accomplish that increase?
With $500 million from HUD – funds for incentives to cities and towns, low-interest loans and grants – RI could create thousands of affordable housing units and bring this state much closer to affordability. I would also like to see greater investment in workforce development programs to support industries in RI which are strong and growing – like manufacturing (at Quonset), biotech, tourism, and renewable energy. These would be among my top priorities
9. President Joe Biden's recent move to forgive $10,000 of student debt has caused much celebration and griping. Would you support rolling back the undue hardship requirement for student loans that was expanded with then-senator Biden's support and vote under the 2005 Bankruptcy Abuse Prevention and Consumer Protection Act?
Bah  did  not respond to this question.