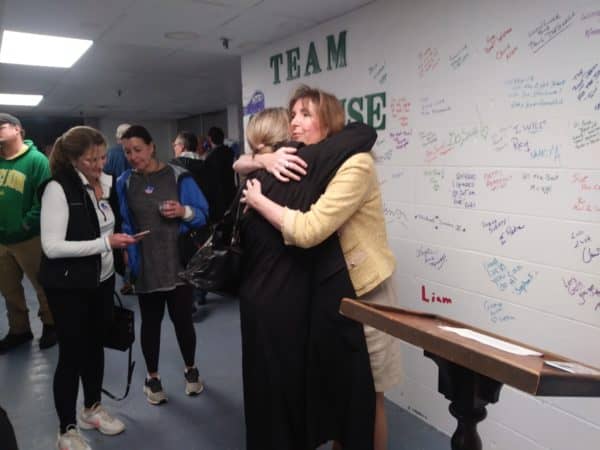 WARWICK, RI — Republican mayoral challenger Sue Stenhouse conceded defeat just after 8:30 p.m. on Election Night, as voting results showed that Democratic incumbent Joe Solomon had defeated her in the mayor's race.
By that point, with 90 percent reporting, Solomon held a 60-to-40 percent margin, one that Stenhouse could not overcome.
With 100 percent of precincts reporting, Solomon finished with 19,334 votes [59.9 percent] to Stenhouse's 12,858 [39.8 percent], according to the Rhode Island Board of Elections. Write-in candidates comprised the final 0.3 percent of the vote tallied on Nov. 6.
"We had a lot of hope for our campaign," she told about 30 supporters. "It's just that we didn't get enough people out there."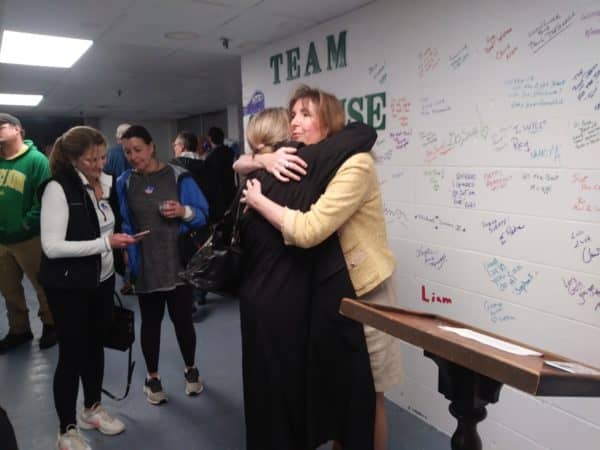 During an interview as she thanked departing volunteers, Stenhouse said she was drawn to run because of her past experience as a city councilor and public servant.
"I've always loved the problem-solving side of it," explained Stenhouse. "I've always loved the side of getting people together."
Stenhouse also pointed to the potential for innovation as a reason for her campaign.
"One of the things that is the most unchangeable is usually government, and I see that it has the most potential for change," she explained. "That's what intrigued me, and that's what got me into this in the first place."
The Republican, who formally launched her campaign in August, was philosophical when asked about the challenges she faced against Solomon, an 18-year veteran of the city council, four-time council president, and the city's appointed Mayor since May who also carried a large fundraising lead into Election Day.
"Hindsight is always 20/20, and getting into the race so late [made it] so hard — you think so many people know your message and it's really pockets of information, it's not widespread," she said. She also noted the high voter turnout, which typically favors Democratic candidates.
Tuesday's vote on the mayor's race totaled 32,300, almost exactly 50 percent of eligible Warwick voters, an increase of about 2 percent from the last midterm mayoral election in 2014, where 47.9 of eligible voters cast ballots for mayor.
When asked if she'd had time yet to think about what happens next, Stenhouse said simply, "No," and then added: "I'll probably take some time off — I have no idea what happens next. When a door closes, a window opens, and I'm just waiting to see what that might be."