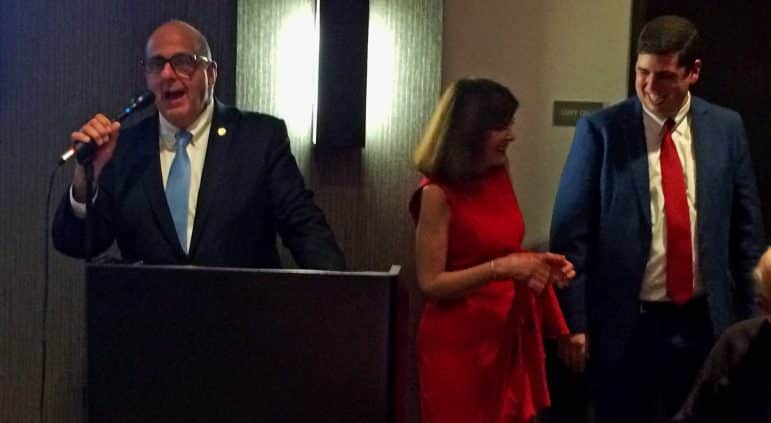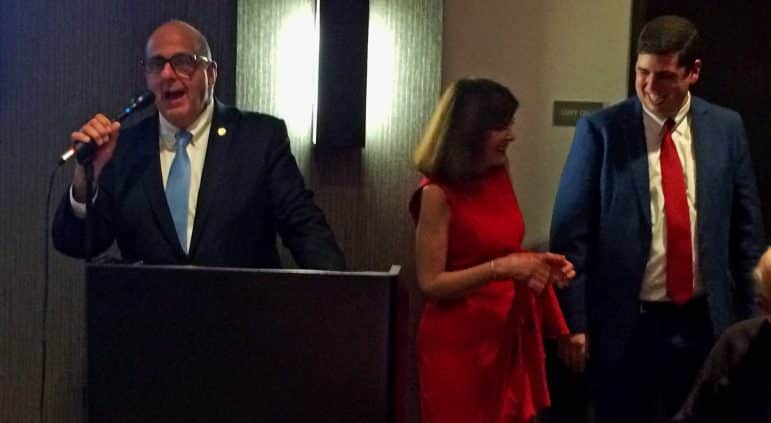 WARWICK, RI — A crowded room at the Hyatt on Jefferson Boulevard cheered Democrat Mayor Joseph J. Solomon's victory over Republican Susan Stenhouse, 19,334 to 12,858, or 59.9 percent of the vote to Stenhouse's 39.8 percent Tuesday night, the local crest of an anticipated nation-wide midterm "blue wave."
"I'm very humbled by the support," Solomon said as his win became all but certain with 90 percent of the vote unofficially tallied at about 8:45 p.m. Solomon said he would continue his work over the last five months, "To make Warwick a better place."
The evening was a successful one for Democrats in the city in general.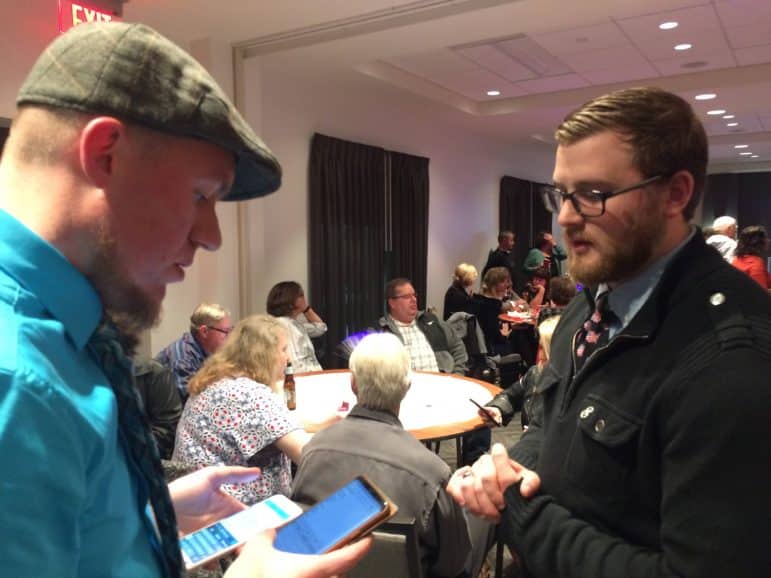 Democrat Kyle Adams took the Dist. 1 School Committee seat with 52 percent of the vote, 4,897 to Republican Richard Cascella's 4,276, by the evening's end.
Signs pointed in Adams's direction earlier in the evening. Pilgrim reported 404 to 369 in his favor at about 8:15 p.m.
"He's building a lead for himself," Barry Teller, poll worker for Dist. 21 Democrat Camille Vella-Wilkinson noted.
As the evening ended, Adams was excited, "I won every single polling place," the young candidate observed. He said he was grateful to the many people who helped elect him to the seat.
"But really it comes down to, we've got to bring the schools back around," Adams said.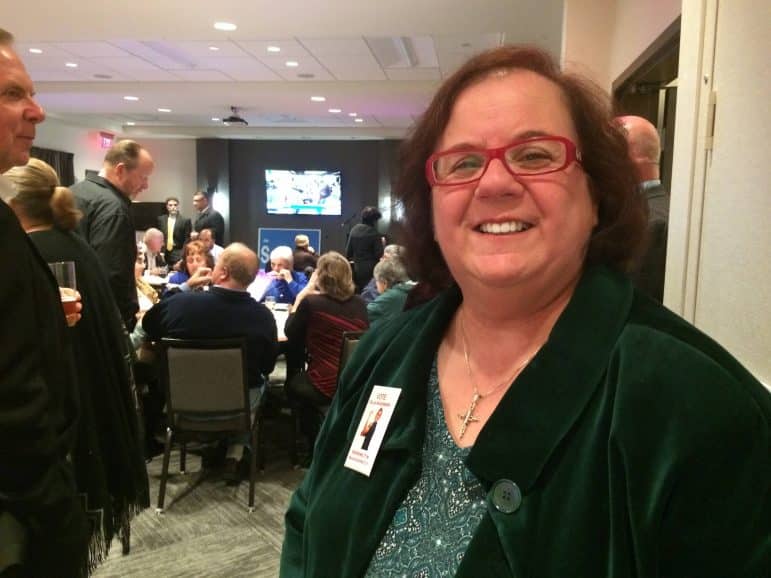 Vella-Wilkinson won her own race against Republican Michael Underwood, 2,850 to 2,104.
Vella-Wilkinson said she intends to work on testing and capping brownfield sites in Warwick, and also work to make up the difference between the $1.2 million Warwick spends on supporting TF Green Airport and the $500,000 the City receives from the RI Airport Corporation's Payment In Lieu of Taxes (PILOT).
In legislative races, Democratic incumbents and candidates swept the city's delegation.
Incumbent Democratic Sen. Erin Lynch Prata defended her Dist. 31 seat with a 61 to 39 percent victory over Republican Jennifer Moffatt; Rep. Joseph McNamara (D-Dist. 19) earned another term with 68 percent over the vote against Ruth Page; Democratic David Bennett took nearly 56 percent of the vote for the House District 20 seat against Independent Dan Elliott; incumbent Democratic Rep. Evan Shanley (Dist. 24) retained his seat by a 63 to 37 percent margin over Julie Caiozzo; James B. Jackson won the House Dist. 26 seat over Tammy Collins, 56 to 44 percent; and Rep, Patricia Serpa (D-Dist. 27) earned another term with a 61 to 39 percent victory over Mark Bourget.
For the other two open nonpartisan School Committee seats, Judith Cobden outpaced Mary Medeiros in District 2, 52 to 47 percent; and Nathaniel Cornell earned 52 percent of the vote in District 3 to Corey Smith's 47 percent.
Warwick voters also overwhelmingly approved the $40 million school improvement bond question with 74 percent of the vote.