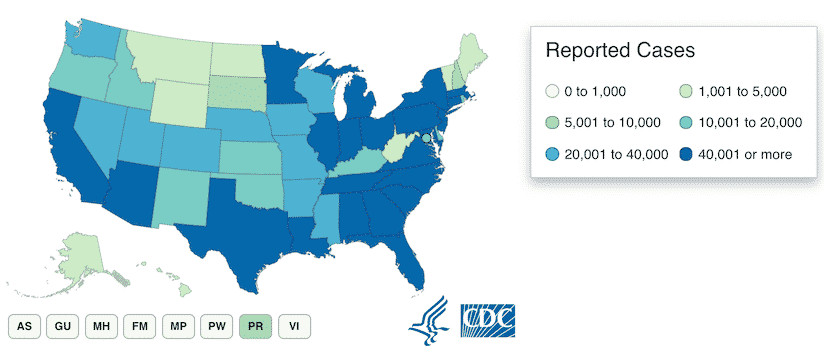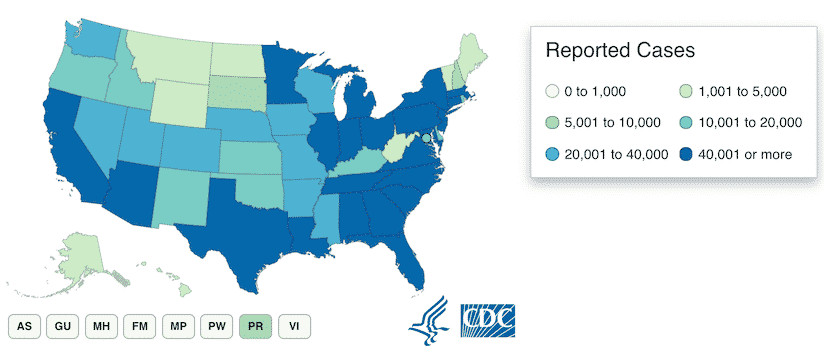 PROVIDENCE, RI — Rhode Island's COVID-19 pandemic response remains one of the better managed among U.S. states, but local challenges remain and the grim national outlook continues to darken.
USA! USA! USA!
The United States now has more than 3.2 million cases of COVID-19, and more than 134,ooo deaths, according to both the World Health Organization and the CDC.
The numbers give the United States the unenviable distinction of COVID-19 Global Hot Spot Champion in both cases and deaths, though it places ninth in per capita in deaths according to a U.S. News and World Report article.  America's infection rate outpaces almost every other nation on Earth, about one new infection every second, according to Politico.
Conspicuous national events and trends contributing to the dilemma include:
Too COVID-19? Too bad — You can't leave.
Prior to the spread of the novel (new) coronavirus responsible for COVID-19 disease, American passports granted Americans privileged travel to most of the world. Now, American travelers are banned from travel to most countries, according to a report by Indi Samarajiva on Medium.com. 
"Americans have gone from world power to getting the side-eye from Ecuador in a matter of months," Samarajiva wrote.
COVID-19 state of the Ocean State
In Rhode Island, officials have received praise for quick and decisive, if economically damaging, action to rein in infections and subsequent deaths. But Rhode Island's small population puts it at the back of the pack when it comes to the number of cases per 100,000 residents, at 1,634, according to a pandemic map of nationwide cases produced by The Guardian.
Still, Rhode Island continues to enjoy an encouraging downward trend in new cases of and deaths from COVID-19, according to data from the RI Department of Health RIDOH. Several other states are experiencing increasing daily COVID-19 cases.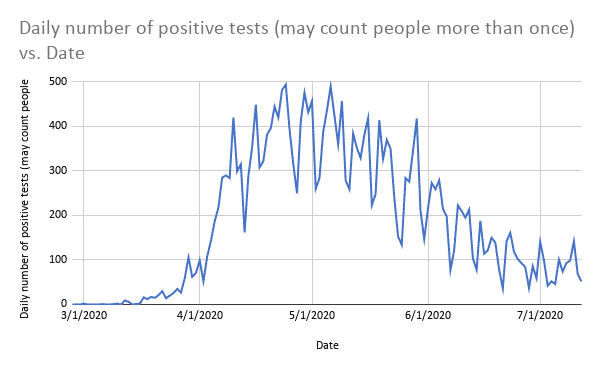 New cases, which peaked at about 500 per day, are now averaging below double digits per day in July, albeit with occasional jumps beyond the 100 case range.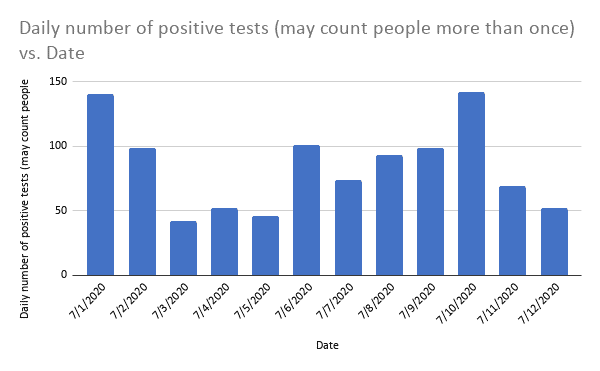 Overall, Gov. Gina M. Raimondo has attributed this success in managing (not defeating, not eliminating – managing) the pandemic to the general public's conscientious following of the rules: Stay home when sick, get tested, stay six feet from others, wear a mask in public. She pointed to the hospitalization rate, which she said is the most solid point of the data about the pandemic.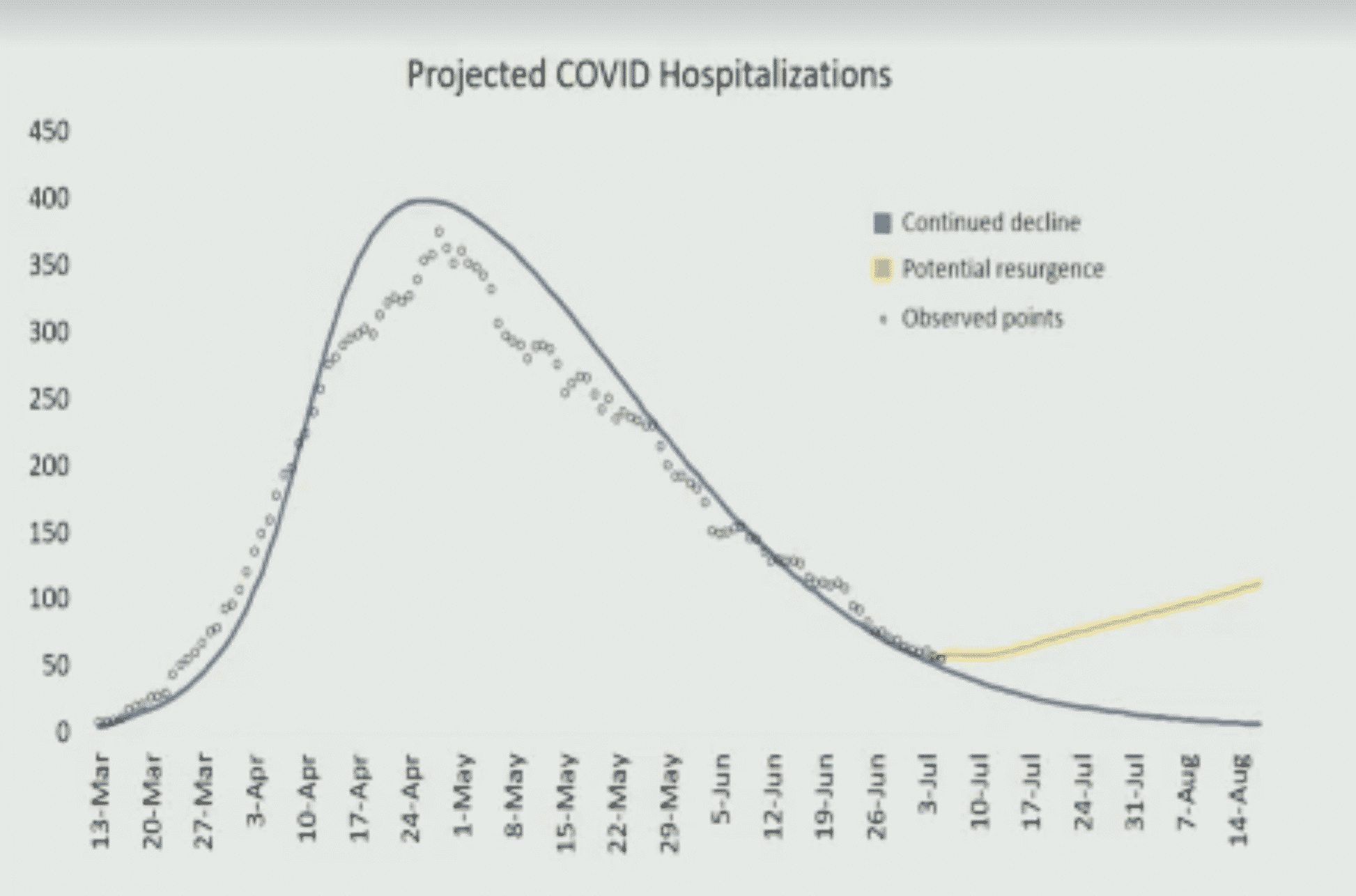 "Above all, the reason Rhode Island is doing as well as we're doing, is because of the people of Rhode Island," Raimondo said during  Friday's COVID-19 press briefing on the state's pandemic response.
Raimondo also noted the state acted quickly at the start of the pandemic with stay-home orders, closing schools and businesses, limiting large gatherings indoors, moving many workers to work-from-home arrangements, active testing for the virus and contact tracing for people who test positive.
Failing to stay home when sick, avoid crowds and social distancing, and not wearing masks, Raimondo said, could easily send RI trending in the opposite direction.
But not everyone in the Ocean State is following the guidelines to keep their neighbors safe, as Raimondo pointed out Friday.
'Put on a goddamn mask.'
"In particular, I want to call out Misquamicut Beach," Raimondo said of the situation inspectors observed there Thursday. "We just saw too much crowding," during high tide, Raimondo said. High tide should be no surprise to Rhode Islanders, she said, and beach-goers should be prepared to adjust their days when there is less real estate at the beach to avoid getting too close to each other.
Raimondo also said officials saw groups of 8-10 people crowded into cars and at the beach together, and in lines for the restrooms and concession stands without masks. Raimondo asked beach-goers to make sure they wear masks in lines and unavoidable crowds, to avoid crowds and to leave the beach if high tide crowds people too closely.
Raimondo said she would close beaches if people demonstrate they won't follow the rules.
Misquamicut Beach Business Association Executive Director Caswell Cooke took the admonition to heart, announcing zero tolerance for beach-goers who fail to social distance, wear a mask, and clean up their trash.
"I want you to listen to me, and I want you to really, listen, good." Caswell said in a video posted to Facebook. "The governor is going to close Misquamicut beach if we don't get our shit together."
"So that means when you come to this beach, you can't pile in, 20 to a car, or a truck. Come to the beach, when you get into that parking lot, you put on the mask. When you go to your place on the beach, you put on your mask. When you get to your spot on the beach, make sure it's six feet from the next person's blanket. If it's not six feet from another person's blanket, come back another day. When you walk up on the pavilion to go to the bathroom, to stand in line for the concession stand, put on a goddamn mask. I'm not going to ask nicely again. When you're at one of the businesses here at Misquamicut, you got to follow their rules. Don't make it hard on them. They require a reservation, you have to go with it. They can only seat so many people on their patios, you have to go with it. Or it's all going to get shut down, and nobody's coming to the beach."
Eviction moratorium over, eviction diversion program starts
"We're going to be putting $7 million of CARES Act funding into this effort, which we expect will support between 1,000 and 2,000 Rhode Islanders to maintain stable housing," Raimondo said.
Renters who meet income criteria and are behind on their rent because of the COVID-19 emergency will be able to qualify for assistance. Tenants can apply directly, or landlords can apply on behalf of tenants who need help getting back on their feet. Starting Monday, either tenants or landlords can contact United Way and ask about the Safe Harbor program to start the application process. If both parties agree to participate, they'll be contacted by a United Way housing specialist to finalize a payment agreement supported by CARES Act funding.
Tenants who need legal advice will also be able to access those services for free, Raimondo explained.