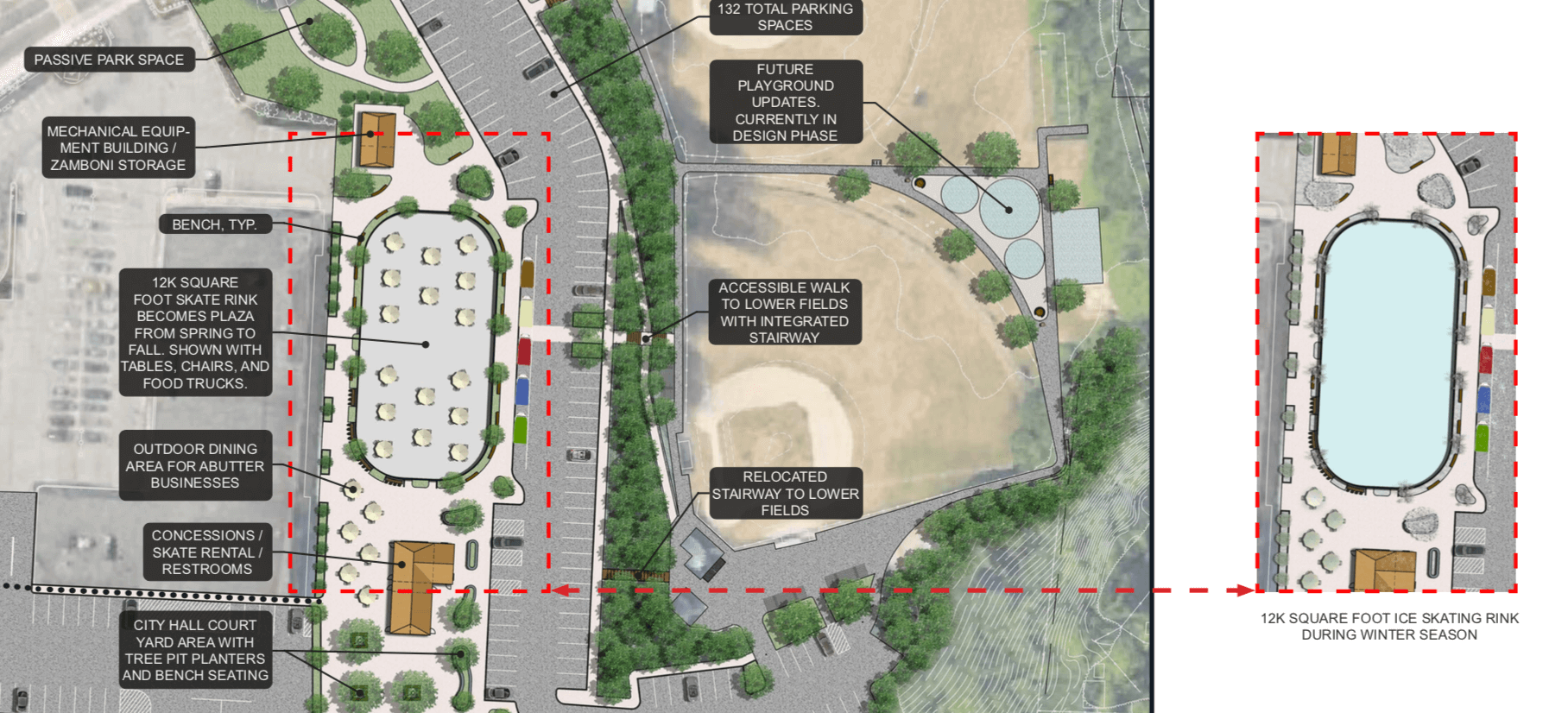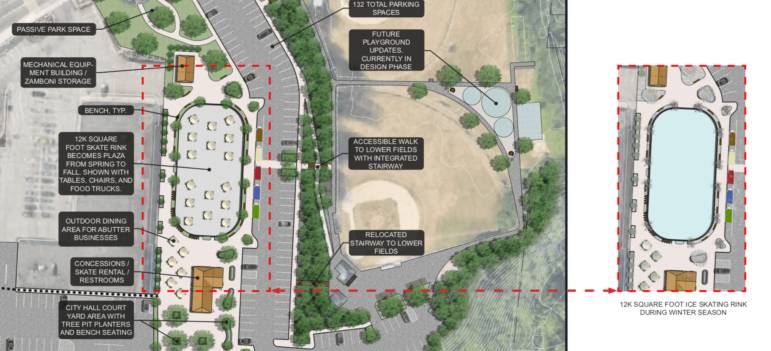 WARWICK, RI — This morning, U.S. Senators Jack Reed and Sheldon Whitehouse met with Mayor Frank Picozzi to discuss $5 million in federal funding helping Warwick advance the City Hall Plaza, project a pedestrian plaza, community gathering and event space.
Picozzi introduced his vision for the $3.5 million City Hall Plaza project in January, which will use space freed by the recently leveled City Hall Annex behind City Hall at 3275 Post Road.  In an effort to assist the City of Warwick's economic development priorities, Reed and Whitehouse included an earmark for the project in the Fiscal Year 2022 Consolidated Appropriations Act, the senators announced this week. They say the federal funds will help the city build new infrastructure and community assets around Warwick City Hall designed to attract people, stimulate private investment, create jobs, and increase local and regional tourism to the area.
Reed, Whitehouse, Picozzi and Warwick leaders will discuss Warwick's plans, which call for a new City Hall Plaza offering year-round activities and amenities in Warwick's downtown core, including, among other things, a major dual-purpose skating rink/roller rink/splash pad that can also be used for performances and exhibits, farmers markets, and other public gatherings, as well as new walking paths, green landscaping features, and parking.
Close to Narragansett Bay, in an area steeped in history that has local, regional, and national importance, the 12,000 square foot rink and multi-use year-round plaza is part of a master plan that has numerous elements, including revitalization of historic Apponaug Village, and development of the Apponaug Heritage Trail with connections to the famed Civil War Hero George Sears Greene's cemetery.
The Warwick Center for the Arts, located adjacent to the proposed plaza, hosts regional art exhibits and events that would be readily supported by a new outdoor event area. Additionally, the plaza and associated programming will support local businesses by promoting foot traffic and attracting residents and visitors that will frequent local restaurants, retail shops and associated services.
A link to the artist's rendering of the City Hall Plaza plan, with several notes, is visible here: City-Hall-Plaza-Plan City-Hall-Plaza-Plan