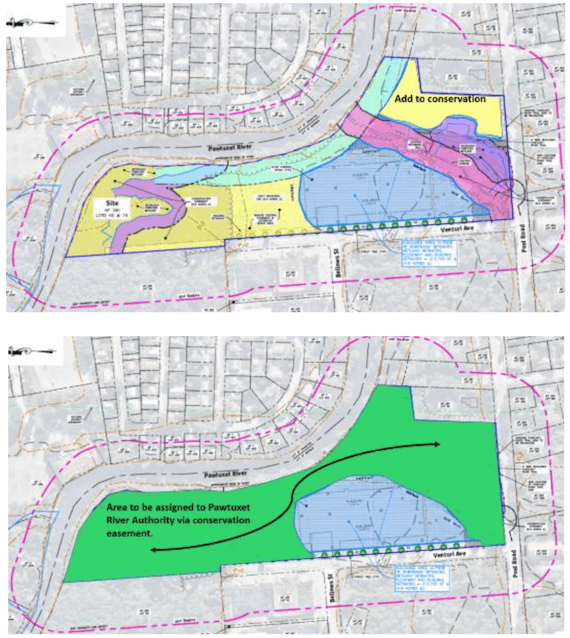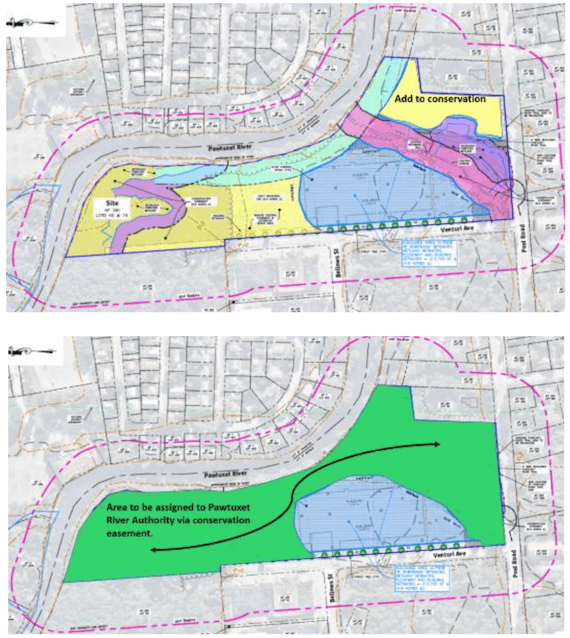 WARWICK, RI — The Warwick Planning Board approved the 65,000 sq. ft. contractor storage facility at 175 Post Road Feb. 8, on the condition of expanded open space and an environmental impact report.
Planning Board Chairman Philip Slocum and members Michael Penta and Ashley Cullion voted against approving the application.
Applicants Artak Avagyan and Lee Beausoleil, who own the property, have not decided if they'll appeal.
"Still weighing my options," said Avagyan Wednesday afternoon.
'Sooner or later they're going to have a storm that's going to flood the area," … "The water's going to go in the doors and that material is going to go into the Pawtuxet River Basin.'
City Planner Tom Kravitz said the decision is waiting on a signature from Planning Board Chairman Philip Slocum, expected Friday. After that, a 20-day appeal window opens for the decision.
The expanded open space preserves an existing trail on the property, through an expanded conservation easement, as proposed in an earlier draft approval unveiled at the Jan. 10 Warwick Planning Board meeting at Warwick Veterans Middle School Auditorium, 2401 West Shore Road. The environmental impact report will be conducted by the applicant's consultant, at their expense, said Kravitz.
Michael Zarum, a member of the Warwick Land Trust and President and Chairman of the Buckeye Brook Coalition, was one of many voices opposed to the use of the site for construction storage, described as materials typically found in a residential garage. That doesn't rule out paint, turpentine, and certain solvents, he pointed out.
Such materials aren't a good fit for a property such as this, he said, surrounded on three sides by wetlands and near the Pawtuxet River.
"Sooner or later they're going to have a storm that's going to flood the area," Zarum said, "The water's going to go in the doors and that material is going to go into the Pawtuxet River Basin."
In other news, Kravitz said poor audio quality for the recording of the meeting will be addressed in future meetings, starting with their March meeting, when better quality recording equipment will be in place. 175 Post-Vote Sheet