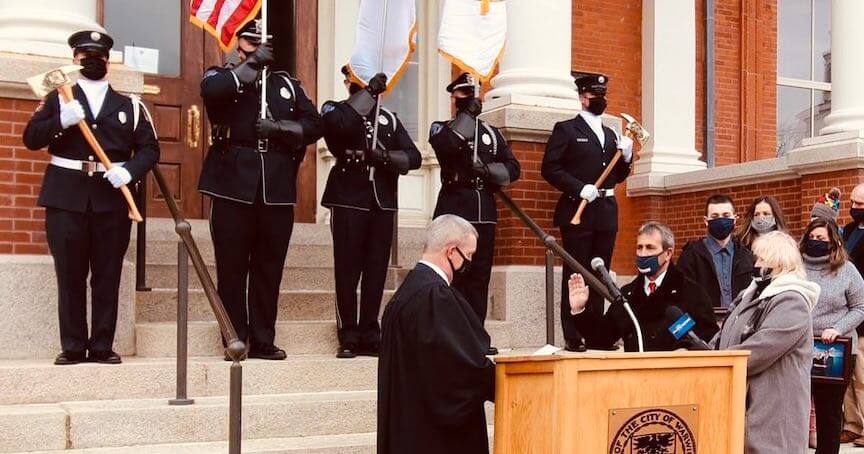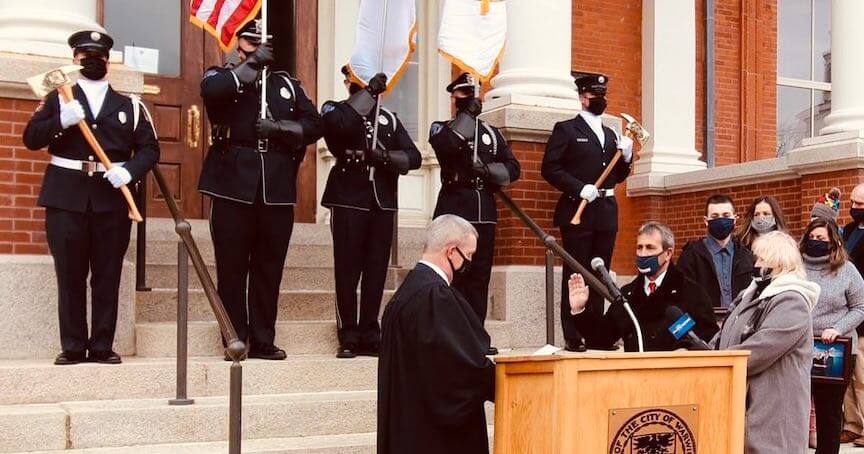 WARWICK, RI — Mayor Frank Picozzi named several new Warwick department heads were announced this week by incoming  on the cusp of his inauguration early this week. 
Picozzi's new administration brings departmental leadership changes to the city's Police Department with the appointment of Police Chief Brad Connor, and new heads of the Department of Public works, Planning Department and Parks and Recreation Department.
Picozzi said he spent the past two months of his transition finding and putting together the most highly qualified staff possible. He told the Warwick Post he feels he assembled a team that he's confident will help his administration achieve its goals and vision. 
On his Facebook page, Picozzi renewed his pledge of a change of pace at City Hall.
"I'll be formally taking an oath today but I really took it last June when I declared my candidacy. I made promises of a better government and a better city to the residents and you took me at my word, you trusted me, and you put your faith in me. I will never betray that trust.
I promised the people of this city open and honest government and you will have it. Politics have been vanquished from City Hall. I will serve the people of this city with passion, dedication, and honor. Every decision that I make will be what I believe is best for the residents. I'll show respect to every employee and they'll feel that they are valued and that they matter," Picozzi wrote.
Department of Public Works
Eric Earls takes the reins as director of the Department of Public works and will also serve as city engineer. He'll be replacing Mat Solitro who became director following the 2018 retirement of Richard Crenca.
Earls has 12 years of experience in the public sector working as an engineer in Newport and Warwick, most recently serving as the DPW director in Pawtucket.
"Due to a large number of layoffs and a complete lack of effort to replace old and failing equipment, the Public Works Department has been struggling mightily — and in some aspects failing — to provide the residents with the level of service to which they are both entitled, deserve and are used to," Picozzi said. "I have every confidence that Eric will work with me to come up with a plan to restore our DPW to not only what it once was, but better than ever."
Planning Department
Bruce Keiser takes over as director of the Planning Department, succeeding City Planner William DePasquale who previously held positions as Mayor Joseph J. Solomon's chief of staff and interim chief of staff for Mayor Scott Avedisian. 
"Bruce has a vast knowledge of how municipal governments run. I'm very pleased to have a man of his experience to turn, as I move this city forward," said Picozzi.
Keiser previously served as finance director under former Mayor Joseph J. Solomon. Keiser resigned May 17, 2019, weeks before Solomon's finance department was scheduled to present the FY19 budget to the Warwick City Council.
Keiser had been appointed by former Mayor Scott Avedisian after the similarly sudden resignation of former Finance Director Ernest Zmyslinski in October 2017 after 18 years.
Keiser has 40 years of government management experience and previously held positions in South Kingston as the director of administration/assistant town manager and in Jamestown where he served as town administrator. He was also the director of administration for the city of Warwick, as well as finance director.
Keiser has 40 years of government management experience in oversight of municipal operations, budgeting, personnel, community planning, and intergovernmental relations. He was Jamestown's town administrator for seven years prior to retiring from that post in August 2013. Previously, he was the senior planner and executive assistant to the mayor of Pawtucket. He has also served as director of local government services for the Rhode Island Public Expenditure Council and as director of administrative services in South Kingstown,
Parks and Recreation Department
Warwick native Beverly Wiley is the city's new Parks and Recreation director. The former commissioner of USA Softball of RI for 29 years, Wiley is also the former summer recreation director in Foster. 
"Back in the '90s when I was president of Apponaug Girls Softball, Bev was the state commissioner," Picozzi said. "She ran the state program with efficiency and dedication and she gained my respect then and that respect lasts to this day. She has an extensive background in researching, writing and securing recreation grants. Bev was the clear choice to help me attain my vision of what our recreation facilities in the city should be."