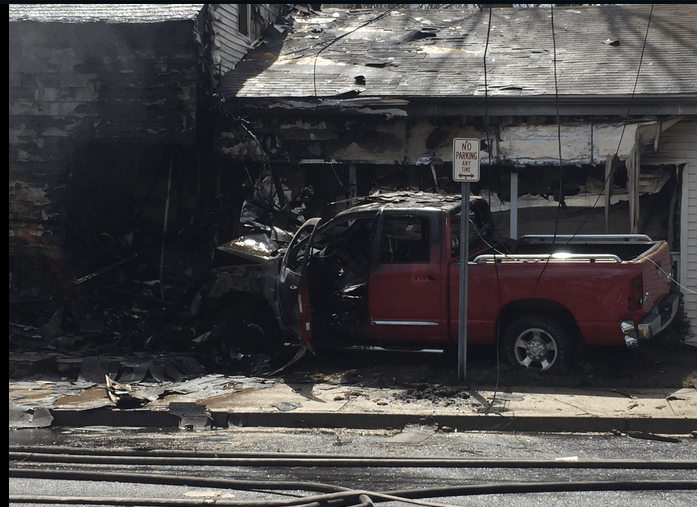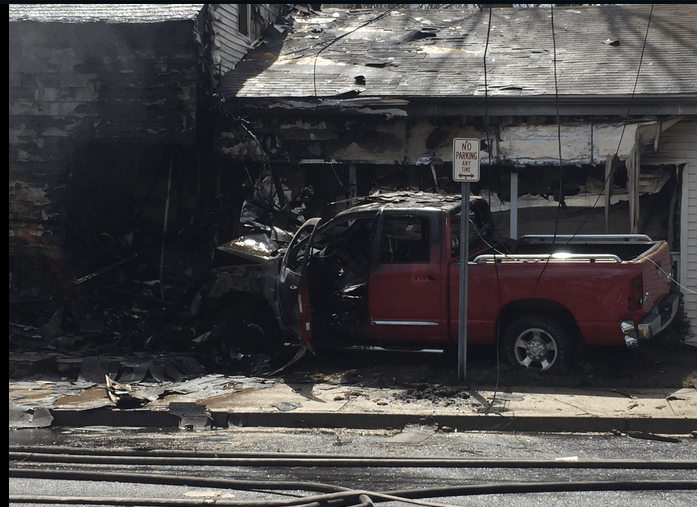 WARWICK, RI — A pickup truck crashed into an apartment house at 126 Toll Gate Road just before noon Saturday, destroying the gas meter and causing a fire Warwick Firefighters spent three hours extinguishing, which required National Grid to shut off the gas at the line under the road.
The crash and fire resulted in only minor injuries for the driver and one tenant, said Warwick Fire Chief James McLaughlin. The two were each transported to Kent County Memorial Hospital, a short distance down the road.
McLaughlin said firefighters coordinated well with the various agencies responding to the unusual event, caused by the driver's as-yet unexplained loss of control and the resulting crash that destroyed the gas meter, the device firefighters normally would've used to shut off the gas supply to the building.
"Obviously, we can't turn it off at that point, because he destroyed the meter," McLaughlin said.
National Grid crews were required to turn the gas line off by digging under the street to reach the valve there, and firefighters had to keep the fire at bay while they did that. The gas line was shut off, and the fire finally out, about three hours after the call, at 3 p.m.
National Grid was also required to attend to a utility pole that the driver's truck had struck prior to the crash, McLaughlin said.
Firefighters were also wary of a report of ammunition in the building, but luckily, it wasn't set off by the fire. Still, McLaughlin said, it was good that firefighters knew about it.
DEM officials responded and ensured a nearby waterway was not adversely affected by the fire and the response, and the Red Cross also saw to the emergency housing for tenants at four apartments in the building. The house itself will likely be a complete loss, McLaughlin said.
McLaughlin complimented the teamwork of firefighters, National Grid, the Red Cross, and the DEM during the response, noting the agencies worked together with impressive coordination.
According to reports from The Providence Canteen's Twitter account, Warwick Fire Department's Ladder 2 responded, and water was shot at the fire from above using the truck. McLaughlin said in three engines, two ladder trucks and a Special Hazards truck responded to the scene.