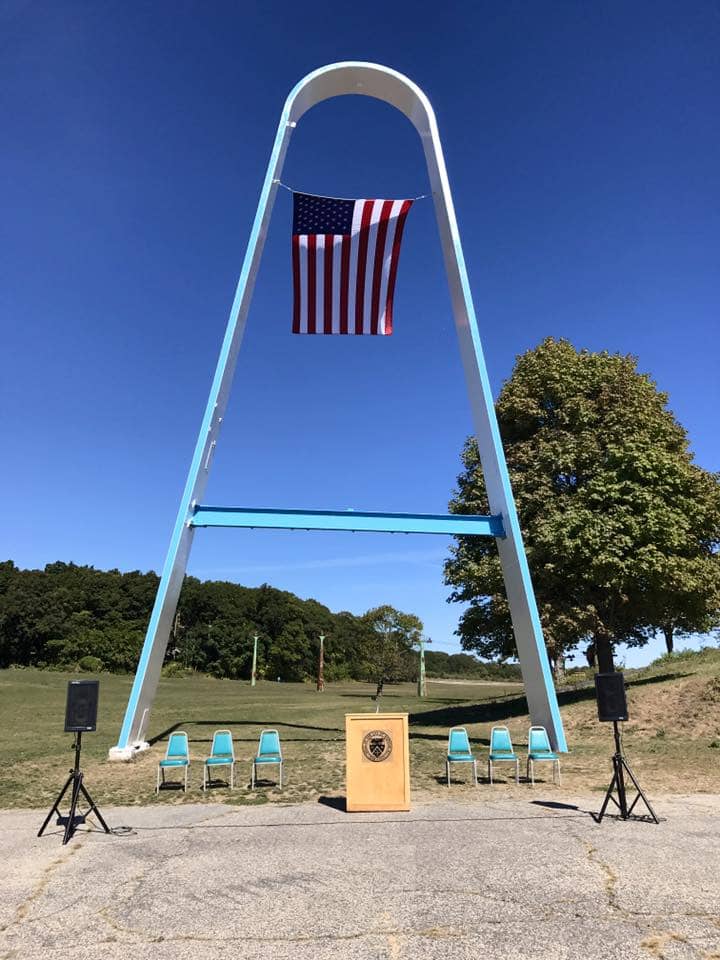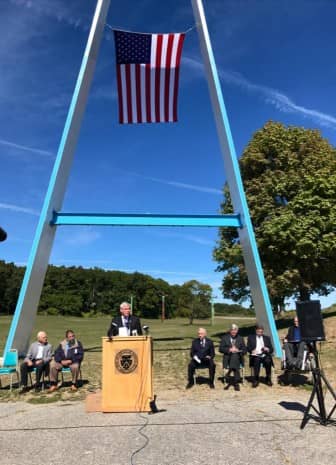 WARWICK, RI — City and state officials celebrated the unveiling of the newly restored and painted Rocky Point Arch Monday afternoon, made possible by a $5,000 Rhode Island Foundation grant.
The Rocky Point Foundation was awarded the grant as part of the RI Foundation's Centennial Community Grants program marking its 100th anniversary. The historic arch, which had fallen into a state of disrepair, served as the entrance and exit to the amusement park during its heyday. The Warwick Department of Public Works and the Central Rhode Island Chamber of Commerce assisted in removing  lead paint and rust from the structure before adding a new coat of paint, restoring the arch to its former luster.
Mayor Scott Avedisian, along with Senators Jack Reed and Sheldon Whitehouse, Congressman Jim Langevin, officials from RIDEM, The Rhode Island Foundation and the Rocky Point Foundation gathered at noon to unveil the newly painted arch, one of only four remaining.
"Thanks to the Rhode Island Foundation, Mayor Avedisian, and all the partners who helped refurbish this archand preserve and transform this magnificent public space.  Many Rhode Islanders can remember walking through the arch on the way to enjoying rides, games, and the Shore Dinner Hall.  Today, Rocky Point remains a special place for families.  The amusement park may be gone, but the view is still thrilling, and I am pleased we were able to preserve both the natural beauty of this place, and a piece of the park's history, for future generations," said Senator Reed.
Senator Reed, a member of the Appropriations Committee, in the early 2000s, earmarked more than $2.25 million in federal funding to help the state acquire 41 acres of waterfront property and preserve it as a public recreation area.  Congressman Langevin also played an instrumental role in securing the first appropriation from the National Oceanic and Atmospheric Administration (NOAA).
"Rocky Point holds a special place in Rhode Island's heart," said Senator Sheldon Whitehouse. "To see its iconic arch restored will bring back many wonderful memories."
"Rocky Point Park is a Warwick landmark, and the arch is a symbol both of the park's history and its lasting legacy. Rocky Point has found new life thanks to the City of Warwick's commitment to open space and public access, and the unveiling of the arch is another milestone in the ongoing transformation of a true treasure in our community," said Congressman Jim Langevin.
Rocky Point, which has a rich history as a summer destination, dates back to the 1840s. The property is situated on 123 acres along the city's eastern shore with breathtaking views of Narragansett Bay. It is open year round to the public.