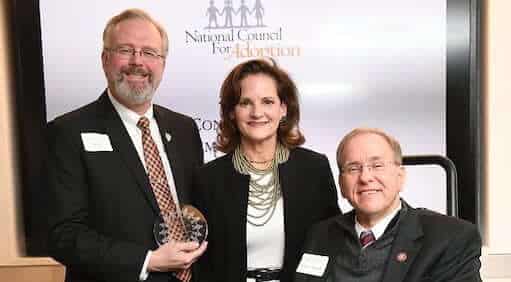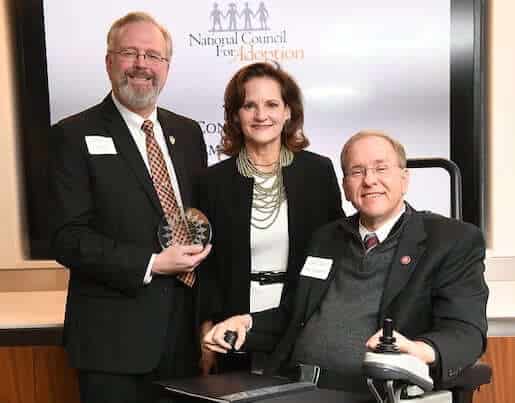 WASHINGTON, D.C. –  Congressman Jim Langevin received the National Council for Adoption's Friend of Adoption Award during National Adoption Month in November and honored a RI man named a 2019 Angel in Adoption.
Ted Sullivan of Lincoln, Rhode Island, received the Angel in Adoption award in a ceremony at Langevin's Washington, DC, office after being nominated by Langevin.
The Angels in Adoption Program allows Members of Congress to honor the work of individuals, couples, and organizations who have made important contributions in the areas of adoption, foster care, and child welfare. Sullivan works as the Senior Director of Mission Advancement for Bethany Christian Services in Cumberland. He began his relationship with Bethany as an adoptive father in 1997 and has since served the organization as a devoted supporter, volunteer, and board member.
"Ted Sullivan is a trusted leader in the community, and has served in a variety of roles to help the team at Bethany Christian Services achieve its mission locally, nationally, and globally," said Langevin. "I am incredibly grateful for Ted's work on behalf of adoptive children and families in Rhode Island. He is undoubtedly an Angel in Adoption."
Langevin was also presented with the Friend of Adoption Award by the National Council for Adoption, which recognized Langevin as "one of Congress's most consistent champions for youth in adoption and foster care." The Friend of Adoption Award is given annually in recognition of significant contributions made to the field of adoption by an individual or an organization.
"Throughout my time in Congress, I've been committed to advocating for our foster children and the families that open their hearts and homes to them," said Langevin, who serves as a co-chair of the Congressional Caucus on Foster Youth. "I thank the entire National Council for Adoption team for this incredible honor. I will keep fighting in Congress to ensure every child in America knows the security and comfort of a loving home."