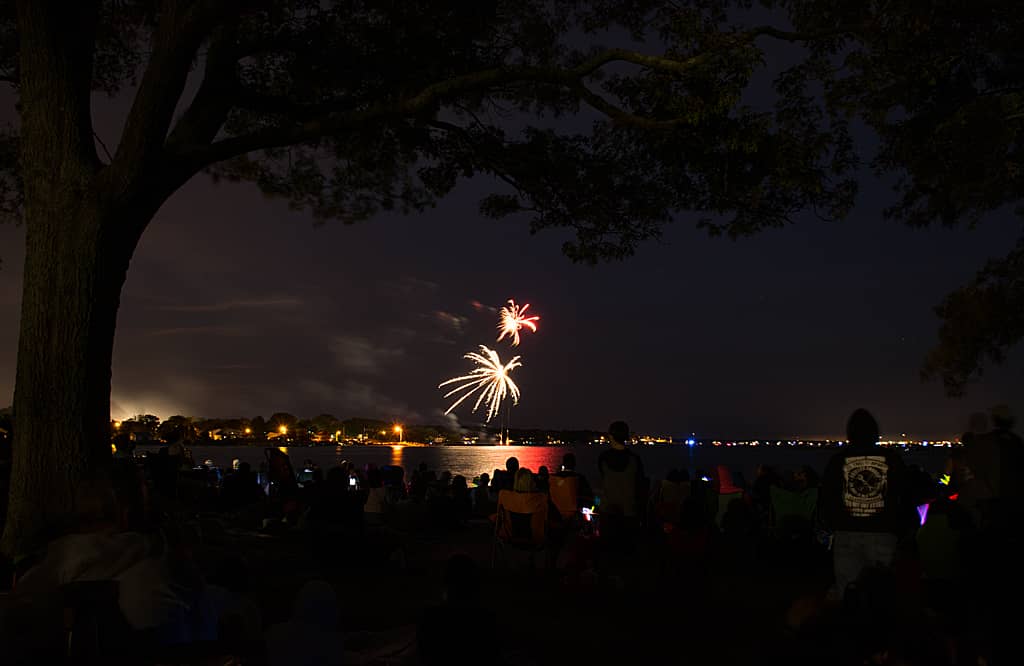 Warwick, RI – Warwick's 2015 Fourth of July fireworks had a few novel pyrotechnic twists for spectators at Warwick City Park and Oakland Beach July 3.
At Warwick City Park, the crowd swelled a bit over 2014's turnout, spreading further into the picnic area than the previous year. Families carried blankets and camp chairs to the beach about a half mile from a packed-to-capacity parking lot.
Latecomers missed prime spots on the beach, but were treated to a few natural light displays from an occasional firefly.
Just before the man-made version of the show started up, the Riddensdale family made their way to a spot with a view of the sky, standing apart from the crowd by virtue of daughter Bailey, 3, attired in a white princess gown.
"It was what she wanted to wear," said Justin, her dad. Also in the Riddensdale Fourth of July retinue were mom Krysten and Liam, 9 months.
Nearby, Tara Morris had already staked out a spot to watch with her daughters Paige, 8, and Grace, 3, who had accessorized with a variety of glow necklaces and bracelets for their night out.
This was the Morris's second trip to see Fourth of July fireworks at Warwick City Park in as many years, Tara said. She said they often come out for the Fourth there.
The fireworks show started up at 9:18 p.m. with a quick series of pyrotechnic bursts, each preceded by a long contrail reminiscent of the 80s video game Missile Command.
Later in the show, a number of the individual elements of some starburst displays abruptly switched trajectory, sending plumes of color in several unanticipated directions.
The crowd clapped and cheered appreciatively.