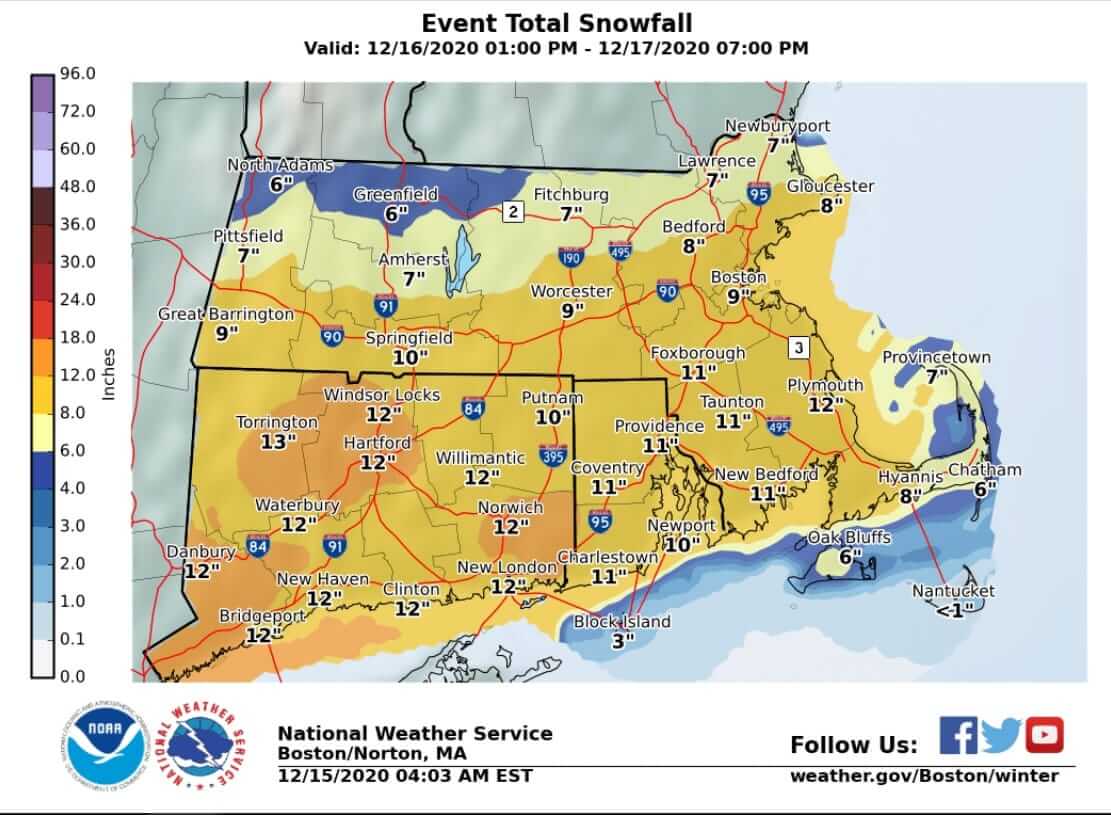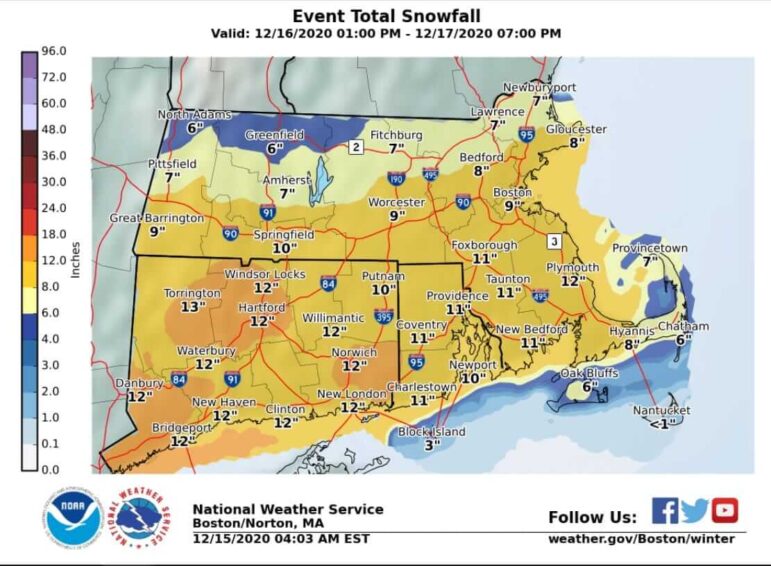 WARWICK, RI — A winter storm with the potential to bring up to a foot of snow is expected in the Rhode Island area later this week, the National Weather Service announced.
NWS issued a winter storm watch on Tuesday morning that forecasts winds up to 50 mph and heavy snow starting Wednesday night, with 4 to 8 in. falling by midnight.
Another 3 to 7 in. of snow is possible through Thursday afternoon, NWS noted. Skies will remain mostly cloudy through Thursday night, with clearing and temps in the 20s on Friday.
The incoming storm could affect travel from Wednesday night through Thursday afternoon, with the snow and high winds posing the additional risk of power outages.
Warwick Public Schools switched to full distance learning on Dec. 14 due to the recent increase in COVID-19 cases, meaning classes could still be held virtually during the snowstorm.
Named Gail by the Weather Channel, the expected Nor'easter would be the first significant storm of the winter in Rhode Island — meaning it's a good opportunity to review what to do when the storm hits.
What to do in an emergency:
First, do NOT call 911 to report a power outage.
Instead, contact National Grid at 1-800-465-1212. Smartphone users can also text STORM to NGRID (64743) for outage alerts. To check the status of outages in your area, visit  National Grid Outage Central for Rhode Island.
Also be sure to check batteries for radios, and charge up your cell phone in case of power loss.
Emergency Alerts:
RIBA – Make sure you're signed up for text alerts from the Rhode Island Broadcasters Association for school, business, and organization closings. You'll get emergency notifications direct to your phone or email. Check closings and delays here.
CodeRED – The City of Warwick's CodeRED system distributes emergency messages via telephone to targeted areas or the entire City of Warwick. Register here.
Emergency Calls:
In an emergency, dial 911
Police Department: 401-468-4200
Fire Department: (401) 468-4000
Highway Dept./Snow removal – 401-738-2000 ext. 6518
Serve RI is looking for volunteers to help neighbors in need shovel out after upcoming snowfall. You can sign up here.  You can ask for their help at at 401-331-2298. For all other needs, people should call United Way-2-1-1.
Listen to NOAA radio: Check the National Oceanic and Atmospheric Administration radio frequency here.