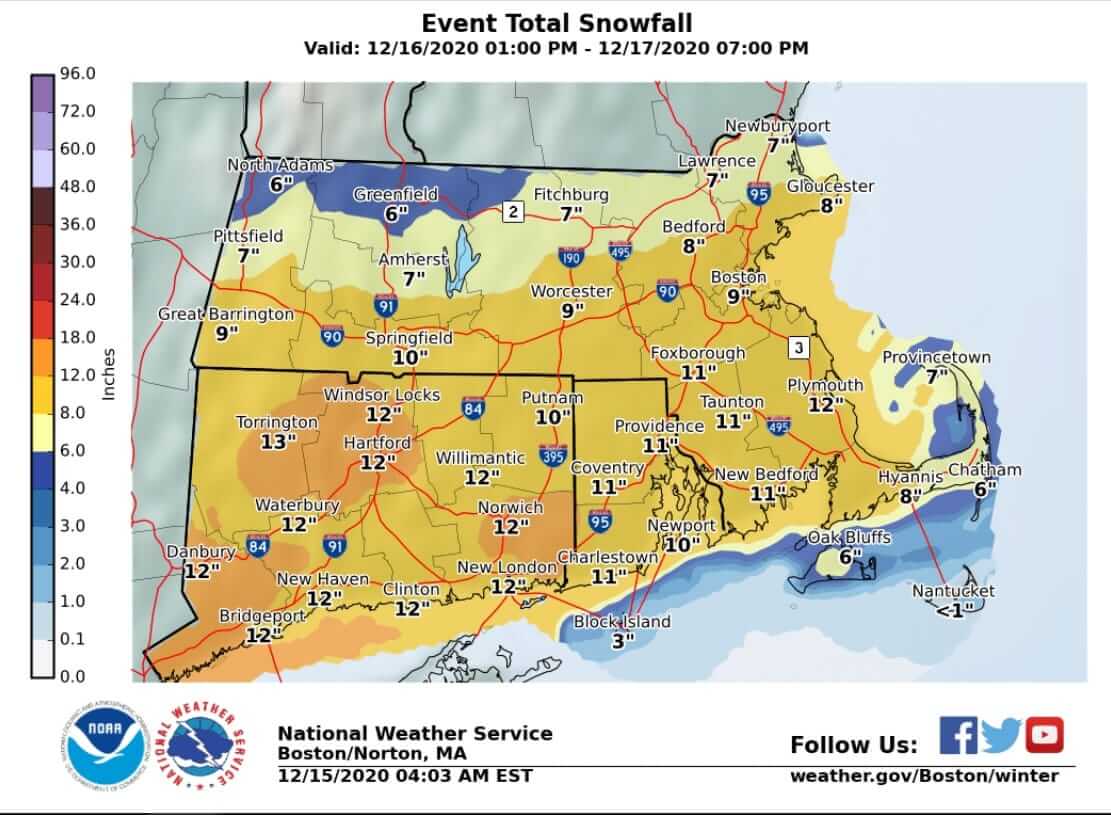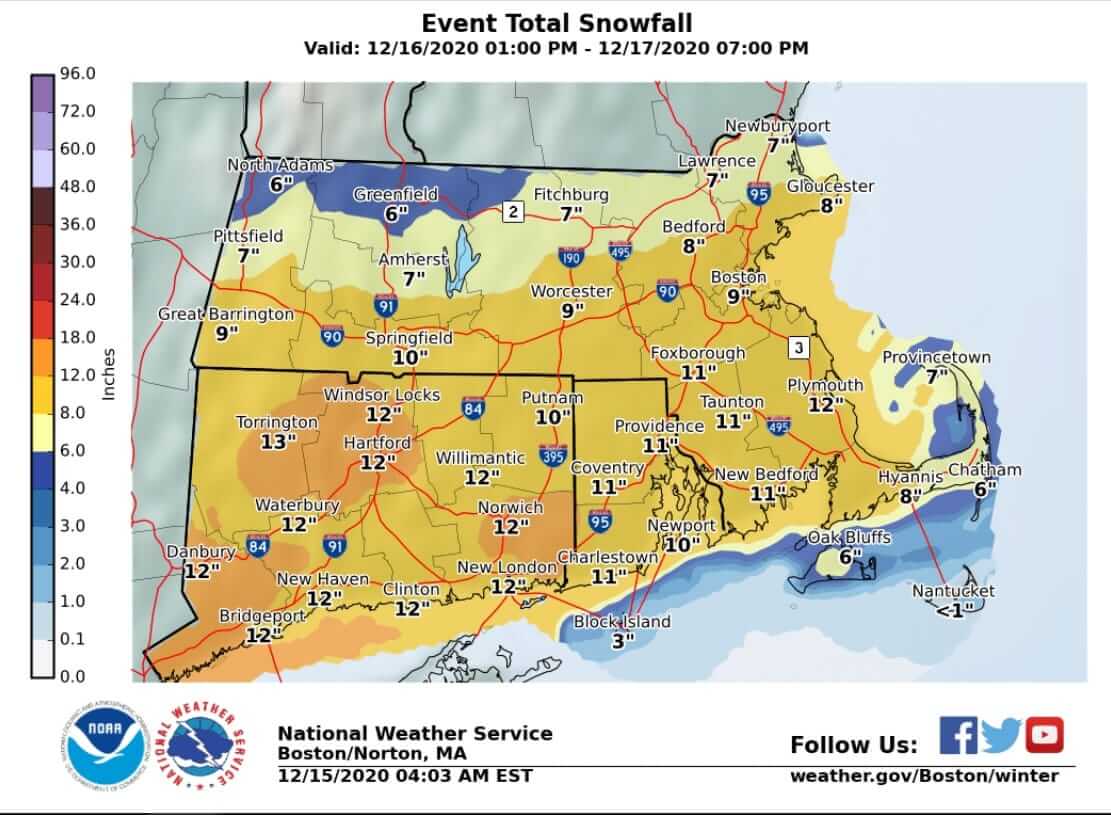 WARWICK, RI — A snowstorm's coming tonight, promising nearly a foot of snow and, with it, a parking ban, delayed trash pickup, and a pause on COVID-19 tests.
NWS issued a winter storm watch on Tuesday morning that forecasts winds up to 50 mph and heavy snow starting Wednesday night, with 4 to 8 in. falling by midnight, with another 3 to 7 in. of snow is possible through Thursday.
All essential City services will continue, Mayor Joseph Solomon announced, but a city-wide parking ban will be in effect from 5 p.m. on Wednesday, Dec. 16 until 12 p.m. Friday, Dec. 18. Additionally, residents are advised that yard waste pickup will be canceled until further notice.
Also, according to Solomon's office, on Thursday, Dec. 17, there will be no trash pick-up as crews will be working to make sure roads are cleared. Alternatively,  residents may drop off yard waste at the city's compost station at 111 Range Road; hours are Monday – Saturday, 7 a.m. – 3 p.m.
"We're looking at a potential snowfall of up to 12 inches of heavy, wet snow, gusting winds, and possible flooding. Our team is going to be working around the clock to keep Warwick's roads clear, but that means we're diverting resources from normal operations so that we can focus on keeping roadways safe," said Mayor Solomon. "The state of Rhode Island is already in a 'Pause' due to COVID-19, so if you don't have to be out and about Wednesday into Thursday, I encourage folks to stay home and stay off the roads. Our crews have this under control, but let's help them do their job by keeping the cars off the roads as much as possible."
The City has already been operating with reduced staffing due to COVID-19 cases and quarantining. Last week, a spike in cases of COVID-19 and related quarantining caused delays in yard waste pickup. At that time, approximately one-third of the employees of the Highway Department, responsible for the pickup of yard waste, tested positive for COVID-19, with additional employees under quarantine as per protocol, according to Solomon's office.
RI pauses COVID-19 test scheduling
Due to the storm, all test scheduling has been temporarily paused on
portal.ri.gov
for Thursday,  Dec. 17, according to Gov. Gina Raimondo's office.
Some outdoor sites may close, and some indoor or covered sites will stay open. If you have a test scheduled for Thursday, watch local media  to find out if your testing site will close. If your site is closed, you can come back at any time once it reopens and get tested. Any test site closure alerts will be posted on the Rhode Island Department of Health's social media channels as soon as possible (
facebook.com/RIHealth
, 
twitter.com/RIhealth
).
Raimondo urged people to prepare for this storm.
Make sure you have supplies like nonperishable food, clean water, warm blankets, and extra sets of warm clothing for each person.
If you or someone in your household has special needs, take some time to register now with the RI Special Needs Emergency Registry (RISNER). RISNER lets police, fire, and other first responders in your community better prepare for and respond to your needs in an emergency.