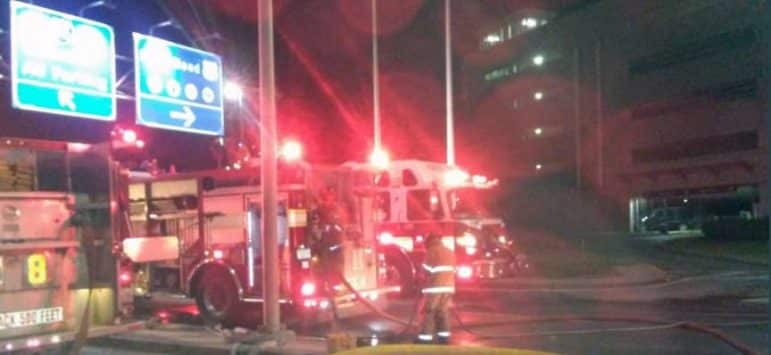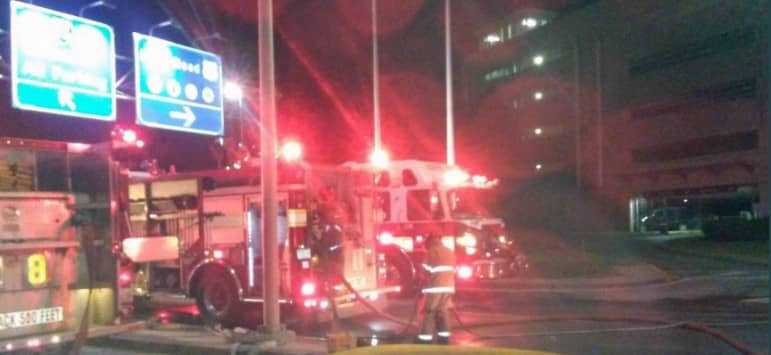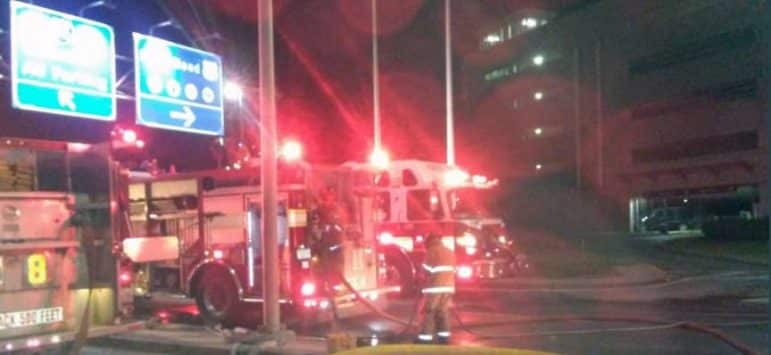 Editor's Note: The Providence Canteen, a 501(c) 3 non-profit providing support to first responders throughout the state, contributed the photo used in this article.
Warwick, RI — A fire broke out in TF Green Airport's Parking Lot C this morning at 4 a.m., totaling four cars and damaging a few others as Warwick firefighters brought the blaze under control and officials worked to manage a backup of morning traffic into the airport.
There were no injuries reported as a result of the fire.
Normal traffic was restored by about 7 a.m., said interim CEO and President of the RI Airport Corporation, Peter Frazier. However, as firefighters were battling the fire, airport, Warwick Police, RI Airport Corporation Police and State Police were handling traffic headed toward the airport.
The hours before 8 a.m. are typically high-traffic times for the airport, Frazier said, accounting for about 35 percent of the passengers leaving the airport in a given day. Frazier estimated the number of passengers attempting to board planes this morning at about 1,472. Both Post Road and the Airport Connector were backed up since fire trucks and equipment needed to fight the fire were blocking the entrance to the lot. As officials worked to route traffic around the fire through the airports other lots, some passengers got out of their vehicles and began walking, he said.
About 15 passengers were unable to make their flights, Frazier said.
Frazier said he regretted not being able to get all the passengers to their flights, but noted that without the hard work of local and state police, many more people would've missed their planes.
Warwick Fire Battalion 1 responded to the fire, and had the fire under control within about 30 minutes, Frazier said. Two cars at the center of the fire were fully engulfed by flames, and two adjacent cars were totaled by the heat from the fire. There were also an undetermined number of cars that suffered collateral damage. Some cars parked below the fire were damaged by water and debris from the fire, and some cars parked above were damaged by heat from the flames, Frazier said.
WFD Battalion Chief Thomas Maymon said the first firefighters arrived on scene in the department's Special Hazards truck and decided to drop water lines down the side of the garage to hydrants at the street level. There were water lines in the garage that they could've connected their trucks to, Maymon said, but using the hydrants was faster.
"The guys did an awesome job," Maymon said.
Today, airport officials allowed travelers to remove their cars from the lot, but no new motorists were allowed inside. Frazier said the Airport Corporation is working to notify the owners of any damaged vehicles ahead of their return to Rhode Island.
RI State Police are conducting an investigation into the cause of the fire.