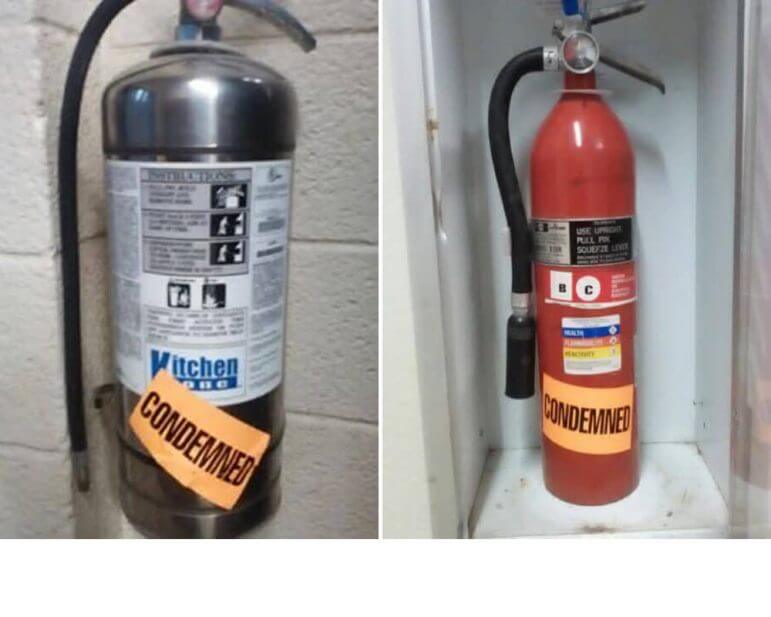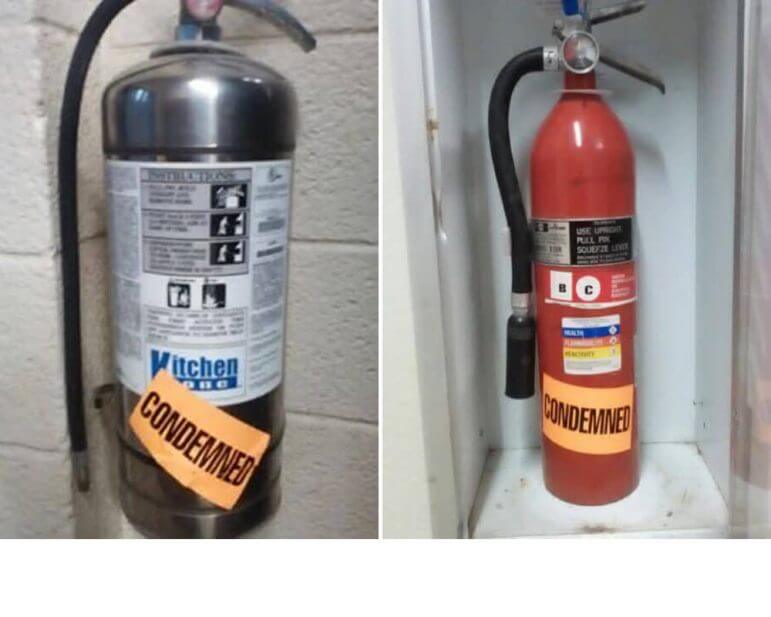 UPDATE: Comment from Keane's representative about the nature of the company's contract with the Warwick School Department has been added to this report. 
WARWICK, RI — At least two fire extinguishers expired since 2015 lingered at Winman Junior High despite repeated warnings from Keane Fire & Safety, the company reports, while the School Finance Director blames the vendor.
The Warwick School Department has ordered checks at multiple schools since WarwickPost.com inquired about the equipment with the School Department Wednesday, said Dave Gagne, Keane's sales representative for the Warwick Public Schools account.
Gagne reported the Winman fire extinguisher lapses Thursday, providing WarwickPost.com visual access to Keane's record of the warnings, along with a stack of new orders received that day for replacement/checks of extinguishers at the school administration building, West Bay Collaborative, Warwick Veterans Jr. High, Hoxie School, Winman Jr. High, and Lipitt School.
On Wednesday, responding to WarwickPost.com's inquiry about anonymously submitted photos of two extinguishers marked "condemned," School Finance Director Anthony Ferrucci confirmed two fire extinguishers had expired at Winman and said four do not have current inspections.
"We did send up our custodial supervisor, and he confirmed," the two expired extinguishers, Ferrucci said Wednesday.
Ferrucci said a custodian at Winman would purchase two new fire extinguishers Thursday to replace the expired devices, which would likely cost $50 to $100 each. He said Keane, the school department's Waltham, MA – based contractor, which has an office at 2112 Elmwood Ave.,  is not performing the regular maintenance required under their contract.
Ferrucci said when a similar problem occurred at Warwick Veterans School last month, Superintendent Thornton asked school staff to check extinguishers there.
"We're not happy with their service," Ferrucci said of Keane. He added the district's contract with Keane requires regular maintenance, but floor plans showing where the 30-40 extinguishers in the building are have not been updated. "It appears they're missing them," Ferrucci said.
Gagne's version of events differed from Ferrucci's account.
Gagne said four fire extinguishers at Winman were inspected, found expired, and marked condemned with stickers in February 2015. When that happens, Gagne said, his company notifies their clients (in this case the Warwick School District) with three separate notices. First, the company provides a written report of the expired extinguishers. The extinguishers are not necessarily going to fail right away, he said, but they do need to be replaced.
The second notice involves a letter mailed to the client (In this case, the letter was sent March 3, 2015, Gagne said,) and then the expiration is marked on the invoice provided to the client.
At his Elmwood Avenue office, Gagne showed records of the inspection report on Feb. 27, 2015, the letter sent to the school department March 17, 2015, and a line item showing the expired extinguishers in their invoice to the school department dated Aug. 30, 2016. Gagne also provided a record of a letter sent about what he said are the same two extinguishers Aug. 17, 2016, and a line item on the Aug. 30, 2016 invoice for checking the expired extinguishers in 2016.
Gagne, the general manager of the Elmwood Avenue office, said he's been with Keane 33 years, and the company has had the Warwick Public Schools contract for 18 years. Save for the first year they took the job, which Gagne said was a learning process for the company as it worked to handle all the schools, this is the first complaint he's received about their work from Warwick.
Gagne said their contract with the Warwick School Department covers providing and inspecting the extinguishers, but it is the Warwick School District's responsibility to order replacements once they're notified of expired equipment. He said Warwick Schools "piggy-back" on their contract with the state, the bid for which is posted to the ri.gov website, under a clause that allows municipalities to purchase fire extinguishers and maintenance from Keane at the same rate quoted to the state.
The bid states: "EMERGENCY CALLS FOR REFILLS AND/OR SERVICE. SERVICE SHALL BE AS REQUESTED BY AGENCY" and "VENDOR IS TO PROVIDE INSPECTION, TAGGING AND CERTIFICATION PER RI FIRE MARSHALL'S REQUIREMENT TO ALL EXTINGUISHERS CONTAINED IN THE STATE OF RI BUILDINGS. VENDOR IS TO INSURE ALL EXTINGUISHERS ARE PROPERLY LABELED CHECKING WEIGHTS AND PRESSURES WHEN APPROPRIATE. ALSO, TO PROVIDE REPAIRS TO FIRE EXTINGUISHERS, PARTS, ETC. AND RELATED ITEMS." DIFFERENT COLOR TAGS MUST BE PROVIDED FOR DIFFERENT YEARS.
The bid does not mention automatic replacement of expired extinguishers.
A 2016-2017 version of the agreement with the state, under which Warwick Schools contracts with Keane, reads, "In no event shall the Vendor deliver goods or provide service until such time as a duly authorized release document is certified by the ordering Agency."
"Those same extinguishers were condemned two years in a row and they did nothing about it," Gagne said.
During Tuesday's School Committee meeting, John Sullivan, STEM teacher at Warwick Veterans Jr. High, noted Thornton had been unresponsive to his warnings that fire extinguishers had expired at that school. Sullivan said he warned the Superintendent by email on Sept. 8 that there were expired fire extinguishers at the school and in person on Sept. 12.
Sullivan said he followed up with a photograph in an email to Thornton and Ferrucci Jan. 18. "I heard nothing," Sullivan said.
Sullivan emailed again Jan. 31, he said, and got a reply that Thornton would check into the fire extinguishers in the morning. A week after, Sullivan said, the extinguishers had been replaced. Sullivan said Thornton owed him a thank-you, given the recent outcry about fire safety after Thornton and school officials failed to inform the community about broken fire alarms at Norwood and Holliman Schools. Several members of the public ahead of him had called for Thornton's resignation during the meeting.
"Just imagine. There would be more people calling for your resignation," Sullivan said.