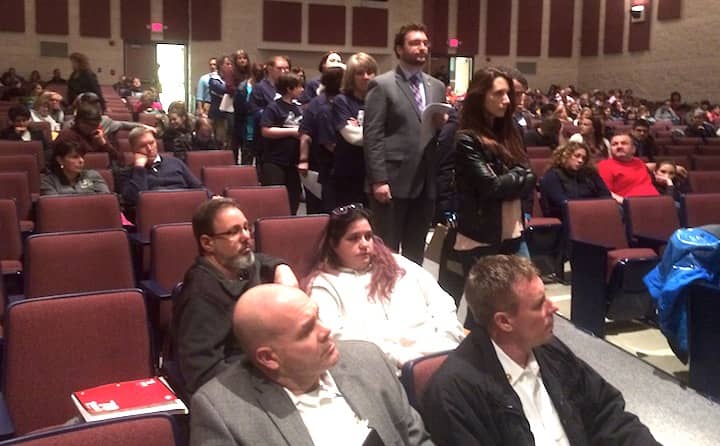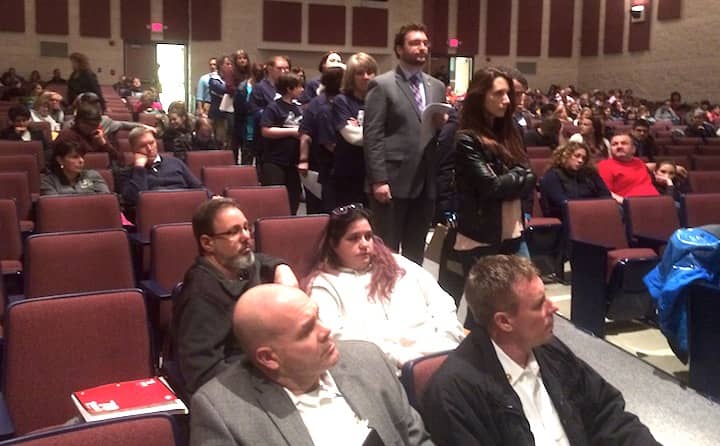 Editor's note: This article has been edited to remove an incorrect attribution of a quote from an un-named administrator.
WARWICK, RI — Parents, members of the general public and School Committeewoman Karen Bachus called for the resignation of Superintendent Phil Thornton at Tuesday night's School Committee meeting over the administration's failure to alert the community to failed fire alarms at Norwood and Holliman Elementary Schools, with some also calling for School Committee Chairwoman Bethany Furtado and Director of Buildings and Grounds Steven Gothberg to resign.
School Committeeman David Testa said he thinks the situation, and the administration's relationship with the community, can still be salvaged with improved communication.
"I'm not on board with resignation yet," Testa said after the meeting, which lasted nearly till 11 p.m. following an extended public comment period stretched to accommodate about 30 speakers at his suggestion.
Before that started, Gothberg told the Committee that fire alarms at Norwood School had been restored and tested as of 4 p.m. that day. He said a similar repair, described last week by Thornton as a replacement of the control box for each of the systems, is expected by 4 p.m. this Friday. Full replacements of the aging fire alarm systems in both schools are planned for later this summer.
At the start of the meeting, Thornton and Gothberg offered apologies to the audience, which nearly filled Toll Gate High School's auditorium.
"I first want to offer my personal apologies to the teachers and the parents at Norwood and Holliman for the poor communication. Communication starts and ends at my office, and quite frankly, it has to be much better than it was," Thornton said.
"I would also like to apologize, to the staff, and parents, at both schools, Holliman and Norwood. I did not communicate that well the first few days, and I apologize to everyone," Gothberg said.
The apologies fell short for Bachus, who pushed for a detailed explanation along with the apology about why the community was not notified earlier. "Why was that not brought to the attention of teachers, parents and staff. Why?" Bachus said.
Thornton did not reply to the question. In previous interviews, the superintendent has declined to elaborate on the failure, stating solely that it is his responsibility. Last week Testa, who said he had discussed the details with Thornton, also declined to disclose that information.
A line of seven members of the Norwood PTA, dressed in blue T-shirts, were among the speakers. Each one used their two minutes of time to read a portion of a lengthy speech addressing the School Committee on the issue, calling for the resignation of an un-named administrator they quoted as saying, "Relax. When is the last time a school caught on fire? How about never."
The letter also noted, "Norwood and Holliman students should have been notified that the emergency drills for which they had practiced had changed. Students in all grades practice lock down and fire drills; we certainly owe it to them to explain that the standard protocol is altered and that they must exercise additional caution. All occupants of the building should be notified of the change in protocol. It is unacceptable that they were not.
As you all know, parents are outraged that they were not notified. Warwick schools alert parents to matters of far less importance than the failure of a fire safety system—such as unsubstantiated rumors of a sick out, one-sided accounts of contract negotiations, Title One events, etc. There is no excuse that parents were not notified."
The letter also called for Thornton's resignation. "Dr. Thornton has repeatedly told us that the buck stops with him, and yet he cannot provide the complete details of the failure of communication and back-up safety plans.
Councilman Jeremy Rix noted the Warwick School Department has $9 million in funds they could have used to upgrade the fire alarm systems in the district, estimated in 2015 to cost $1,523,110.
"This is a case of mismanagement," Rix said.
Virginia Tiernan, a self-described Warwick citizen, called for both Thornton and Furtado to resign.
"For 30 days you made a conscious, deliberate decision to mislead the public," Tiernan said to Thornton. Addressing Furtado, Tiernan said she understood personal matters had delayed her response in alerting the rest of the School Committee to the broken alarms.
"I know you had personal issues going on, but not for 30 days," Tiernan said.
Peter SanGiovanni, a teacher and parent of two children, was not sympathetic with Thornton's unexplained lapse of communication.
"I think what really, really bothers people is that there was a conscious decision to not let people know there was a problem," SanGiovanni said.
SanGiovanni said he is aware that things can break, "But I do believe we have a serious problem when people on that stage want to avoid negative press so much that they put that in front of the safety of staff and children. Since this deception occurred for about a month, it might be time to get off that stage."
William Potter, a fifth grade teacher at Hoxie Elementary School, noted that fire windows, which are supposed to allow students and teachers a quick escape in the event of an emergency, do not open at the school. He noted the recent demonstration of an elaborate emergency monitoring system installed at all schools last year for $378,255 and activated March 9 for $39,738 annually, is a lot of flash that isn't worth much without a focus on basic emergency exit safety.
"I just want our windows to open," Potter said.
A Holliman teacher read an email sent to the School Committee about the timeline of their awareness of the problem, and that of their principal, Joseph Coffey. She said Coffey alerted them to an issue with the school's fire alarm system on Feb. 28. He told them at the time that fire drills would be announced over the PA system until further notice, the woman said. The same day, Coffey announced a fire drill.
"We did not hear anything more about the situation until Thursday, March 23," she said. Teachers and staff met with Coffey at that time to work out a fire alarm plan about the broken alarm system.
"One of our main concerns is that for one month, we had no working fire alarm system, and no plan of action in place in Holliman until a parent from Norwood approached administration and media." She said Holliman School staff has had no contact from the administration or the WFD.
She also noted that repeated requests to repair fire windows at the school have fallen on deaf ears.
"However, nothing has been done about it. Administration continues to ask the School Committee for monies to improve athletics, from fields to batting cages, but they have not brought these issues of broken rescue windows or updating the fire alarm system to be approved. Now, it  matters."
"The people have asked for your resignation, Mr. Superintendent, and so, I will also ask too," said School Committee member Karen Bachus. No other members of the School Committee commented on the request.
Norwood School PTA's Letter NORWOODPTASCLETTER

Holliman School Faculty, Staff Letter Holliman Letter on Fire Alarms

RELATED STORIES:
Fire Drills at Norwood, Holliiman, Done over PA System, Without Alarms, In February
Thornton: Norwood, Holliman Fire Alarm Fix Expected April 7
Fire Plan Established for Norwood Classrooms Without PA System, Fire Alarm
Firefighters on Watch at Norwood, Holliman Schools; Fire Alarms Broken Since Feb. 24
Lack of Communication by Warwick Officials Raises Alarms