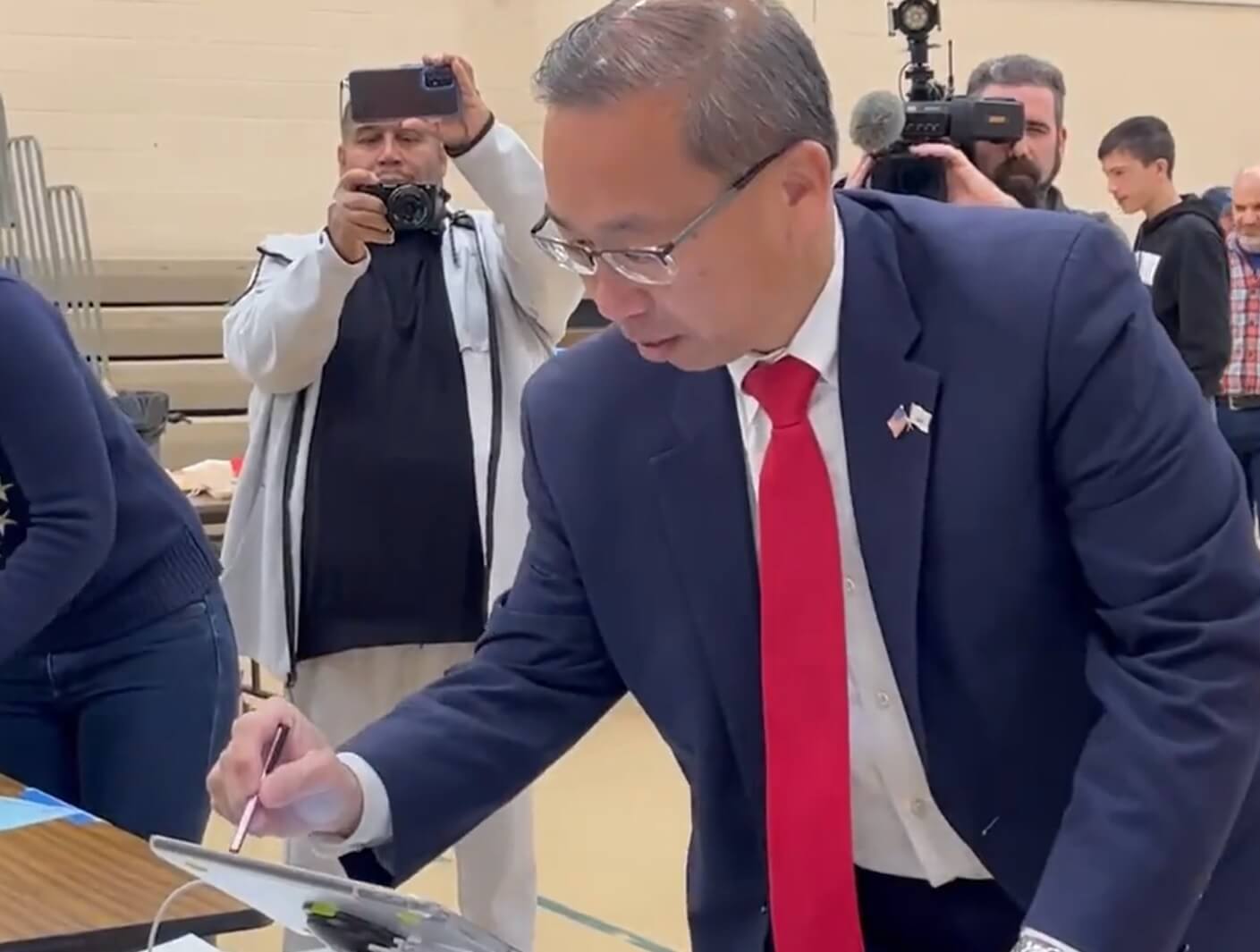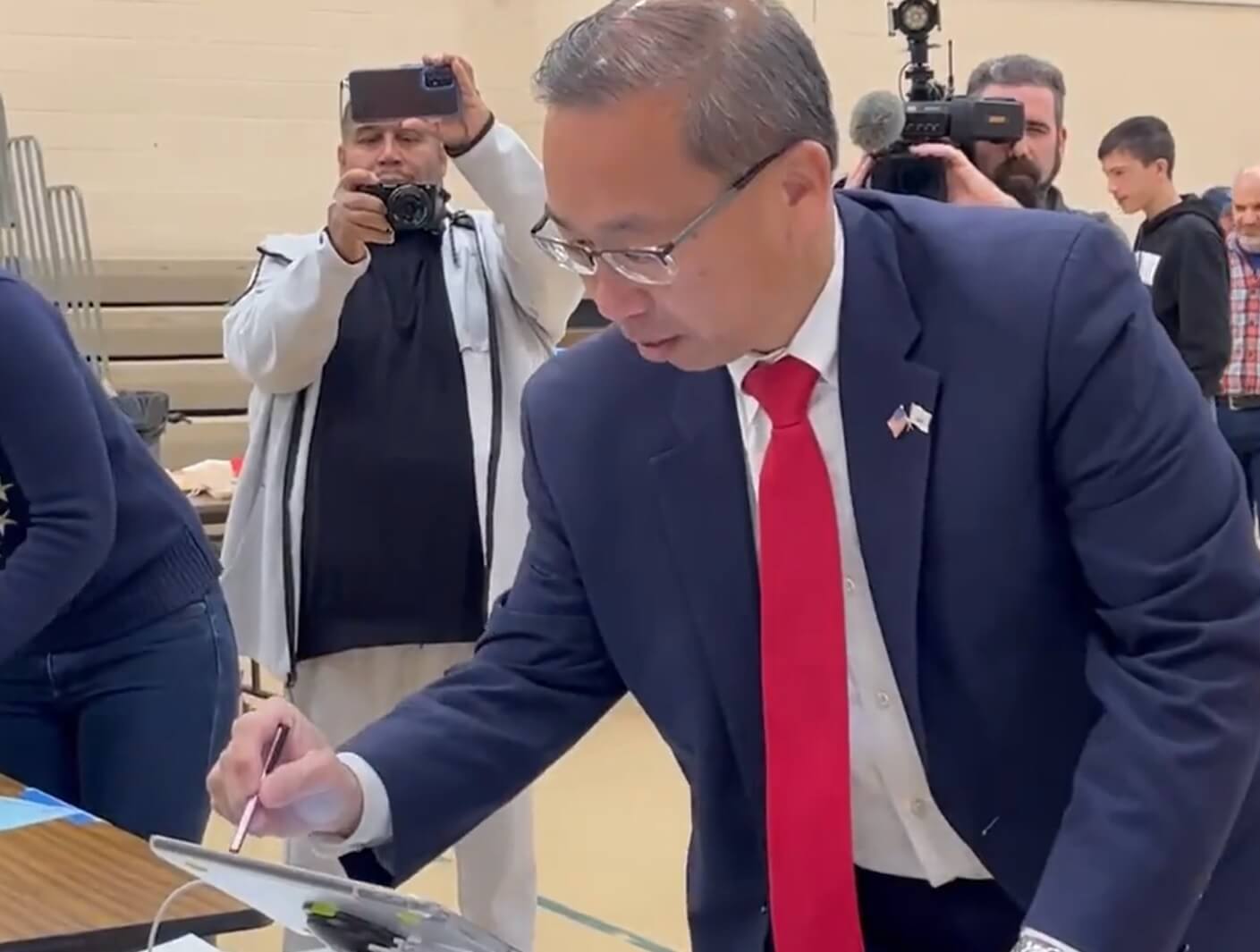 WARWICK, RI — Allan Fung should finally take the hint.
Rhode Islanders don't want him in any office higher than mayor of Cranston, the office he held for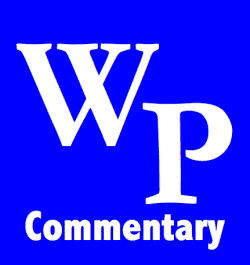 12 years and cited in two failed runs for governor and, following Election Day 2022, another decisive loss, this time in the race for the U.S. House seat formerly held by longtime Rep. James Langevin.
Fung apparently thought that voters would accept his self-appointment as a "centrist," despite his actual membership in the Republican Party, and pick him over Democratic former state treasurer Seth Magaziner.
But against the backdrop of his party doing its best to suppress voting, deny the results of the 2020 Presidential election, and support an armed attack on the U.S. Capitol in 2021, Fung's strategy made him look less like the decisive, consensus-building mayor he claimed to be and more like a political opportunist who thought he could talk out of both sides of his mouth and still seem credible.
In truth, Fung's self-sabotage in the Congressional race is nothing new; he tried the exact same tactics against former Gov. Gina Raimondo and lost both times.
That apparent inability (or typically Republican unwillingness) to acknowledge that his prior strategy was a losing one — and to consider how changing it might lead to a different result — is among the reasons why Fung has been his own worst political opponent.
Further compounding his already-poor prospects of winning against Magaziner were Fung's TV ads, which must at some point have caused Fung to wonder whether they were making him look foolish. [Spoiler alert: They were.]
Here's a breakdown of other factors that contributed to Fung's latest loss — and should spell the end of his political career.
Fung isn't a centrist — he's a cipher
When used to describe people, the term "cipher" means someone who shows so little in the way of personality that others can project their own ideas onto them.
And that's exactly how Fung conducted himself in his state-level campaigns: Today he's a consensus-builder, tomorrow he's on camera wearing a Trump hat; today he's a decisive city executive, tomorrow he's waffling and dissembling on his party loyalty.
As a political strategy, this kind of zig-zagging may have made sense in 2014 when Fung presented himself as a rock-ribbed Republican against hardliner Ken Block while three Democratic candidates fought it out in the primary, then pivoted to a less extreme tone in the general election.
But it certainly wasn't going to work in Rhode Island in 2022 — and yet, Fung seemingly  thought that presenting himself as the Mayor of Middle Ground would overcome the many justified negative impressions that local voters had about him because of his party affiliation.
Voters didn't believe Fung on abortion
Especially after the Republican-supported Supreme Court decision overturning Roe v. Wade, abortion was a key issue in the 2022 election and particularly in Rhode Island, where the original Supreme Court decision was codified into state law in 2019.
Fung, though, didn't even mention abortion on his website. At a recent WJAR-10 debate, Fung said: "I will not ban any abortion or criminalize it. Period."
But that clearly didn't satisfy voters, who also saw national Republican leaders openly considering a federal ban and understood that Fung was a vote in favor of the GOP.
That was most likely because Fung blatantly adopted the national party's attempts to distract from the abortion issue by attacking Democratic President Joe Biden over the economy.
Apparently no one told Fung that "But your milk costs more!" is not an effective answer to "We'd like to preserve bodily autonomy and medical privacy for every woman in America, please."
Independent voters didn't — and don't — support Fung
One of the storylines from the 2014 gubernatorial election was the late Cool Moose founder Bob Healey's participation in the race, dampening Fung's potential among independent voters in the eyes of outside observers.
Mathematically, this made a bit of sense, since Healey captured 69,000 votes, or 21.5 percent of the overall vote, and Fung lost by 14.5 percent, or about 14,500 votes, to Raimondo.
However, in the 2018 race without Healey (who passed away in 2016), Raimondo took 52.6 percent of the vote to Fung's 37.2 percent, a difference of 58,000 votes, or 15.4 percent — meaning that when those presumed independent voters from 2014 were in play in 2018, Raimondo took more than 80 percent of their votes.
There was simply no reason to believe that Fung would reverse that trend in 2022, despite what the national party claimed would happen.
Vote access beat Republican anti-democracy tactics
In contrast to Republican attacks on early and absentee voting, which range from questioning their validity to outright trying to ban them, Rhode Island expanded the practices during COVID-19 and remains among the least-restrictive states in terms of ballot access for its citizens.
Heading into the 2022 contest, twice-impeached former President Donald Trump called on Republican voters to only cast ballots on Election Day instead of voting early or by mail, and repeated his lies about fraud in past elections.
Whether or not Rhode Island Republicans embraced that message is an open question, but Election Day results objectively show that more of Magaziner's supporters used the legal availability of early ballots to cast votes than did Fung's, by a 35,000 to 19,800 margin.
Fung could not overcome that massive deficit, even with winning the in-person vote by 8,500 across the Congressional district.
RI didn't want a clown show
It doesn't take much to imagine what a Fung term in Congress would look like — and, based on how he and Republicans conducted themselves during the campaign, it wouldn't look good.
Had Fung won, all of those purposeful-looking marches in his videos would resemble a marionette's dance — and his votes for Republican priorities would show who's pulling his strings.
Beyond that, there is no question that the national Republican Party would tokenize Fung and trot him out in deep-red enclaves as proof of the GOP's claimed inclusivity — witness how Sen. Lindsey Graham held up Georgia Senate candidate Hershel Walker as "proof" that the party is not racist.
Were that to happen, Fung would have joined a long line of Republicans — from former Louisiana Gov. Piyush "Bobby" Jindal to U.S. Sen. Rafael "Ted" Cruz to former UN Ambassador Nimrata "Nikki" Haley — who have let the Republican Party White-wash their ethnic identities to be more palatable to the GOP's older, whiter, more male demographic.
Second Congressional District voters wisely avoided that spectacle.
Conclusion: Voters were too smart for Fung's clumsy attempts to rebrand himself as anything other than the Republican loyalist that he truly is — and if he has any capacity for self-reflection, Fung will realize that his days running for state-level office as a Republican in Rhode Island are over.