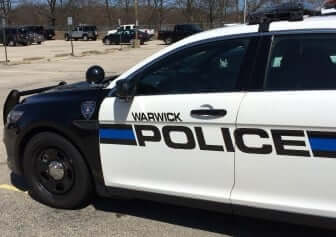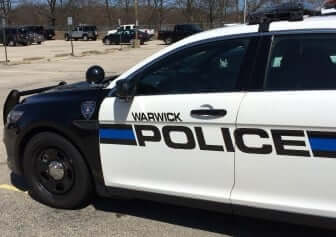 WARWICK, RI — Officer Connor Bemis saw a red Volvo speed past him on Airport Road June 6 at 6:11 p.m., registration expired, and pulled it over, found the driver with methamphetamines, and arrested him.
Bemis ran a check of the Volvo's plates after watching its driver jump in his seat, then slam his brakes after noticing his parked cruiser on Airport Road, according to the officer's report. The check revealed the Volvo's registration had been expired since February. He followed the Volvo onto Post Road.
As he followed the car, he noted the driver was watching his cruiser intently using his rear-view mirror, and not taking his eyes off Bemis. He also saw the driver bend down below the steering wheel, staying there for about 20 seconds before rising back into view. Bemis pulled the driver over, stopping him at 1450 Post Road at the Rte. 37 West onramp, according to the report.
Bemis identified the driver as Leonard Cady, 49, of 195 Pawtucket Ave., Pawtucket, RI. The officer noted Cady appeared drenched in sweat, and that he spoken frantically. Bemis noted in his report the temperature that day was 60 degrees. In the car's center console, Bemis also spotted a large amount of Chore Boy souring pads, used with narcotics. That, Cady's condition and behavior led Bemis to suspect he was using amphetamines, the officer reported.
Bemis asked Cady to get out of the car, then searched him for contraband, finding what he identified as a methamphetamine pipe, with white powdery residue and a simple pipe.  He also asked Cady to take off his shoes, telling him he suspected Cady had hidden something there while bent under the steering wheel.
"OK, you got me," Cady replied, according to the report, as he took off his sock, then placed his hands behind his back in an apparent expectation that he would be handcuffed. He told Bemis there was a bag in his sock.
In the sock, Bemis found a bag of white powdery substance he suspected was methamphetamine. He seized the substance and did handcuff Cady, arresting him on suspicion of possession of methamphetamine. He transported Cady to Warwick Police Headquarters, 99 Veterans Memorial Drive, Warwick, RI.
At WPD HQ, the substance was confirmed methamphetamine, 1.1 gram. Bemis charged Cady with Possession of a Controlled Substance, Methamphetamine, less than 10 grams. He was also cited for an expired registration and suspended license.
Cady was held overnight for a June 9 hearing on the charge in Third Division District Court, then a Sept. court screening. He was released on $2,500 surety bail.