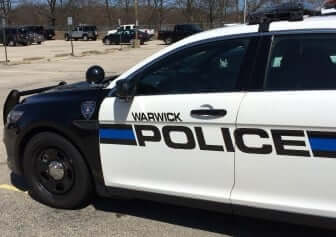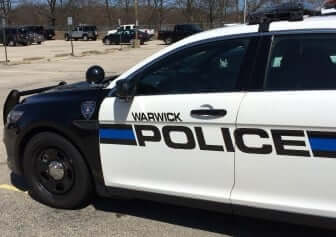 WARWICK, RI — On June 9 at 1:21 a.m., Officer Connor Craig pulled over a silver 2017 Jeep Patriot that sped through an improper right at Hoxsie Four Corners onto Warwick Avenue, arresting the driver for DUI.
Craig, stationed at Hoxie Four Corners, watched as the Jeep sped through the intersection, making the right from Airport Road onto Warwick Avenue, and followed, clocking the vehicle at 60 mph.
"It should be noted that I had to travel at a very high rate of speed to catch up to the vehicle," Craig wrote in his report. He caught up to it as the Jeep in front of a gas station at 2413 Warwick Ave., then activated his cruiser's lights to pull over the driver. The Jeep pulled into the driveway of a nearby home, that of the driver's friend, the officer later learned. Three additional officers arrived to assist.
Craig identified the driver as Steven Verino, 40, of 27 Hendrick St., Providence, and informed him of the reason for the stop. During this interaction, Craig reported Verino seemed unaware he had been stopped by Craig, and was in the process of collecting his things to leave the Jeep when Craig approached. He appeared surprised to see Craig, the officer reported.
Craig also reported Verino's eyes appeared bloodshot, and smelled moderately of alcohol. He took several minutes to produce his registration as requested, and Craig had to point it out as Verino passed it by continually without recognizing it, according to the report.
Craig asked Verino to take sobriety tests, during which he demonstrated a lack of smooth pursuit and involuntary movement in his vision, missed heel-to-toe steps and stepped out of position to keep his balance multiple times; then swayed and put his foot down repeatedly during a one-leg-stand test.
Craig arrested Verino and transported him to Warwick Police Headquarters, 99 Veterans Memorial Drive, where he refused a breath test of his blood alcohol level.
Craig charged Verino with DUI, blood alcohol unknown, first offense, and cited him for speeding (45 MPH in a 35 MPH zone), making an improper turn, and refusing the breath test.
Verino was scheduled to appear for the DUI charge in Third District Court on June 27. He was later scheduled for a pre trial conference on the DUI charge in Third District Court on July 14.